"It's fascinating to see an innocent feeling picture appear knowing full well that beneath it is the recognition that our world is literally splitting apart at the seams."
A Journey from Depression to Artistic Discovery
Tim Nerheim-Chereck is a multifaceted artist who has worn many hats as a painter, graphic designer, composer, musician, and programmer. He embarked on his journey as a painter in early 2020, working from his home studio in Portland, Oregon. Prior to being diagnosed with Bi-Polar 2 in 2009, he grappled with endless cycles of depression and explosive creativity, during which time he composed countless stream-of-consciousness classical compositions. Composing was not just a passion for him, but an obsession and a significant aspect of his identity. However, upon commencing successful treatment for Bi-Polar, Nerheim-Chereck found that his creativity became more manageable, enabling him to lead a more balanced life. He still composed, but now had control over it. This newfound control empowered him to explore different creative avenues, ultimately relieving him of the constant burden of composing.
In 2019, he began to contemplate painting, and by early 2020, he discovered that he could channel his creativity into a new medium. Recognizing his artistic inclinations at a very young age, he always harbored a desire to create and share art. Although he was fascinated by painting, he initially lacked the patience and training to create anything he deemed worthy. Nonetheless, he devoted the years leading up to his first painting to studying the works of great painters, particularly the modern masters. After a few years of painting and gaining a following on Instagram, he established a connection with Shlomi Fadida, the gallery owner at Mika Gallery in Tel Aviv, a collaboration that would help kickstart his career in earnest.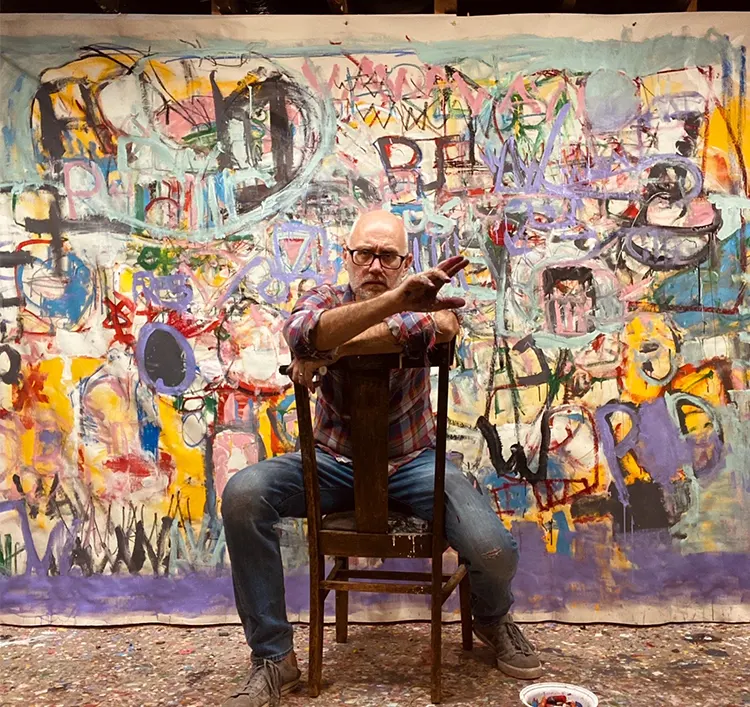 Tim Nerheim-Chereck: The Intersection of Expressionism and Musicality
The artistic style of Tim Nerheim-Chereck resides at the intersection of expressionism and neo-expressionism, although he does not consciously adhere to either category. After scrutinizing hundreds of his own works, Nerheim-Chereck has observed that his process mirrors the act of composing music, capturing the transient moments involved in crafting each piece. He has recently begun describing his paintings as "moments", produced without any premeditated decisions about theme, style, form, color, composition, or material. This approach has evolved over time, as he has learned to relinquish expectations and allow the artwork to unfold organically. Nerheim-Chereck does not consciously aim to represent or eschew any specific forms or figures; instead, he allows the artwork to guide him, revealing its completion in its own time.
The workspace of the artist demands an expansive area, as he often opts to paint directly onto walls or floors, utilizing unstretched canvases or paper. His toolkit comprises hundreds of brushes, an array of acrylic paints, pastels, crayons, spray paint, tempera sticks, pencils, and markers. It is crucial for him to have these materials readily accessible, eliminating the need to search for the ideal color or medium. For Nerheim-Chereck, distractions are nearly impossible to ignore, as the act of creation is a deeply personal exchange between himself and the canvas. This necessity for solitude posed a significant obstacle during artist residencies in Barcelona and Paris, where he shared studio space with other artists. Fortunately, during his time in Paris, he utilized the private courtyard of his apartment, allowing him to create large-scale works in isolation.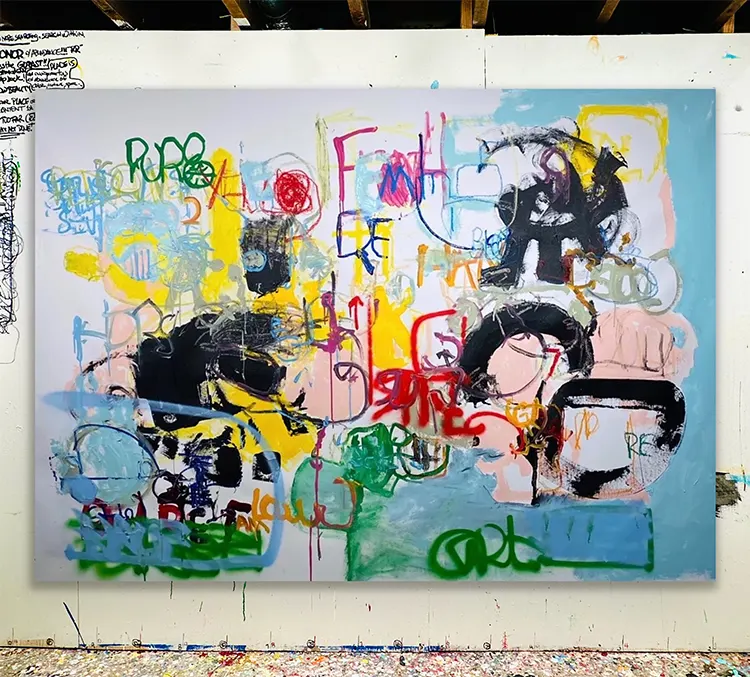 A Family of Inspiration and Influential Masters
Tim Nerheim-Chereck's artistry has been profoundly shaped by the influence of his family. His wife, an exceptionally creative individual and a talented painter as well, his son, a remarkable experimental ambient composer, and his daughter, the most gifted songwriter he knows, have all played a pivotal role in reshaping his identity as an artist. The high standards they have set serve as a constant motivation for him to strive for excellence in his artistic pursuits. Additionally, his musical inspirations encompass a wide array of artists, ranging from Beethoven, Ottorino Respighi, Aaron Copland, Coltrane, and Radiohead, to Pre-Kinetic Blueprint. On the painting front, he is influenced by a host of renowned artists, including Rothko, Joan Mitchell, Helen Frankenthaler, Rauschenberg, Guston, Diebenkorn, Twombly, Jenny Brosinski, Sebastian Helling, Mark Bradford, and Eddie Martinez.
A particular artwork that resonates deeply with Nerheim-Chereck is Helen Frankenthaler's "Untitled 1951". This piece, with its visual language, seems to elevate the works of Gorky and Miro, bridging the divide between surrealism and expressionism, and possibly presaging some of his favorite pieces by other artists. While the artwork acknowledges place and form in the environment, the emotional connections linked to the contents of the picture seem to meld into one another, as well as with other elements in the artwork and the surroundings, rendering it impossible to discern the forms. This intriguing artwork has been a subject of extensive study for Nerheim-Chereck, as he has endeavored to unravel its complexities. Among his own creations, to him the most significant is "Untitled 1.20", which marks his return to painting since 1984. He endeavors to encapsulate the essence of the emotions experienced while painting that piece in his daily artistic practice.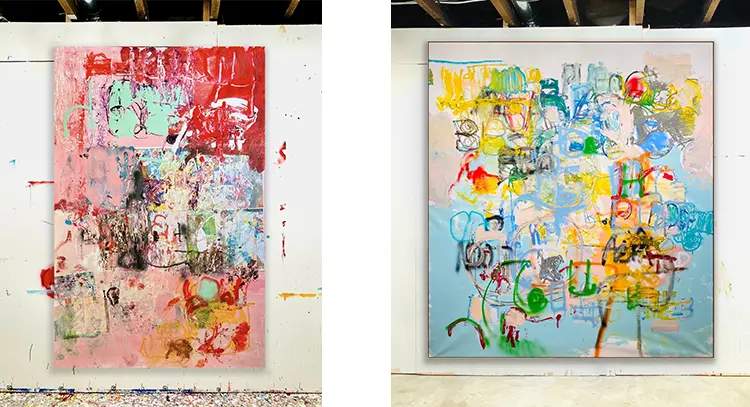 Tim Nerheim-Chereck: Mediums, Motivations, and Monumental Projects
Tim Nerheim-Chereck often opts for acrylics and oil pastels as his mediums of choice, given the rapid pace at which his creative process unfolds. The swift nature of his work does not allow the luxury of time required by oil paint to dry. A preference for paper as a substrate is evident in his practice, as he finds a certain authenticity and intimate quality in this material that evokes a sense of youthful and innocent energy. This juxtaposition is particularly intriguing for Nerheim-Chereck, as an image imbued with innocence emerges, yet it is underscored by the stark realization that the world is unraveling at its core.
Currently, the artist has embarked on several projects in their nascent stages, one of which includes a monumental sculpture in a remote location, a venture that is anticipated to span several years. In addition, a substantial series of very large works on canvas and paper is in its initial stages of development. However, the ambitions for this particular project are grand, rendering his existing studio space insufficient to accommodate the scale of the work he envisions.