"I aim to conjure an atmospheric mood to reach out to the viewer's imagination, similar to the tradition of sumi ink painting."
Artistic Evolution: Dolores Phelps' Inspirational Formative Years
Dolores Phelps was born into a theatrical and bohemian family in London, 1961. The daughter of a Spanish refugee who later established herself as a professional ballet dancer, and the son of a renowned actress who pursued a successful career as a BBC Radio One DJ, Phelps grew up immersed in an eclectic environment filled with theatrical memorabilia and wartime tales. Yet, her early years were not without their melancholy moments, underscored by the divorce of her parents while she was still in her tender years.
From an early age, Phelps exhibited an extraordinary fascination with art. Her innate creative drive found expression on any available surface, ranging from envelope backs to paper bags. While navigating an education system that labeled her as 'odd', she held fast to her passion for art, ultimately finding solace in the embrace of a local art school at the age of 16.
The foundation course she undertook in the art school spanned two transformative years, offering her a solid grounding in life drawing, design, printmaking, and painting techniques with various mediums like watercolour, gouache, and oil. These experiences would serve as a cornerstone for Phelps' lifelong creative journey.
Phelps subsequently pursued a degree in graphic art and illustration, motivated by the necessity of financial self-sufficiency. This period was instrumental in deepening her appreciation for the great modern art movements of the 20th century, fuelled by visits to London's esteemed galleries and exposure to the works of modernist masters like Matisse, Picasso, Klee, and Chagall. These influences continue to permeate her artistic consciousness, a testament to their lasting impact.
For aspiring artists who resonate with Phelps' unique style, she encourages a comprehensive exploration of 20th-century art history, supplemented by an examination of artists' diaries, manifestoes, and commentaries. Equally, Phelps values the aesthetic contributions of non-Western art forms, with a particular affinity for historical Chinese painting and Japanese prints.
In 1997, Phelps moved to a secluded valley in the Forest of Dean, Gloucestershire, UK. The idyllic surroundings, characterized by breathtaking light, verdant trees, changing seasons, and mirrored water reflections, served as the catalyst for her shift in focus towards watercolour painting. Despite her deep connection with her immediate environment, Phelps holds a special fondness for the nearby Welsh mountains, a recurring motif in her works.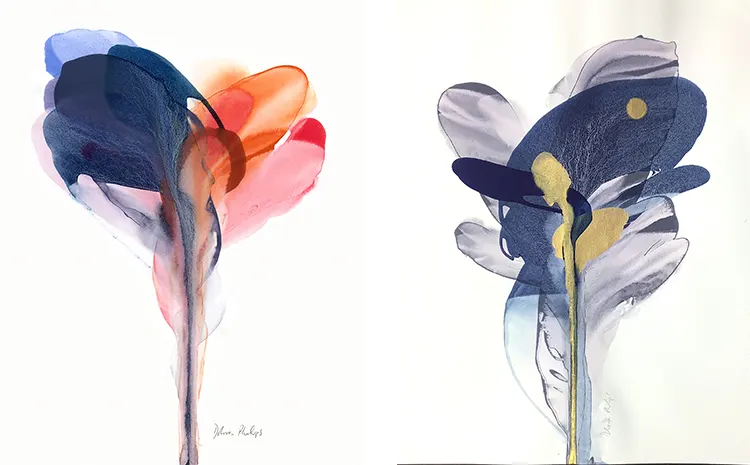 The Immersive World of Dolores Phelps' Watercolor Practice
From her earliest memories, Dolores Phelps harbored an unyielding determination to forge a career in the arts. Rather than deriving inspiration from an isolated source, her artistic evolution was shaped by the cultural currents that ebbed and flowed during her formative years in her late teens and early twenties. Influential periods such as the punk and new wave movements, as well as the groundbreaking work of 'radical illustrators' like Russell Mills and Ian Pollock, left indelible imprints on her aesthetic sensibilities.
Phelps yearned for the recognition and reach of a published illustrator, envisioning her artwork gracing the covers of books and magazines alike. Not only did she fulfill this ambition, becoming a successful illustrator, but she also broadened her contributions to the field by teaching design and illustration in subsequent years. Despite these professional pursuits, her heart found refuge and joy in her watercolor practice, a personal sanctuary set against the demanding backdrop of academic instruction.
Now, she is profoundly grateful for the opportunity to channel her wealth of knowledge and experiences into the interpretation and representation of her natural surroundings. Whether it be the forest, coasts, mountains, or the elemental forces such as gravity, water, and weather that sculpted them, Phelps brings these elements to life through her artistic prowess.
Her artistry spans various media, though she has a particular predilection for watercolors. Phelps aims to establish a link between the reality and phenomena of her immediate landscapes and the viewer's own interpretations of these scenes.
Watercolor, in Phelps' view, possesses a unique immediacy and transparency that she finds captivating. That being said, she maintains a keen interest in other water-based substances that mimic its qualities, such as ink, gouache, diluted acrylic, or even diluted oil paint. Her focus is not solely on the medium itself but its behavior and interaction with water. Anything capable of retaining a substantial amount of water, like minerals and clay, piques her interest due to the patterns they form when combined with water.
In essence, Phelps considers water and gravity her chief mediums. Through these, she paints not just the physical world, but also the elemental forces that shape it, offering viewers a uniquely profound perspective on their own environments.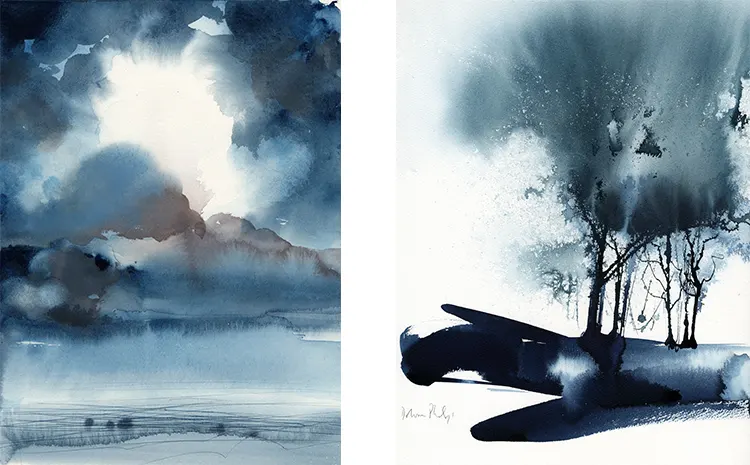 Gravity and Chance: Unveiling Dolores Phelps' Landscape Motifs
In her pursuit of mastering the dynamic interplay between water and pigment, Dolores Phelps channels the forces of gravity and chance to depict landscape motifs and atmospheric phenomena such as mist, clouds, rain, wind, and light. Rather than a rigid portrayal of factual reality, Phelps seeks to evoke an immersive atmosphere that engages the viewer's imagination, resonating with the ethos of traditional Sumi ink painting. The prominence of her compositions stems from a delicate balance of robust structure and a conscious decision to veil explicit brushwork in favor of more organic, flow-driven, gravity-induced forms.
By employing a degree of abstraction to landscape representations, Phelps encourages ambiguity, inviting it through the application of both restraint and vigorous gestures. This approach serves to challenge viewers, urging them not only to partake in her perception, but also to form their own interpretations of the subject matter and its geographical context.
As an artist, Phelps draws inspiration from an array of sources. While her contemporary favourites on Instagram include the likes of Sabrina Garrasi, Heather Bird Harris, Debbie Loane, Barbara Nicholls, Ana Zanic, and Sam Boughton, her artistic influences extend beyond these names. Abstract expressionists such as Paul Jenkins, Bette Ridgway, and Morris Louis, as well as the larger body of 20th-century abstract art and traditional Chinese and Japanese painting, hold significant sway in her work. Furthermore, British modernists like John Piper and Paul Nash, along with the works of Donald Hamilton Fraser, hold a special place in Phelps' artistic sensibilities. Living in a forest, she derives substantial inspiration from her natural surroundings and navigates Instagram as a vast repository of artistic discovery, gleaning fresh insights every day.
The crucible of Phelps' creativity is her workspace, which she carefully curates to facilitate her artistic process. Vital to this setting are light and warmth, flat surfaces for drying works in progress, and an ample supply of tea and coffee. Her dedication extends to keeping copious amounts of water, brushes, and paints at hand, reflecting a deep-seated fear of running short. As an ardent connoisseur, she opts for 'artist's quality' materials and demonstrates a passionate concern for lightfastness. Phelps' sonic backdrop often comprises talk radio, podcasts, Test cricket commentary, or the nostalgic hum of 1980s post-punk concerts on YouTube, primarily by the Fall. However, distractions lurk in the form of incessant phone notifications, cleaning paint brushes and dishes, and the call for her canine companion's daily walk, often coinciding with her most creative moments.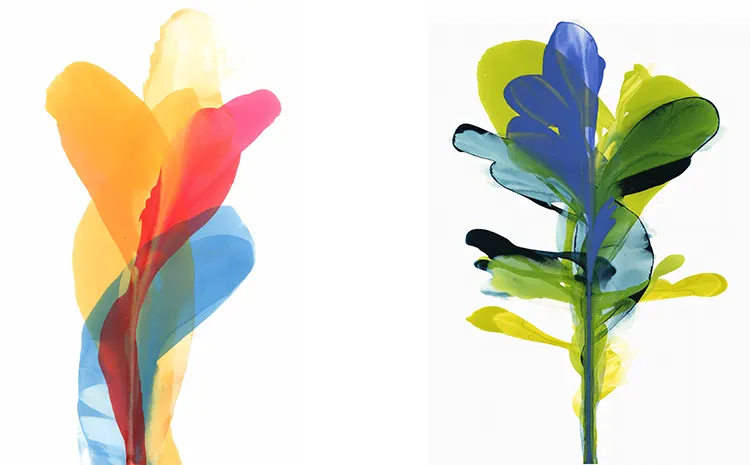 The Cherished 'Autumn Song': A Closer Look at Dolores Phelps' Masterpiece
The artwork 'Autumn Song', recently showcased at Soul Gallery in Winnipeg, occupies a uniquely cherished place in Dolores Phelps's oeuvre. Initiated several years ago and only recently refined, this piece is imbued with a plethora of elements that Phelps holds dear. The intermingling of warm and cool zones, an abstract yet poignant representation of arboreal landscapes and growth, coupled with its inherent depth and deceptive simplicity, all contribute to the appeal of this work.
Phelps harbors an ambition to explore larger-scale canvas compositions and is rigorously researching ways to seamlessly transition her established techniques to this medium. While her preference veers away from acrylics, health constraints necessitate avoidance of dilute oil as a medium. Therefore, Phelps has opted for acrylic ink, often combined with India ink, as a feasible alternative. She is currently experimenting with these inks on various surfaces such as primed and unprimed canvas, occasionally utilizing transparent primer.
Disposing of acrylic waste water in an environmentally conscious manner presents an additional challenge, yet Phelps remains resolute. She urges fellow artists working with acrylics to adopt responsible practices and avoid introducing acrylic waste into water systems. A creative solution she suggests is applying waste water to inexpensive canvas, which, upon drying, might even serve as the foundation for future artwork.