"I don't believe I'm influenced by anybody. Perhaps my style is a new style-art movement in the making. It takes talent and courage to be original."
The Inspiring Path of Heini Mika
Heini Mika is a Finnish artist, currently residing and conducting her creative endeavors in the cosmopolitan heart of New York City. Mika's affinity for art manifested at an early age, with her first artistic venture materializing in the form of a ceramic sculpture sold at a local neighborhood art fair when she was merely six years old.
Educationally, Mika boasts an impressive portfolio of credentials. She holds a Bachelor of Arts degree in Fine Arts from the University of Worcester, situated in the United Kingdom, as well as a degree in Fine Art and Visual Communications from the esteemed Pekka Halonen Academy of Art in Finland.
Mika's artistic oeuvre, predominantly comprised of her evocative paintings, has been showcased on a global scale, gracing exhibition halls in four continents including renowned spaces in New York City, the United Kingdom, the United Arab Emirates, and Indonesia. Currently, Mika is broadening her horizons in the artistic realm, focusing her efforts on the development of her painting career.
In addition to her personal creative pursuits, Mika serves as the Co-Founder and Chief Curator of her own online art establishment, the HMVC Gallery New York. Her vision for the gallery encapsulates a nurturing and inclusive ethos, striving to establish a community where artists of diverse backgrounds are embraced. Within this virtual art hub, artists are given a platform to receive public recognition and encouragement, reinforcing their passion and determination on their unique artistic journeys.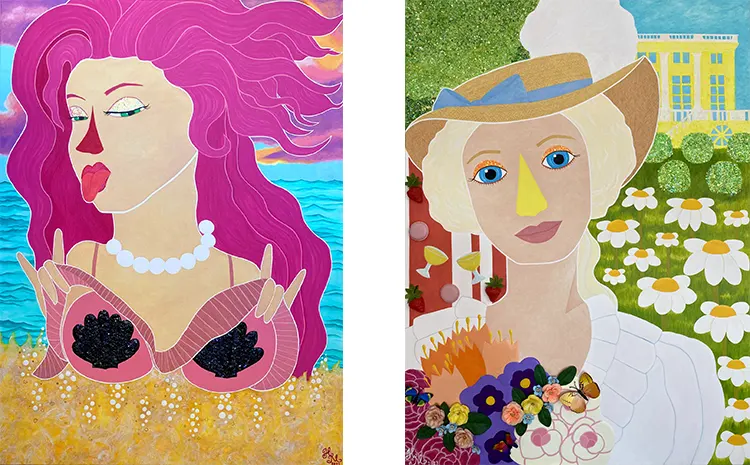 Capturing Magic: Heini Mika's Artistic Journey
Heini Mika was destined for a career in the arts, yet intriguingly, her family history lacks any established artists. The essence of creativity and the joy derived from it resonate profoundly within her. Rather than her background, it's the intricate tales of fantasy, historical narratives, and the feminine mystique that provide the substantial inspiration that pervades her work.
Ever since her early childhood, Mika's passion for art was evident. In her quest for mastery, she immersed herself in every available art class and after-school program, which ultimately led to her acceptance at a prestigious private art school in 2007. This ambition did not stop at the borders of her native country; a year later, she journeyed to England to study Fine Art at the University of Worcester. Upon her graduation in 2011, her unique talent was spotted by a local gallery, which facilitated her inaugural exhibition.
Mika's artistic style is as distinctive as her journey. The specific label for her approach remains elusive, as none have accurately captured its essence. Yet, there's a noticeable affinity to Pop Art in her mixed media pieces, offering an approximate descriptor. Her watercolour compositions draw heavily from fairy tales, history, and experiences amassed from her global sojourns – a lifestyle facilitated by her six-year tenure as a Flight Attendant in the Middle East. Currently, Mika is working on a mixed media series that explores the concepts of femininity and satire, delving into the fascinating dichotomy between the pop culture images of her female protagonists and their authentic narratives.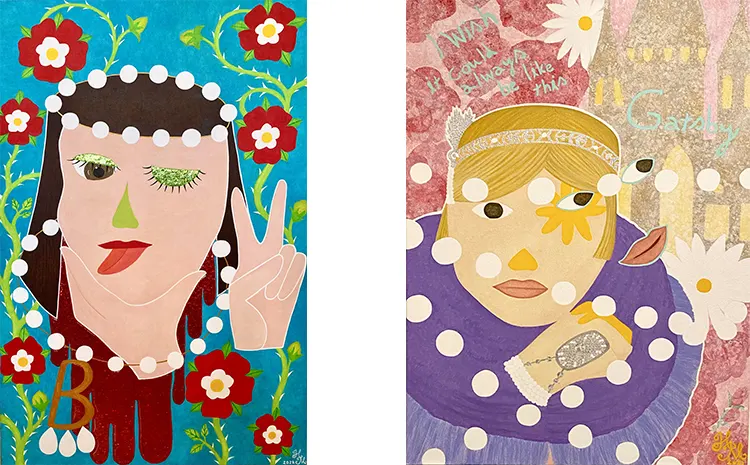 Unveiling the Enigma: Heini Mika's Distinctive Style
Heini Mika maintains a stance of unique artistic individuality, refuting any perceived influence from fellow creators. She posits her aesthetic as potentially forming the vanguard of an entirely new art movement, thereby underlining the significance of originality—a pursuit that calls for innate talent and audacious courage.
The diligent discipline that drives Mika's creative process is profound. An average day witnesses her engrossed in painting for approximately ten hours. Mika's focus remains undeterred by the external conditions of her workspace or potential distractions, serving as a testament to her steadfast dedication. For her, the paramount factor is always the essence and quality of the work she creates.
Mika's explorations span across a multitude of artistic mediums, her vast repertoire hinting at her ceaseless quest for expression. While she concedes her unfamiliarity with digital platforms such as Photoshop or Adobe, her proficiency in traditional mediums is indisputable. Painting remains her preferred technique, albeit she navigates fluidly between mediums, reflecting her adaptive artistic spirit.
For years, she engaged primarily with oils and acrylics, until a shift in 2008 led her to almost exclusively adopt watercolours. A return to acrylics marked the year 2020, and currently, she finds herself in the throes of innovation with acrylics and mixed media. This rhythmic ebb and flow of mediums underlines Mika's willingness to transform, a testament to her evolving artistic journey.
Misleading Identity: The Story Behind Heini Mika's Masterpiece
Heini Mika retains a particularly captivating piece from her oeuvre in her personal collection, a watercolour composition she titled "Misleading Identity." The piece stages a striking scene from 1750, featuring a russet-haired mermaid, situated in a Rococo chair, her countenance patient as if poised for her artist to complete her portrait. With a shimmering blue fin and donned in a meticulously embroidered kimono in hues of white and red, the mermaid's unique aesthetic tells a fascinating story. The kimono, Mika imagines, is a gift from the mermaid's "keeper," an artifact of his travels to Japan. The contemplative expression of the mermaid indicates her attempt to comprehend her position within the courtly sphere and the challenges she faces fitting into an alien world. This sentiment, Mika believes, resonates with the contemporary global experience, wherein people often grapple with cultural integration, constantly questioning their ability to fit in, and the extent of change necessitated by adaptation. The rich narrative of the painting and its layered meaning hold such resonance for the artist that she reserves it from sale.
Mika embodies a heightened sensitivity and emotional responsiveness, characteristics that influence her enthusiastic embrace of promising projects or opportunities that resonate with her. She is a vigilant observer, perpetually seeking fresh prospects; however, her approach remains spontaneous, preferring to rely on instinct rather than rigid plans. A notable aspiration harbored by Mika is the conceptualization of a solo exhibition that diverges from the conventional. Drawing inspiration from the flamboyant aesthetics of popular visual narratives like Bridgerton and Sofia Coppola's Marie Antoinette, she envisions transforming the exhibition space into a vibrant set design. Mika finds the traditional methods of art display rather insipid, and given her predilection for colour and flamboyance, she wishes to infuse the art world with a dash of her unique exuberance.