"I'm currently trying to create abstract works in which sign and color are constantly interchanged, sometimes with the complicity of poetry. The starting point is always the calcography printed on cotton paper."
A Multi-Faceted Creative Journey
Andrea Pacini is a self-taught artist hailing from Rome, born in 1981. He has devoted himself to a wide range of creative pursuits throughout his life, beginning with painting and poetry at the age of 17. Later, he attended the Academy of Fine Arts in Rome and delved deeper into the world of analog photography. From 2002 to 2005, he collaborated with Giorgio Galieti and his Doctor Movie Posse, an independent audiovisual production house. In 2004, he honed his skills in printmaking at the Stamperia del Tevere in Rome. In 2006, he became a member of the Board of Directors at the Stamperia, a position he held until 2016. In 2013, he participated in the "Symposium," a course on bronze casting held by the Fondéria Association of Pécs, Hungary. Since 2015, he has dedicated himself to ceramic art at the Alessandra Bandini laboratory. In 2016, he co-founded the Alea Contemporary Art Association and Cultural group with Frank Martinangeli, Stefano Franchi, Usama Saad, Mauro Manni and Virginia Sobrino, of which he currently serves as president. Alea is a gallery of contemporary art and artistic laboratory located in the historic district of Garbatella in Rome. He has published two poetic collections and has been featured in various poetic anthologies, and he regularly features lyrics in literary magazines "Storicittà" and "Poeti e Poesia". He has organized and participated in numerous artistic events and exhibitions both in Italy and abroad, and currently, he is focused on graphics and poetry.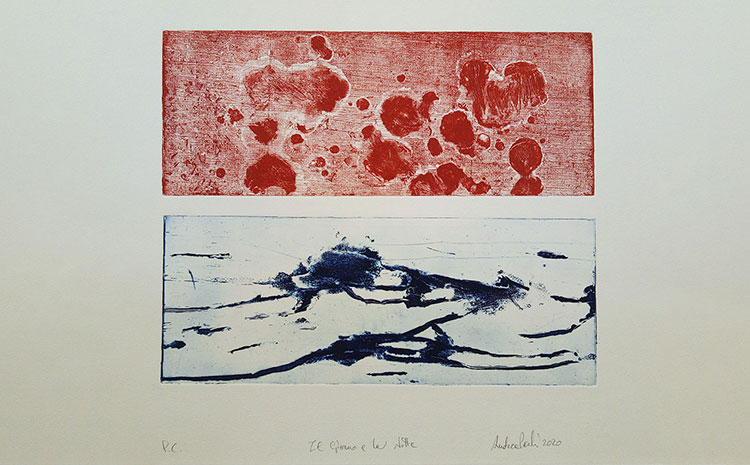 Exploring the Boundaries: The Artistic Journey of Andrea Pacini
Andrea Pacini is an artist from Italy. His formative years were shaped by the influence of classical and Renaissance masters such as Michelangelo, Leonardo, and Tiziano. However, his innate proclivity for experimentation and exploration has always been a defining aspect of his artistic journey, leading him to continually push the boundaries of traditional representation in favor of abstraction. Through the harmonious union of line and color, he strives to create new forms that transcend the limitations of the human eye and instead evoke a sense of sensation or suggestion. He is known for his abstract compositions, where signs and hues intermingle in a mesmerizing dance. His artistic process is rooted in introspection, as he delves deep within himself to unearth the emotions that drive his creations.
In Andrea Pacini's oeuvre, the written word has always played a crucial role, as seen in several of his paintings and prints featuring handwritten verses. Many of his works have their roots in prior poems, such as "Il Giorno e la Notte," which was inspired by a visit to the Fundació Joan Miró and a dedication poem to the Spanish artist. Over time, Pacini's artistic style has undergone a transformation, moving from acrylics on paper to a refined focus on oil on canvas.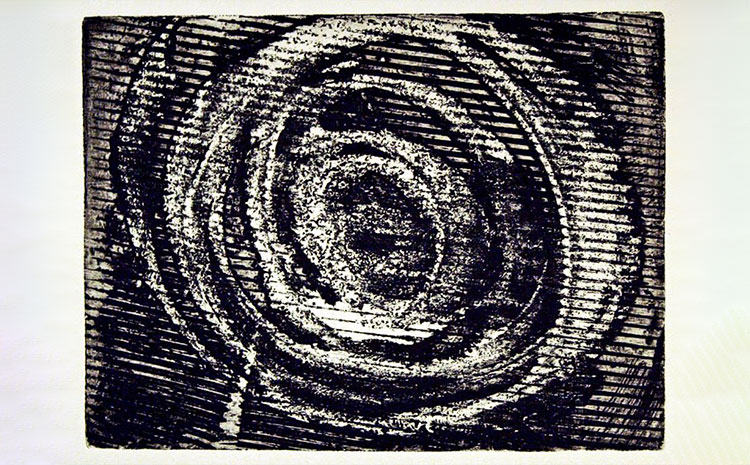 The Visceral Nature of Emotions through Printmaking
His work is characterized by bold and expressive marks, colors, and writing, as he seeks to convey the visceral nature of his emotions. He has a deep-seated passion for the tactile qualities of paper and metal, which led him to shift his focus to the mediums of engraving and printing. This has greatly influenced his current exploration of plastic combustions on printed paper.
Despite the evolution of his technique and mediums, Pacini's style has remained steadfast in its emphasis on the materiality and dreamlike qualities of the mark and color. Through his work, he invites the viewer on a journey of self-discovery, where the boundaries between art and poetry are blurred, and the emotions are raw and real.
Andrea Pacini takes great pride in his current series of plastic combustions, a tribute to the renowned artist Alberto Burri. Through the process of burning, paper and plastic are fused together to reveal an entirely new form, akin to a painting or print, uncovering previously undiscovered realms of beauty and meaning. This is a process that requires great skill, patience, and a deep understanding of the materials and techniques used.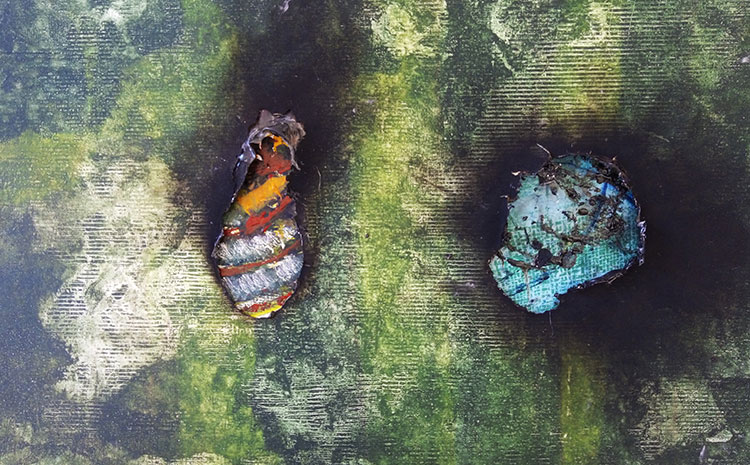 Andrea Pacini's "Delicacy and Fury" and "Il Velo di Maya"
Titled "Delicacy and Fury" and "Il Velo di Maya," this series is deeply rooted in the philosophical musings of Arthur Schopenhauer, who explored the nature of existence and the human experience. Pacini's work reflects this by pushing the boundaries of what we consider art and challenging our perceptions of the world around us.
One of Andrea's aspirations is to craft an expansive and captivating installation that seamlessly incorporates a verdant environment. The idea of melding the natural beauty of a green space with artistic expression is particularly intriguing to him and he hopes to bring this vision to fruition in the future. He believes that the integration of art in various aspects of one's life can greatly enhance one's experiences and perspectives. Regrettably, it is not always given the recognition and importance it deserves. Pacini's work is a reminder of the transformative power of art and the potential for it to inspire and uplift us.