The inspiration for my last two collections comes from my experiences of tending to my mother at the cancer center and to my grandmother at the hospital for almost a month.
Rattapoom Piwpantamit's Inspiration and Background
Rattapoom Piwpantamit, also known as Vern, is an artist born in 1979. He is a painter and currently lives in Bangkok, the capital city of Thailand. Vern's hometown is Loei, a small province known for its rice fields and mountains. He comes from a small, close-knit community where people always help and support one another. Vern has been inspired by the compassion and humility of the people in his community, which has given him a sense of security and made him feel warm and safe. In his current collection of work, Vern explores the theme of kindness and care, particularly as it relates to the relationships within his own family.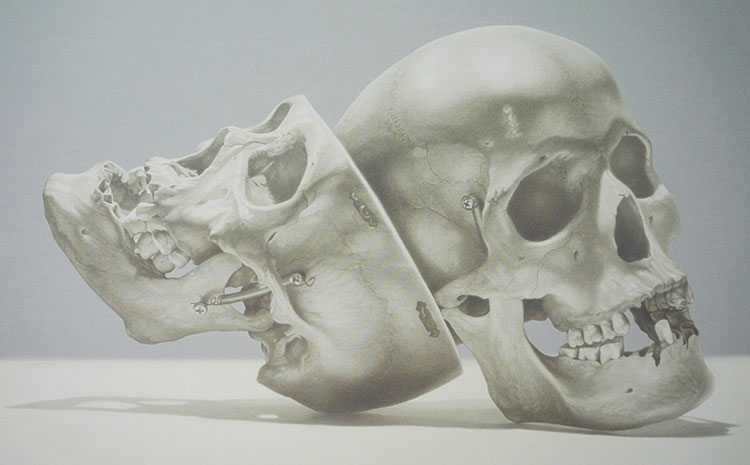 Vern's Painting Techniques and Aesthetic
Rattapoom works with oil on canvas to create natural, realistic shapes. The models in his paintings are posed in specific ways to convey the content he wants to present. Piwpantamit uses thin layers of oil paint, building up the color and value of the figure area by rubbing the paint over one another. He leaves the highlights in the white of the canvas, creating a foggy, undefined edge between light and shadow. This technique is similar to Leonardo da Vinci's Sfumato technique. Piwpantamit's works aim to convey sincerity, simplicity, and depth, rather than flashiness or superficiality. The background in his paintings is often empty, endless, and insignificant, creating a sense of isolation in the fictional scene. Piwpantamit values minimal and simple composition, believing that it can still have a deep connotation and appeal to the heart. He strives to create works that are ingenious and not shallow in their expression.
Vern's last two collections are inspired by the temporary and fragile nature of life. He believes that loss and separation are inevitable, but the true value of life can be found in our connections with others, such as friendships, love, and the sacrifices we make for each other. The inspiration for these collections came from Rattapoom's experiences of caring for his mother and grandmother at the cancer center and hospital, respectively, which were both emotionally and physically draining experiences. He reflects on these events and the many other events of his life repeatedly in his head, reminding himself that we are all temporary and do not truly own anything, not even ourselves.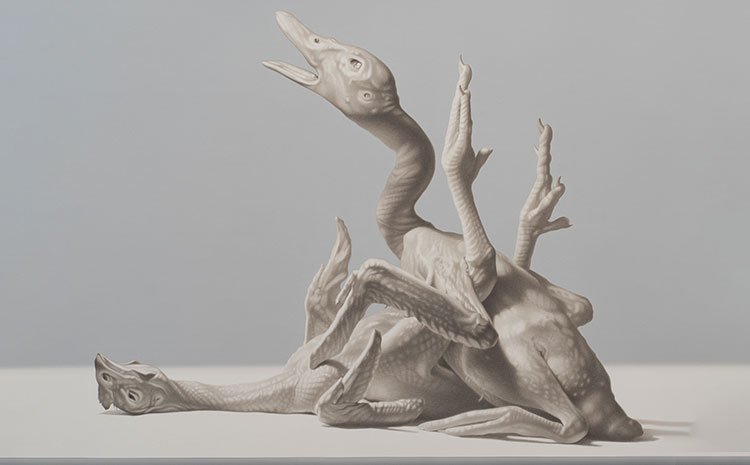 Recent Collections: Misgiving and I Love Goodbye
Rattapoom Piwpantamit creates paintings with the intention of supporting the concept of each series. The format of the paintings will change according to the content of the work, but all of the works convey their messages through realistic or exaggerated shapes. The atmosphere of the paintings, as well as the colors, shapes, and compositions, may differ from series to series, but overall, the work has become calmer and has a more stable mood when looking back at the artist's progression from the first series to the current one.
Vern is most satisfied with his last two series, Misgiving and I Love Goodbye, as they both have a continuation in their concepts and themes. One of the works that Rattapoom would like to mention is called "Please don't leave," which depicts the interaction between a pair of naked chickens and ducks. The chicken is depicted as laying on the floor with a cold, emotionless expression, with its legs pressed against the duck's body in a way that resembles the sexual intercourse of a human being. In contrast, the duck is depicted with its head held up and its mouth wide open, as if it is shouting unintelligible language. The duck has tears in its eyes as it looks upward, as if it is pleading to someone even though there is no one there. One of the duck's wings is pressing lightly against the chicken's chest, as if checking its pulse. The stances of the chicken and duck have many overlapping implications, causing a feeling of awkwardness and suspicion in the relationship between the two. The pale and naked bodies in an infinite atmosphere raise questions about what this interaction means. Could it be a situation about losing a loved one? Is it an event of the inability to control oneself? These questions are raised as the artist suggests that humans are no different from animals.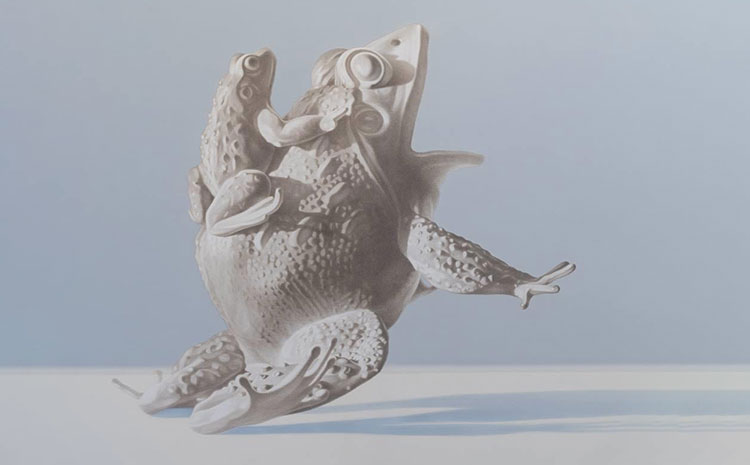 Rattapoom Piwpantamit's Goals and Creative Process
Rattapoom Piwpantamit's short-term goal is to have more time working in the studio. He wants to divide his time more perfectly because he also has a burden to teach arts. As for his long-term goal, he wants to continue his painting work until he is old with good health and perfect intelligence, not insane.
Vern creates works under the concept related to birth, old age, sickness, and death that are similar to Memento Mori. He has discovered that this process is healing for the mind and helps alleviate anxiety about the uncertainty of life. His creative process is a part of the exploration and understanding of his identity and is a practice in mindfulness, helping him see the value of existence and departure with equal eyes rather than being careless.