"The painting finds itself in the process."
Rooted in Heritage: The Fusion of Cultures in Karl Bielik's Art
Karl Bielik, a painter rooted in London, finds his lineage an indispensable part of his artistry. His work is deeply imbued with the essence of his unique heritage, a synthesis of the pragmatic grit of his Northern working-class mother and the poignant history of his Hungarian refugee father. This fusion of influences manifests in Bielik's utilization of Hungarian source material and his no-nonsense, self-reliant Northern approach to his craft, which he can best describe as a "just get on with it" attitude. He understands that, when it comes to achieving his vision, the onus falls solely on him.
Contrary to the experiences of many artists, Bielik did not draw his initial inspiration from traditional art or visits to galleries, for such experiences were absent from his upbringing. Instead, his muse was music—Glam, Punk, and New Romantics, as well as iconic figures like The Velvets, Roxy, Zappa, with David Bowie as a perpetually resonant presence. For Bielik, the aesthetics of the music scene—album artwork, clothing, inner sleeves, and videos—played an integral role in shaping his formative years and subsequently, his artistic trajectory.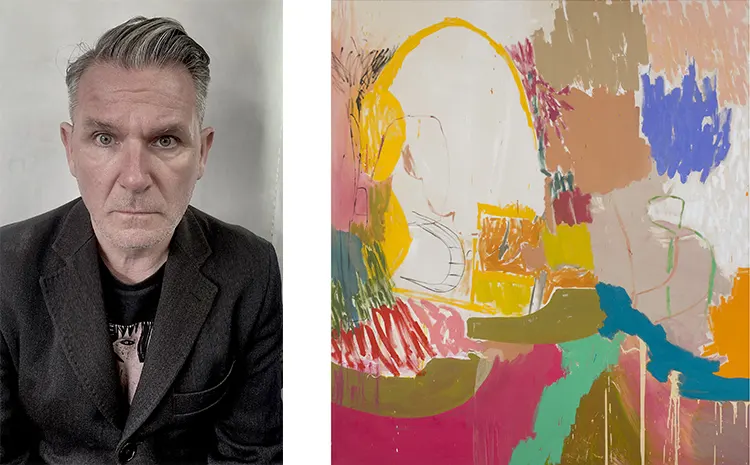 From Electrical Wiring to Canvas: Karl Bielik's Artistic Evolution
Kurt Schwitters was the seminal visual artist who transformed Karl Bielik's perspective on art. Schwitters' incorporation of found materials, collage, and the element of chance greatly influenced Bielik's artistic practice, a legacy that continues to this day. Bielik's discovery of Schwitters marked a turning point in his life and opened the door to a multitude of other artists. In fact, it was this inspiration that led Bielik to devote himself to painting full time while residing in Prague at the age of 28. Prior to this, he had worked as an electrician, studied graphic design, and faced periods of unemployment.
Bielik's style is often described as visceral and process-driven, employing oil as the medium of choice. His paintings are a testament to the serendipity of mark-making and color interactions. The surfaces of his canvases bear witness to an intricate layering process that reveals the history of the artist's decision-making, as well as moments of uncertainty. Bielik admits that his process is one of continual exploration; he often begins a painting without a predetermined outcome in mind. Rather, the work evolves as he paints, with the final image emerging organically from the process. Bielik is prolific in his practice, working on multiple pieces simultaneously—around 30, varying in size. For him, the uncertainties and doubts that accompany the creative process are fundamental drivers of his work. Depending on his mental state, this approach can evoke feelings of either pain or liberation.
Bielik's work is marked by its intensive reworking and tends to eschew representational elements. Many of his paintings originate from drawings based on photographs of the 1956 Hungarian Uprising—a pivotal event that led his father to leave Budapest for England.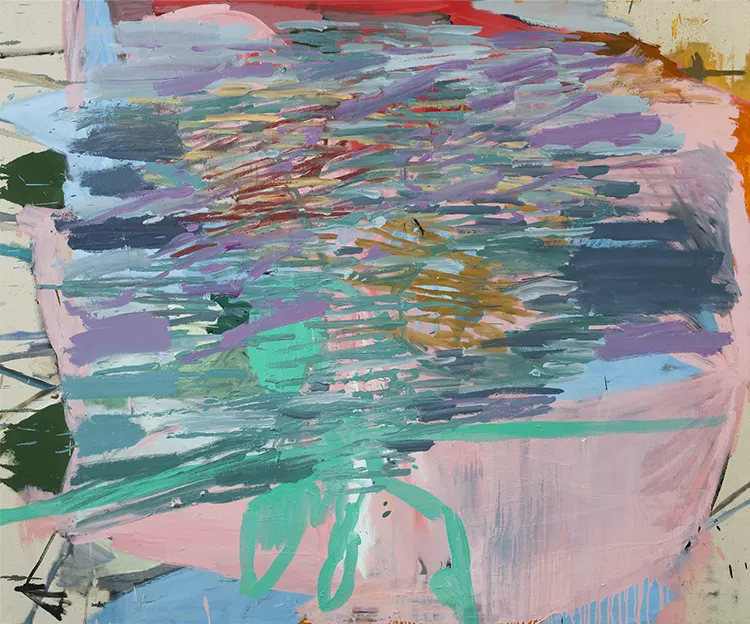 Versatile Workspace: Karl Bielik's Unpretentious Approach to Art
Karl Bielik's approach to his creative process is refreshingly unpretentious and candid. For him, a productive workspace is characterized by its simplicity and adaptability to his needs. Whether enveloped in silence or immersed in the driving beats of loud music, Bielik's artistry flourishes. Amidst the seeming disarray of his creative output, his studio remains a well-organized haven that affords him the ability to work without interruptions. Bielik's painting technique varies depending on the scale of the piece; larger canvases are often painted on walls, while smaller works find their birthplace on a flat table. Beyond the basic tools of the trade – walls, tables, paint, and brushes – he requires little else.
Bielik's artistic influences span a wide spectrum of art, literature, film, life, comedy, love, and decay. The artist acknowledges the impact of Kurt Schwitters on his work, along with other luminaries such as Robert Rauschenberg, Philip Guston, Tom Waits, Jim Jarmusch, Joan Mitchell, Rose Wylie, Bill Hicks, John Hoyland, Charles Bukowski, PJ Harvey, Roy Oxlade, and Albert Oehlen.
Having spent two decades primarily working with oil paint, Bielik has recently begun to incorporate a blend of personal and found materials into his oeuvre. He's reintroducing old bedsheets, towels, and found surfaces, a departure from his earlier practice which was less defined by medium constraints. During that earlier period, Bielik employed an eclectic mix of materials, driven in part by financial considerations. His arsenal included found surfaces and paints, spray paint, collage, wax, polystyrene, plastic, furniture, rubber, household paint, and more traditional art materials. Interestingly, those creations were ephemeral, not intended to stand the test of time.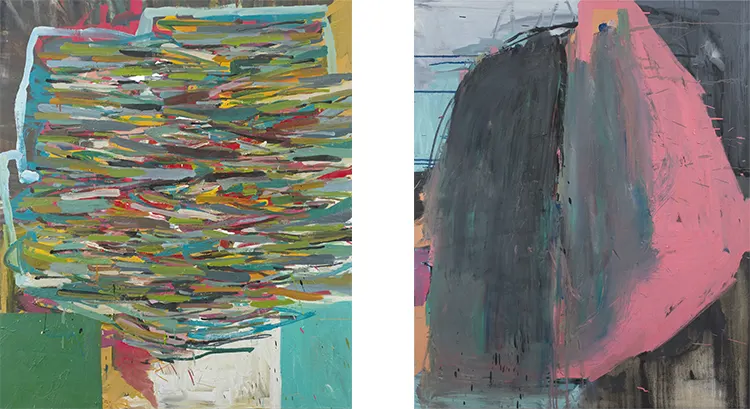 More Than a Painter: Karl Bielik's Musical Endeavors and Gallery Leadership
In addition to his established painting career, Karl Bielik is a multi-talented artist known for his musical endeavors under the pseudonym Lark. In the past 14 years, Bielik, as Lark, has released a total of eight albums, with a ninth release on the horizon. Once a live act that toured and performed at festivals, Lark is characterized by its unconventional and idiosyncratic rock 'n' roll sound. The band has featured a rotating cast of musicians over the years, with Bielik being the sole consistent member. Although he no longer has the time for live performances, Bielik has indicated that he hopes to continue producing records. His music can be found at https://lark1.bandcamp.com.
Beyond his music, Bielik has made a significant impact on the London art scene as the Founder and Director of Terrace Gallery. The gallery was initially established as an artist-run space in Hackney in 2004. Since its inception, it has hosted over 50 exhibitions, showcasing the works of more than 500 artists, including noteworthy names like Matthew Collings, Bob and Roberta Smith, David Leapman, Mali Morris, and Eddie Peake. In August 2022, the gallery underwent a relocation to Patchworks, a versatile warehouse space in Leyton. There, it continues to prioritize contemporary painting in its exhibitions. For a closer look at Terrace Gallery's offerings, one can visit their Instagram page @terrace_gallery.