"I want Fat Fox & Moon to exist and be known to everyone. I want art and daily life to be in harmony."
Pursuing the Dream of Becoming a Professional Artist
He is Chanathip Chuenbumroong, a distinguished alumnus of Silpakorn University, which is widely considered one of Thailand's most prestigious art universities. After graduation, he spent more than ten years teaching art at a college while also creating sand sculptures both locally and abroad.
In due course, he transitioned into a full-time role at a company, but his genuine passion remained in creating his own artistic pieces. Ultimately, he made the decision to leave his full-time job and pursue his dream of becoming a professional artist. Now he proudly runs his personal endeavor Fat Fox & Moon.
Initially, his focus was on drawing. However, he realized that the more he drew, the more he felt disconnected from others as Thai art can be quite obscure to many people. As a result, he took a hands-on approach to creating his art, from stretching and nailing the canvas to carving wooden frames. During this process, he discovered a newfound sense of joy and aesthetic pleasure that made his art more accessible and enjoyable for everyone.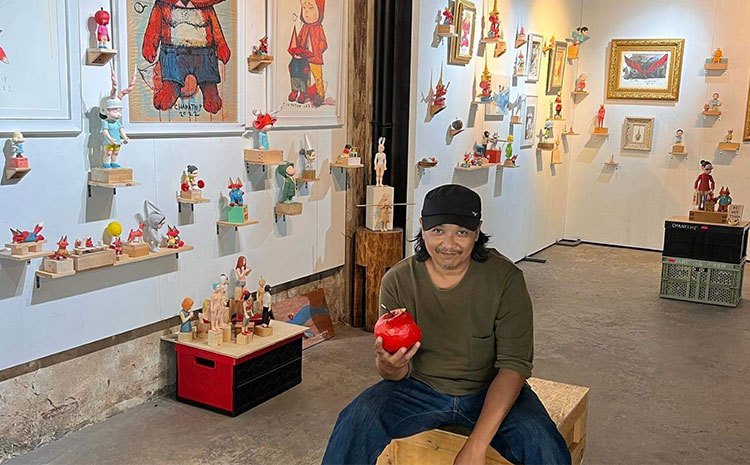 Imbuing Wood Carvings with a Sense of Identity
Utilizing locally-sourced materials abundant in Thailand, Chanathip Chuenbumroong skillfully crafts intricate wood carvings that serve as artful representations of his creative vision. At the genesis of his artistic pursuits, he endeavored to fill a void in his childhood by hand-carving toys from wood. He found inspiration in the animated cartoons, robots, and characters hailing from Japan, which left an indelible imprint on his generation's collective imagination.
As his abilities evolved, Chanathip turned to the creation of original characters, the most notable of which is Fat Fox. Through his artistry, Fat Fox became a vehicle through which he could communicate his personal narratives, thereby imbuing his works with a sense of identity that is uniquely his.
Any piece he makes for his Fat Fox & Moon makes him very satisfied, because it really matches his inner feeling. He loves all his works, the pieces that he created. But mostly, he looks at the people who have engaged with his work. If someone looks very happy, he feels very proud too.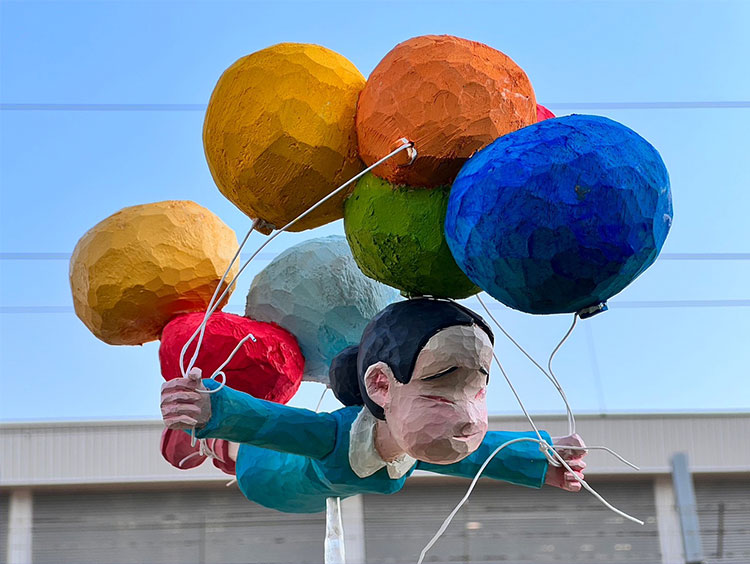 Using Used Wood to Create Art that Connects with Nature
Chanathip resides in an urban landscape where there is a dearth of verdant forests and wooden materials. As a result, the populace within the city yearns for nature's rustic offerings. He has a fervent desire to engage in wood carving, but the high cost of fresh wood poses a predicament as he cannot relinquish his full-time employment. Thus, he seeks an alternative and discovers the used wood market at the pier, which offers an economical import repurposed from a former produce crate. Chanathip initially embarked on an exploratory journey to experiment with various types of reclaimed wood, aiming to gain insights into which types of wood are best suited for carving.
Despite having greater financial possibilities, the artisan continues to gravitate towards used wood for its cost-effectiveness and minimal impact on the forest. The selection of a suitable piece for carving is guided by his astute observations of the wood's grain, weight, and color, knowledge gained from previous experiences.
Chanathip Chuenbumroong's creations are inspired by his inner wellspring of emotions, desires, yearnings, and affections. He expresses themes of love, loneliness, and despair through his artistry, using Fat Fox & Moon as a conduit for self-expression. Although physically solitary in his urban abode, his art serves as an outlet to bridge the gap between himself and the external world.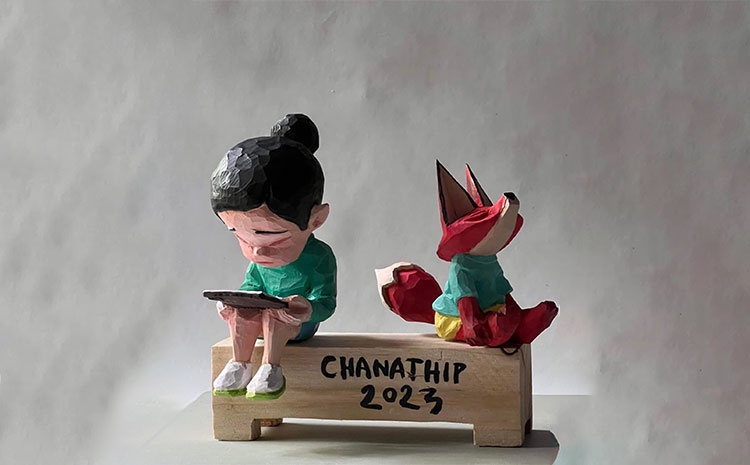 Art as the Lifeblood that Nourishes and Invigorates
Chanathip Chuenbumroong has not noticed any significant changes in his artistic style, but he has noticed an improvement in his ability to articulate his ideas. He prides himself on not adhering to any established templates or models, instead relying on his unbridled creativity to create his work. While his mindset has remained relatively unchanged, his technical abilities have seen significant growth.
Chanathip has spent the last thirteen years fully dedicating himself to the craft of wood carving. His passion for this art form has only grown deeper over time. While he may continue to evolve his profession as he hones his skills, he believes that his core identity as an artist will always remain the same.
To Chanathip, art is an essential aspect of his existence, serving as a universal language that all cultures can appreciate and understand. He believes that no other form of communication can match the expressive power of art, which he considers the lifeblood that animates his spirit and enriches his inner and outer worlds. Even in the midst of the busy urban life, Chanathip's art continues to nourish and invigorate him.