"Life means change, which is why the themes I deal with and which flow into my work also change."
Embracing Unconventional Materials
Brigitte Kratochwill, born in the Austrian city of Linz in 1954, currently resides and practices her artistry in Salzburg and Vienna. With a background in pedagogy, she was a music, art, and German language instructor in Salzburg and spearheaded numerous art projects across different institutions.
From 1988 onward, Kratochwill has showcased her artistic endeavors extensively, reaching audiences in Austria, Germany, Italy, Hungary, Portugal, Switzerland, Luxembourg, France, Great Britain, the Czech Republic, China, Finland, the Netherlands, Belgium, and Spain. In recent years, her work has garnered international acclaim, manifesting in numerous prestigious awards.
At the heart of Kratochwill's art is a persistent quest for the essential, the core of existence. Her work aims to resonate with viewers on a profound emotional plane while concurrently inviting fresh perspectives.
From her early years, Kratochwill's artistic identity was crystal clear. A deep-seated fascination with music, painting, and drawing defined her childhood. This intrinsic passion spurred her to ignite similar inspiration in her students. Her first solo exhibition, a significant milestone in her artistic journey, took place in 1988. For Kratochwill, a life devoid of art is unthinkable, indicating the depth of her commitment to her craft.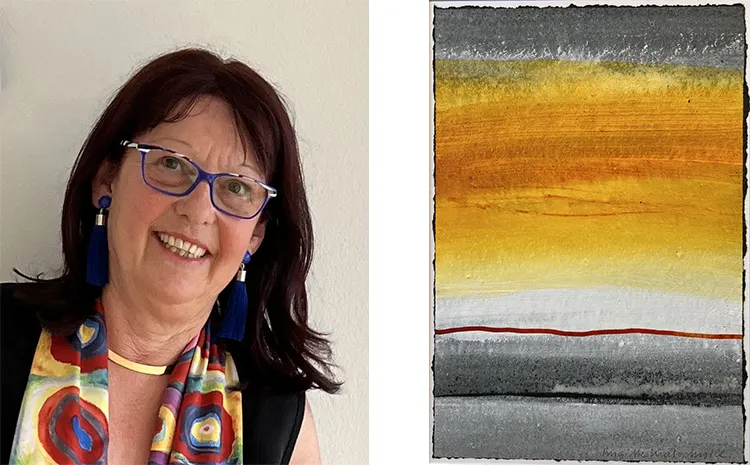 Brigitte Kratochwill: Tracing Life's Intricate Patterns
Primarily employing canvas and paper as her artistic platforms, Brigitte Kratochwill simultaneously displays a fascination with unconventional materials, such as wood and corrugated cardboard. This eclectic material selection serves to circumvent the monotony of routine and fuels her pursuit of innovative artistic expression.
A recurring exploration of several themes, notably concentration, contemplation, and metamorphosis, underpins Kratochwill's oeuvre. Additionally, her artistry attempts to trace the intricate patterns of life, unearthing its enduring enigmas. These motifs have consistently emerged within her work over recent years, a testament to their enduring significance within her creative vision.
The act of painting for Kratochwill is an introspective voyage, a deep plunge into her subconscious where her sensory experiences coalesce with the artistic process. The result is an introspective tableau that mirrors the artist's soul, offering a vibrant confrontation of her inner self to the viewer.
Kratochwill's artistry seeks to harmonize the elusive elements of form, structure, color, and sensitive surfaces. She navigates a complex dance between various hues and shades, exploring their interplay to create an aesthetic that resonates with her artistic vision.
The artist's technique frequently involves a meticulous layering of paint, through which she achieves her envisaged surface structures. Demonstrating a fearless approach to her art, she intentionally overpaints previously completed sections of her work, striving to distill the essence of her creative vision. This method results in an intriguing palimpsest of artistic expression, where traces of what lies beneath remain subtly perceptible, adding depth and complexity to her work.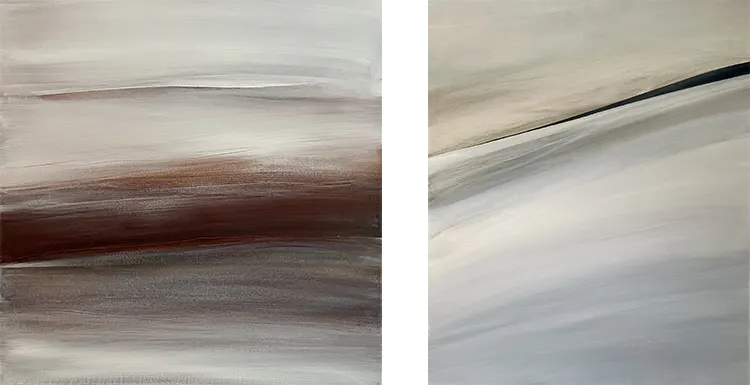 Evolving Themes and Metamorphoses
Underscoring the fluidity of life, Brigitte Kratochwill's artistic themes perpetually evolve, serving as a poignant reflection of her personal metamorphoses. Over recent months, her oeuvre has encompassed a plethora of critical discourses such as peace, antifascism, and the intersection of the environment with climate issues.
Her artistic sensibilities have been significantly shaped by the profound influence of luminaries such as Antoni Tapies, Paul Klee, and William Turner. Yet, the impact of her contemporaries, those with whom she engages in collaborative creation within the vast expanse of larger studios, cannot be overlooked.
While Kratochwill often finds herself immersed in solitary creation within the confines of her own studio, her approach to art is neither rigid nor formulaic. She indeed starts with a conceptual framework, but her creative process is inherently characterized by its intuitive nature, allowing her to remain receptive to serendipitous inspirations.
Moreover, Brigitte does not view disruptions or distractions as obstacles in her artistic journey. Instead, they become an integral part of her quest, an odyssey laden with detours and diversions, in the pursuit of unearthing and encapsulating the essence of her subjects.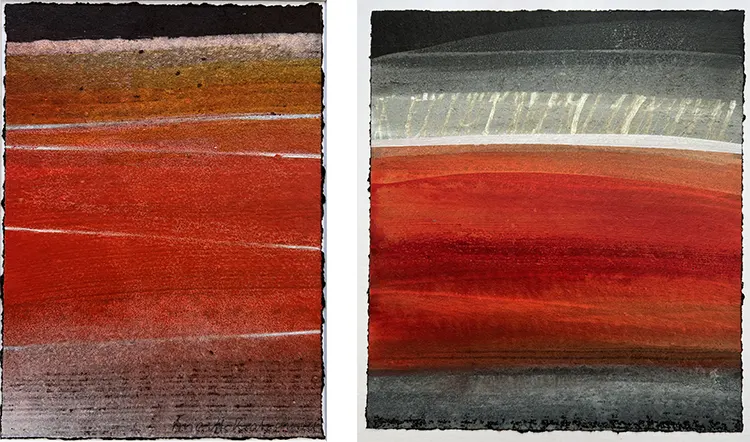 Brigitte Kratochwill: The Journey to Capturing Essence
Brigitte Kratochwill cherishes her small canvas painting "Donauwalzer" as an emblem of special significance. This work, part of a series for an exhibition in Budapest, beautifully illustrates her passion for music, a recurrent motif seen throughout her portfolio. Despite its modest size of 20 cm x 20 cm, she treats it with as much gravitas as her larger works, valuing quality over scale.
Kratochwill's unique artistic process can be observed in this piece. She applies multiple layers and carefully paints over non-essential elements, using a mixture of acrylic paints and transparent inks. This meticulous technique brings a distinctive depth and texture to her work, allowing the viewer to perceive the layers of creativity and thought behind each stroke.
A few years prior, Kratochwill had the honor of showcasing her work during the Salzburg Festival, held in a quaint gallery in Salzburg. This experience fueled her with an array of fresh ideas that she eagerly anticipates bringing to life in the forthcoming years.
Presently, she is engrossed in crafting an artwork on the theme of antifascism. Through this powerful piece, she hopes to initiate a dialogue with her audience, aiming to mold a positive future through this artistic interchange.
Looking ahead to February 2024, Kratochwill is excited about her upcoming solo exhibition "Movement and Silence" at the Landeskulturzentrum Linz. Accompanying this event, she plans to present an exhibition catalog. Anticipation builds as she looks forward to collaborating with a renowned printer, ensuring the catalog encapsulates the fine details and essence of her exhibition.