"Illustration is the form of communication with which I can best express my thoughts, my vision of the world."
Toni Demuro's Artistic Style: Pulsating Surrealism, Conceptualism, and Minimalism
Illustrator Toni Demuro resides amidst the natural beauty and cultural riches of Sardinia, a captivating island nestled in the heart of the Mediterranean Sea. He chose to remain rooted in his place of origin, finding a profound wellspring of inspiration in its multifaceted heritage. With an academic background in both decoration and painting, Demuro's artistic sensibilities have been carefully honed, a testament to rigorous and comprehensive training under the tutelage of astute educators. The course of his artistic journey has been graced by supportive figures, individuals who have consistently offered encouragement and assistance.
Prior to establishing himself as an illustrator, Demuro explored the realms of design and pedagogy while nurturing a consistent passion for painting and comics. In 2011, aligning with the World Year of Forests, he initiated a creative endeavor focused on producing a series of illustrations centered around the theme of trees. Demuro committed to delivering one illustration daily on his blog for an entire year, a diligent endeavor that served to ignite widespread interest in his distinctive craft. This in turn led to a surge in demand for his visual storytelling and sparked the genesis of various collaborative projects.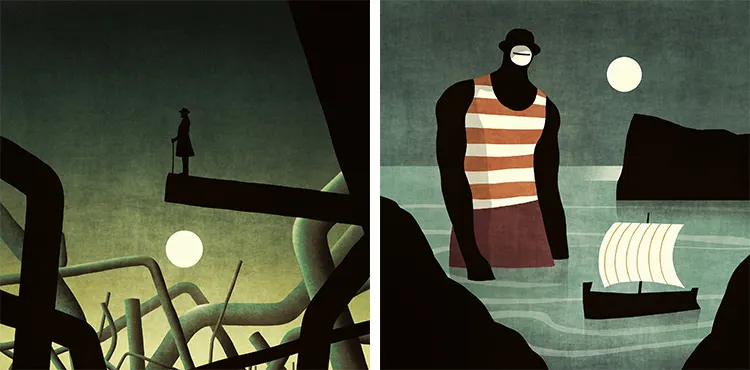 Toni Demuro: The Creative Process
It is challenging to encapsulate the artistic style of Toni Demuro in mere words, as it pulsates with an enticing blend of surrealism, conceptualism, and minimalism. Demuro's compelling body of work probes the intricate dynamics between nature, people, and animals. At the same time, his art invokes universal emotions, exploring the diverse spectrum of love, loneliness, peace, and freedom.
In Demuro's meticulously organized workspace, minimalism reigns supreme. With just a table, a personal computer, a pen display, a swift internet connection, and an indomitable spirit, he crafts his unique visions into reality. Distractions, contrary to popular belief, are not seen as impediments in his creative process. On the contrary, Demuro views them as critical tools for alleviating tension and liberating the mind.
The artist is a proponent of strict discipline, meticulously allocating his time between fulfilling his artistic duties and engaging in necessary distractions. This careful balance enables him to conclude his day with a gratifying sense of accomplishment. In this way, Demuro masterfully navigates the intersection of creativity and structure, ensuring the consistent creation of his captivating art.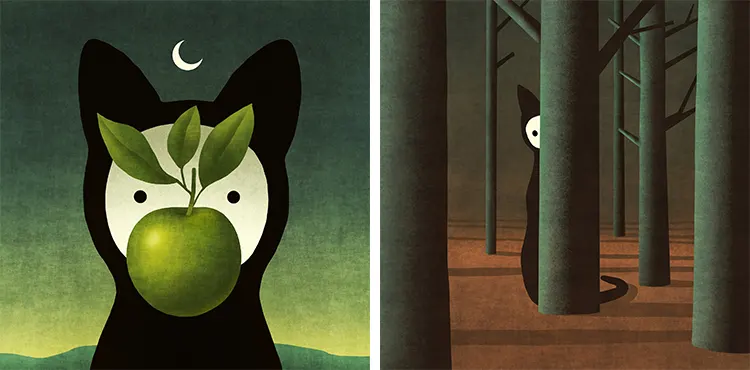 Artistic Influences: A Fusion of Surrealism, Abstract Expressionism, and Illustration
Artistic influences have greatly shaped the creative landscape of Toni Demuro. Drawing inspiration from an eclectic range of sources, Demuro's work encapsulates elements from both the surrealism of René Magritte and Joan Mirò, and the abstract expressionism of Mark Rothko. His aesthetic sensibility further reflects his admiration for fellow illustrators such as Jean-Michel Folon and Lorenzo Mattotti, whose works have indelibly left a mark on him.
Throughout his journey in the realm of arts, Demuro has immersed himself in a myriad of artistic expressions. His passion for art history and consistent engagement with exhibitions, galleries, and museums has cultivated a diverse aesthetic vocabulary, and sparked an unquenchable curiosity within him. However, unlike many artists who dedicate their careers to a single piece or style that resonates deeply with them, Demuro's heart does not pledge allegiance to any singular work. This trait is reflective of his broad-minded approach towards art, which allows him to continually reinvent his creative process and push the boundaries of his artistic expression.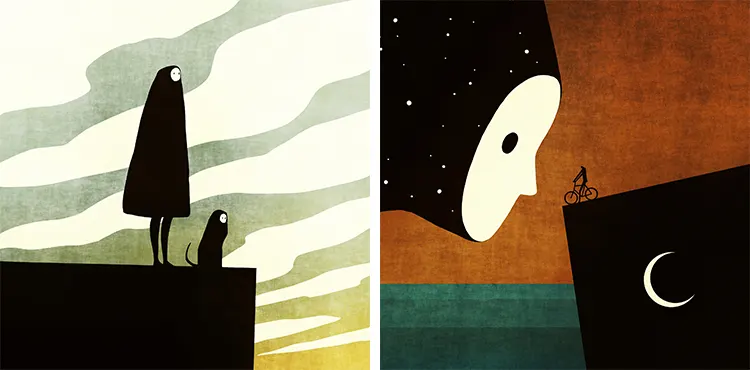 Toni Demuro: Exploring Mediums
Throughout his creative journey, Toni Demuro has delved into an array of artistic methods, traversing mediums from oil to acrylic, tempera to watercolor, and graphite to pastel, whilst also refining his aptitude in chalcographic techniques. In the wake of acknowledging his calling as an illustrator, he has turned towards the realm of digital art. Initially commencing with a Wacom graphic tablet, he transitioned to an iPad and ultimately established his workspace around a Huion Pen Display.
Presently, Demuro is immersing himself in the orchestration of an illustration festival in his native Sardinia. This innovative event encompasses a competition designed to foster burgeoning talent, a collection of captivating exhibitions, and a series of hands-on workshops. With a visionary goal in mind, this ambitious endeavor seeks to rekindle the rich cultural interest in the illustration realm within Sardinia, a land renowned for its historical contributions to art, having nurtured eminent artists who have eloquently voiced their talent through illustrations.