Growing up in society in conflict has undoubtedly influenced my perspective and approach to art, imbuing my work with a sense of history and nuance that I believe is uniquely tied to my roots.
Eamonn Higgins: About His Northern Irish Heritage
Eamonn Higgins is a highly skilled and multifaceted artist and sculptor, renowned for his exceptional talent in creating figurative works in bronze. With a diverse artistic background that encompasses artist blacksmithing and mixed media, Higgins is constantly seeking to expand the boundaries of his artistic practice through the exploration of new techniques and materials.
Inspired by the rich cultural heritage of his homeland, Northern Ireland, Higgins's art is deeply rooted in his unique perspective and experiences, shaped by the ongoing and past conflicts that have shaped the landscape and culture of his home region. Despite the challenges and difficulties of growing up in a society in conflict, Higgins is proud of the unique beauty and sense of humor that defines Northern Ireland.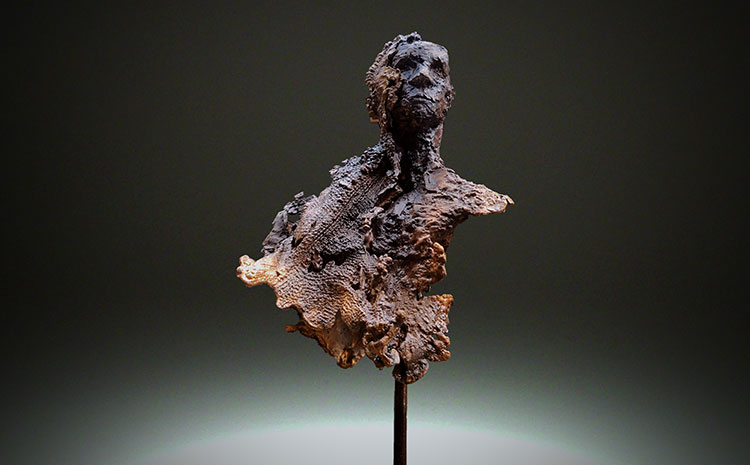 Higgins's Artistic Journey
Higgins strives to capture the complexity and texture of this place in his work, weaving together threads of darkness and beauty in a way that reflects the multifaceted nature of his home. Growing up in a society in conflict has undoubtedly influenced his perspective and approach to art, imbuing his work with a sense of history and nuance that is uniquely tied to his roots.
Eamonn Higgins has dedicated himself to the art of figurative bronze sculpture as a means of constructing a personal visual narrative. With a background in contemporary crafts, he possesses a deep appreciation for the medium and takes pleasure in pushing the boundaries of its capabilities. His artwork is driven by a desire to engage with bronze in a meaningful and expressive way, and he believes that the inherent value of the material only serves to enhance the impact of his creations.
Through his sculptures, Higgins aims to create thought-provoking pieces that speak to a wide audience and inspire a sense of connection and understanding. In addition to being influenced by his university lecturers and peers during his formative years as an artist, Higgins also seeks inspiration from the great contemporary artists of our time through extensive research online. This allows him to create a rich tapestry of imagery that serves as a foundation for his own artistic vision, shaping and influencing his inherent sense of aesthetics while also informing the direction of his own creations.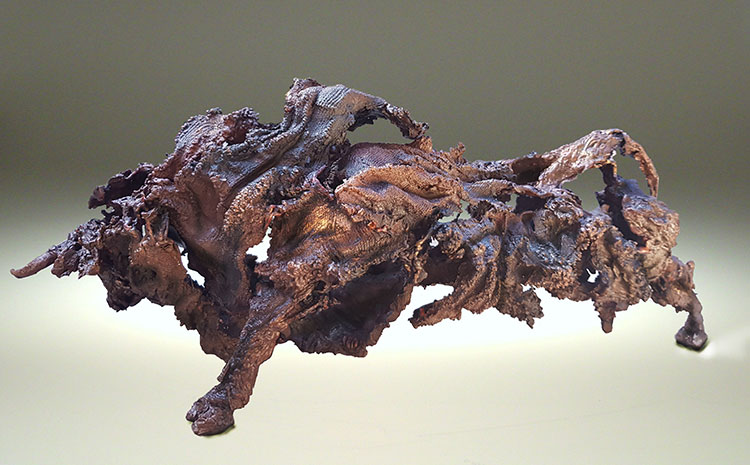 Commitment to Continuous Artistic Growth
Eamonn Higgins is dedicated to continuously improving and developing his art skills through a process of experimentation and refinement. He actively explores different techniques and approaches, carefully reflecting on what works and what doesn't work visually and practically. This knowledge is then applied to his future work, allowing him to iterate and improve on his artistic techniques.
In addition to this process of trial and error, Higgins also makes a conscious effort to study and understand the fundamental principles of art and design, such as composition, color theory, and perspective. This helps him to make more informed decisions about his art and to create more cohesive and coherent pieces. When working with figurative subjects, he also ensures to study the human form through observation and reference materials, allowing him to create more accurate and lifelike representations in his work.
Overall, the key to Eamonn's ongoing artistic development is a combination of practice, study, and reflection, with a focus on constantly striving to improve and learn new techniques and approaches.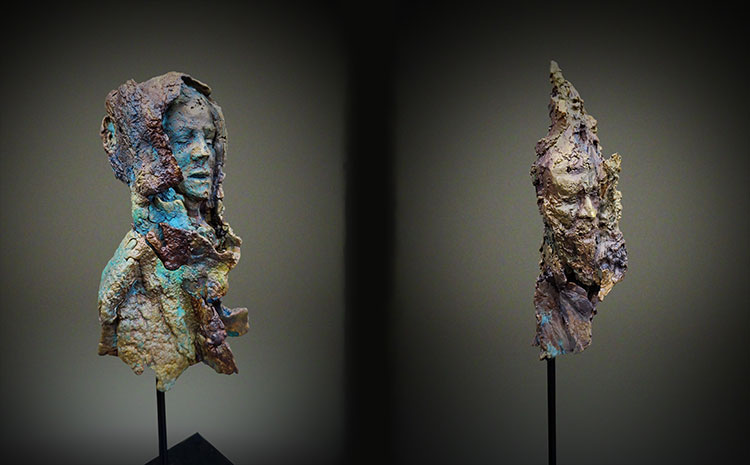 The Time Between Us: Aging through Portraiture
Eamonn Higgins is constantly striving to create works that push the boundaries of his abilities and showcase his unique perspective and voice. While he is proud of all the pieces he has created, he admits that his most recent work holds a special place in his heart. Entitled "The Time Between Us," this series of portraits explores the concept of aging and how it is reflected in the faces of individuals. Eamonn believes it is a powerful and poignant reflection on the journey of life, and he is particularly satisfied with the way it captures the subtle nuances and complexities of the human experience. While he is always looking to improve and evolve as an artist, he is confident that this series represents some of his best work to date. So, he is really proud of it.
Eamonn has had the opportunity to create a wide range of work, including both large scale public art installations and smaller scale gallery pieces. While he is grateful for the recognition he has received for his work thus far, his dream project would be to achieve international recognition for his artistic endeavors. This would not only be a personal accomplishment, but also a validation of the value and significance of his work on a global scale.