"I remember thinking how great it would be if all I had to do was think about making art for my job."
Embracing Minimalist Color-Field Painting
Daniel O'Toole is an Australian artist based in Naarm/Melbourne, whose creative journey began at a young age in a vibrant and artistic environment. The family's artistic DNA, underscored by his mother's talents as a painter and musician, greatly stimulated O'Toole's pursuit of the arts from an early age. The violin was his initial foray into music, a skill he nurtures even today, while his artistic repertoire has broadened to include ambient electronic music production. O'Toole's visual artistry now graces galleries around the globe, providing him with a sustainable livelihood.
In his formative years, O'Toole found inspiration from individuals thriving in the graffiti scene. These artists, painting murals as their full-time profession, sparked a revelation for him: the possibility of transforming artistry into a viable career. This epiphany deeply resonated with O'Toole, fueling his desire to dedicate his life solely to the production and exploration of art.
A critical turning point in O'Toole's career trajectory unfolded in 2008. During this time, he worked as a dish-washer in a Sydney café while also participating in a unique form of "art busking" along King Street in Newtown. Collaborating with fellow artists, they would spontaneously create art on found materials, such as cardboard or scrap wood, using a vibrant array of inexpensive materials including spray paint and shellac. These spontaneous creations were gifted freely to passersby, though contributions were accepted, gathered in a large pickle jar. As O'Toole discovered, the financial yield from this innovative venture exceeded his café wages, catalyzing his professional transition from dish-washing – or 'sub-aquatic ceramic technician' as he playfully dubs it – to a full-time artist, a 'cardboard scribbler.'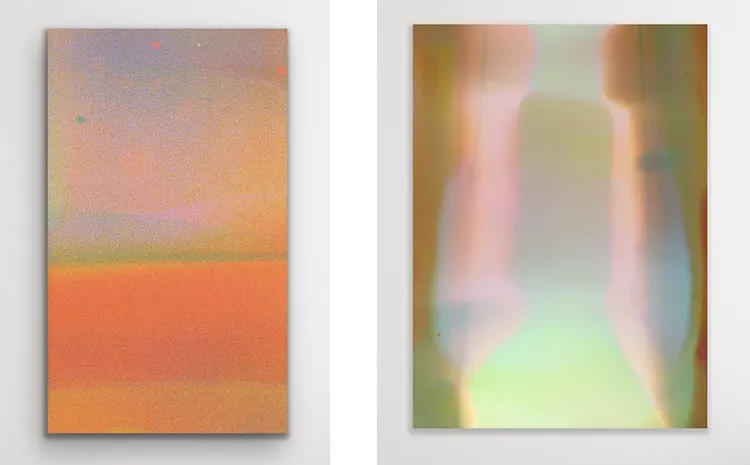 Daniel O'Toole: Illuminating Spatial Dynamics with Innovative Designs
The artistic signature of Daniel O'Toole is primarily manifested in minimalist colour-field painting. His work provides an intriguing exploration of natural phenomena, illustrating various interpretations of miracles inherent in nature, achieved through the use of industrial and synthetic materials.
In a distinct approach to exhibition, O'Toole's paintings are displayed encased behind a frosted acrylic screen. Strategically located mirrors within the frame discreetly capture and reflect colours from the back, subtly altering the viewer's depth perception. The consequence of this design is a gentle, almost ethereal hue that appears suspended within the spatial confines of the artwork. The frame serves as an innovative tool, meticulously designed to amplify light and direct the viewer's focus towards the intriguing phenomenon of refraction, demonstrating the artist's nuanced understanding of spatial dynamics and luminosity.
O'Toole embraces a diverse array of artistic mediums, resisting any sense of staunch loyalty to a single method. He values the evolution of his artistry, continually exploring various modes of creation as integral facets of his artistic journey. This fluid approach, alternating between different ways of working, aids O'Toole in unveiling nuanced aspects of his artistic quest.
The synergy between O'Toole's painting and photography is especially noteworthy. Each painting provides insight that informs his photographic technique, while the photographs reciprocally influence his approach to painting. They coalesce to form distinctive windows into the mystery of personal truth, each discipline uncovering unique perspectives and serendipitous joys that contribute to his ongoing exploration. This dynamic interchange of disciplines underscores O'Toole's commitment to continuous artistic growth and innovative expression.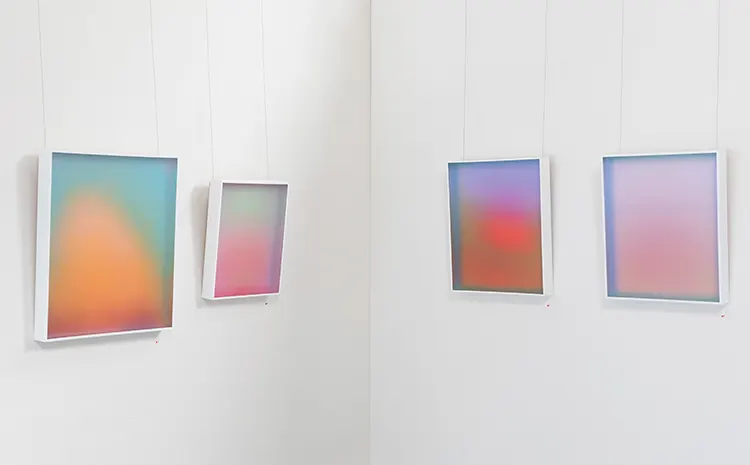 Inviting Serenity through Captivating Artistry
Daniel O'Toole aims to decelerate the viewer's pace within the gallery setting, inviting them into a serene and contemplative ambiance. His work elicits an impression of subtle dynamism or kinetic activity, as the event of light refraction integral to the piece physically captivates the audience's senses.
O'Toole's artistic expression frequently incorporates acrylics, though his innovative palette also comprises digital techniques and a method known as Dye Sublimation, which involves printing directly onto metal. The intricate play on visibility and opacity becomes key here, as the screened surface isn't intended for immediate scrutiny. This approach allows O'Toole to playfully subvert and interrogate the traditional conventions of painting. In essence, his creations veer towards sculptures masquerading as paintings, a complexity he savors.
Therefore, the term 'sculptural painting' may be a more apt descriptor for O'Toole's completed pieces. His artworks often don't stand alone; instead, they become part of a more immersive experience, flanked by video installations and soundscapes meticulously crafted by the artist.
The creation of his pieces necessitates an assortment of tools and technologies, including cameras, a computer, and video and sound editing software such as Ableton, Logic, and Adobe's Photoshop and Premier. His artistic arsenal also includes traditional tools like paints, spray guns, and an air compressor.
Amidst the creative bustle of the Everfresh studio in Collingwood, where he operates, O'Toole often finds himself to be a delightful distraction. With a fondness for engaging discussions, he continuously exchanges ideas with his fellow artists. He acknowledges this as a mostly positive influence, though he also recognizes the value of isolation in his work, facilitated by a simple pair of headphones.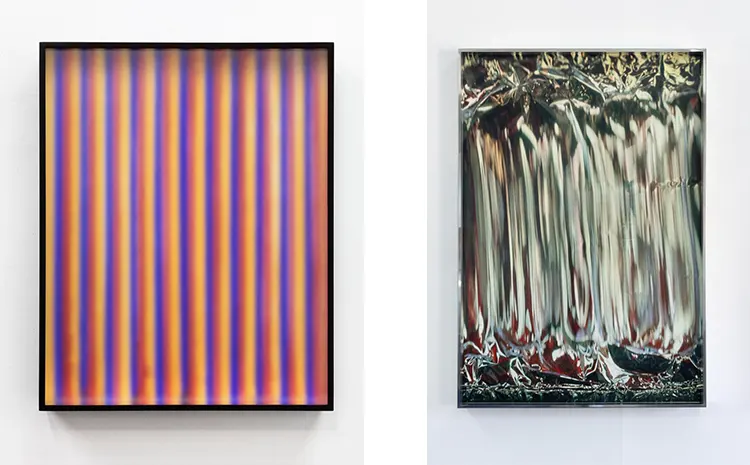 Daniel O'Toole: Influences, Inspirations, and Transformative Energy
A host of celebrated individuals stand as inspirations fueling Daniel O'Toole's artistic creativity. Among them are the likes of James Turrell, Robert Irwin, Uta Barth, Sonia Delaunay, Anish Kapoor, Warren Ellis, Rick Rubin, Brian Eno, Richard Diebenkorn, Peter Doig, and Gerhard Richter, to mention a few notable figures.
His art collection houses a particular piece by John Aslanidis, a work that resonates with O'Toole on a unique frequency. Rendered as a visual portrayal of sound waves, this artwork oscillates between control and playfulness, and it embodies an energy that O'Toole finds captivating. In many respects, Aslanidis has served as a mentor to him, shaping O'Toole's artistic journey. As such, this piece holds a significant place in his collection, symbolising a transformative period of influence.
O'Toole harbors numerous ambitious projects, their realization often constrained by funding limitations. To address this, he continually seeks financial support, applying for grants that might pave the way for these ideas to see the light of day. As of now, however, the concepts for his forthcoming public works remain shrouded in secrecy, heightening anticipation for what the artist will reveal next.