"For me art gives me hope."
The Global Artistic Odyssey of María Liz Aquino
María Liz Aquino is a Paraguayan visual artist and expert in Ikebana who has spent her formative years in her home country until the age of 19, before moving to Germany for language studies. Her life took a global turn following her marriage, as she journeyed through countries such as Germany, Switzerland, the United States, and Japan, due to her husband's diplomatic assignments. This life of perpetual exploration has been a pivotal influence on her artwork, with her stint in Tokyo, Japan, serving as a significant creative catalyst.
In Tokyo, she delved into the world of Washi, a Japanese paper variant, and honed her skills in Ikebana at the distinguished Sogetsu School. The unique textures, vibrant colours, and versatile patterns of Washi have deeply inspired María Liz, serving as the foundation for her collages. This influence extends beyond her use of materials and is discernible in the colors, compositions, and overall aesthetic of her recent works.
María Liz's artistry is not confined to using traditional mediums. She has innovated by designing her own paper and experimenting with acrylics, markers, and crayons. The quest for new materials is a constant theme in her work, emphasizing the vast scope for material use in collage art.
The oeuvre of María Liz encompasses abstract acrylic paintings, impressions of Ñanduti (a traditional Paraguayan craft) on canvas or paper, and collages. Her journey as an artist traces back to her childhood, where drawing and painting were an intrinsic part of her life. She formally began her artistic education in 2002 at the Veronika Koop Academy of Visual Arts in Asuncion, Paraguay.
Relocating to Bern, Switzerland, in 2004 initiated a new chapter in her artistic journey. Despite the demands of raising young children, María Liz remained committed to her art and pursued a long-distance course from the Hamburger Akademie für Fernstudien in Germany, mirroring the methodology of her alma mater, the Veronika Koop Academy.
Upon concluding her studies in Bern, María Liz had the fortune of meeting Swiss artist Jacqueline Busato. Busato proved instrumental in introducing María Liz to collage art, while simultaneously broadening her skill set by teaching her watercolor techniques and the creation of structures with acrylics.
Following her enriching time in Switzerland, María Liz relocated to Berlin, Germany, and eventually returned to Paraguay for a brief period. Since 2018, María Liz and her family have resided in Tokyo, Japan, a place that continues to nourish her artistic sensibilities.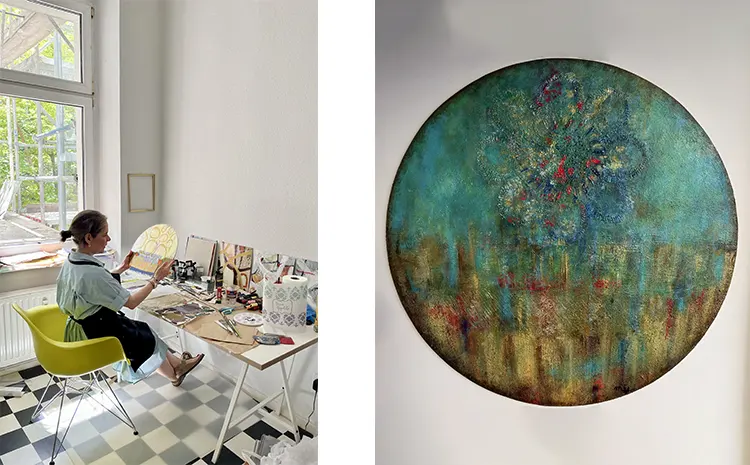 Unveiling the Palette: María Liz Aquino's Vibrant World of Colors
Intricate strands of creativity and boundless imagination stand at the fulcrum of Maria Liz Aquino's artistic evolution. A multifaceted desire to express her innate creativity, that manifested not only in art but in other areas such as ikebana, cooking, and jewellery design, spurred her journey towards artistic self-discovery. During her teenage years, María Liz's penchant for creativity became evident as she used to dexterously sew unique embellishments onto her garments, and delight in culinary arts, an interest that sustains till today.
Encounter with two esteemed artists – Veronika Koop from Paraguay, and Jacqueline Busato from Switzerland – served as a pivotal point in María Liz's artistic trajectory. Their encouragement and mentorship prompted her to delve into the study of drawing and painting and led to her work's exposure through various exhibitions. María Liz expresses her profound gratitude for these mentors, whose fervour for visual arts profoundly inspired her.
María Liz's chosen artistic domain is abstract acrylic painting and collage, where she plays with a vibrant palette, structures, and forms, particularly in square or round configurations. The recycling of wrapping paper and the innovative use of diverse paper types signifies her commitment to sustainability. Photography also plays a vital role in her creative process, as she reinterprets captured images through painting.
María Liz's fascination with textures and colours extends to everyday objects and ceramics. The matcha's verdant hue, a familiar sight in Japan, captivates her, and the Japanese Washi paper remains her top choice for creating collages.
Despite experimenting with various mediums, including watercolour, oil, charcoal, and pencil, María Liz gravitates towards acrylic for its quick-drying, odourless, and water-based properties. These attributes provide a versatile canvas to manifest transparency, opacity, and depth.
Printing and collage work featuring Ñanduti, a traditional Paraguayan lace, also comprise an integral part of María Liz's artistic repertoire. Of late, her favoured medium is a combination of collage, acrylic painting, colour markers, and pencils. She perceives paper as a sturdy and versatile material offering extensive space for experimentation and exploration. The variegated structure, transparencies, and patterns that different types of paper provide enrich her artwork, underscoring the infinite possibilities of its usage.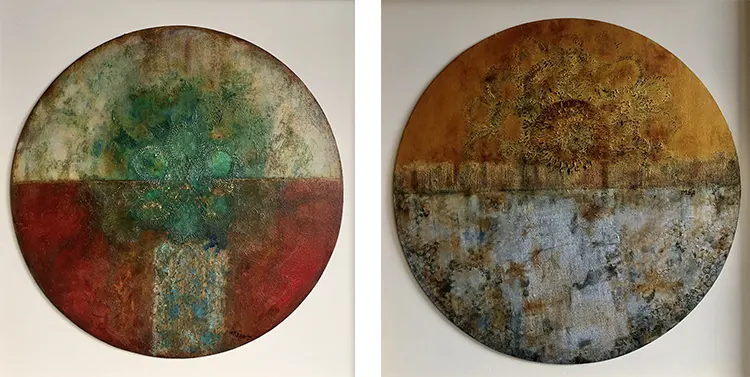 The Ñanduti Connection: María Liz Aquino's Paraguayan Heritage in Art
The intricacy of Ñandutí, a traditional Paraguayan thread lace, has captivated Maria Liz Aquino's artistic imagination in recent years. Celebrated for its radial circles and intricate embroidery of geometric or zoomorphic motifs, this handicraft is typically woven by hand on frames, drawing inspiration from the pattern of a spider's web. The thread may boast bright, vibrant colours or embody a subdued, white elegance. María Liz, mesmerized by this tangible manifestation of her Paraguayan heritage, has passionately incorporated it into her artistic repertoire, transforming its vivid hues, geometric circles, and delicate textures into innovative print and collage work. Thus, the Ñandutí materializes in her paintings, whether imprinted on canvas or paper, inviting personal interpretation and engagement with its intricate colours and textures. María Liz intends to delve further into the myriad potentialities offered by this exquisite material, which resonates deeply with her own identity.
María Liz's work is inspired by several artistic luminaries. The enigmatic American painter Mark Rothko captivates her with his complex and nuanced expression of colour, oscillating between the brilliant and the opaque, yet consistently profound. In addition, the versatile oeuvre of German painter Gerhard Richter, whose work spans both figurative and abstract art, intrigues María Liz. Swiss artist Alexander Jeanmaire's evocative colour schemes and geometric compositions, creating an illusion of depth, also significantly influence her artistic vision.
Nicholas Wilton, a renowned American artist and the founder of Art2Life, has had a transformative impact on María Liz's creative journey. In 2023, María Liz participated in his interactive Creative Visionary Program, an enriching experience that catalyzed her artistic growth. It encouraged her to generate more authentic work, resonating with her soul's core, and fostered a sense of freedom and spontaneity in her artistic expression. This program also provided her with an invaluable platform to connect with a diverse community of artists, further enhancing her understanding and appreciation of art. The rich interactions and shared learning have undoubtedly played a pivotal role in shaping María Liz's artistic trajectory, inviting her to explore her creative potential in novel ways.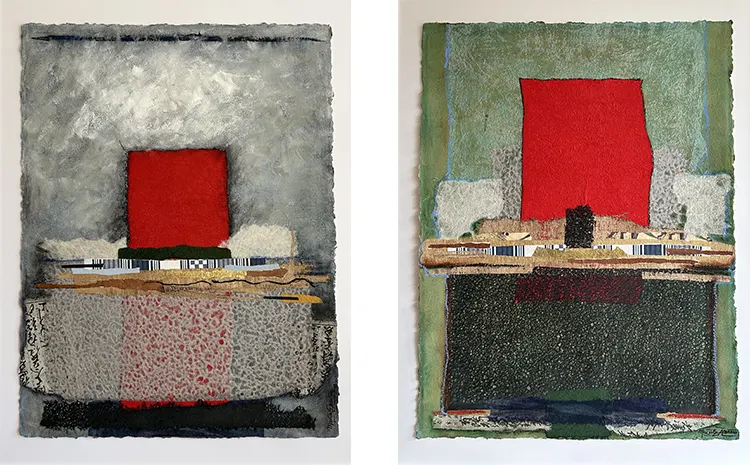 Studio Secrets: Delving into María Liz Aquino's Artistic Rituals
In the sanctuary of her studio, Maria Liz Aquino demands tranquility, a separation from the incessant buzz of her mobile phone, a disconnection from the digital world. Essential, too, are a well-lit environment, systematic order, and immediate accessibility to her artistic tools. María Liz's creative drive harmonizes with the daylight hours, syncing with her peak energy levels.
The potential for distraction is combated by the artist's ritualistic approach. She fortifies herself with a substantial breakfast before embarking on her artistic endeavors. Setting the mood with carefully selected music, a crucial component to her creative process, she then arms herself with a coffee and water, strategically eliminating the need to vacate her workspace. Thus equipped, she immerses herself in her work, entering a state of creative flow.
A notable series of María Liz's oeuvre is a quartet of collages rendered on handmade paper, embellished with Washi—a traditional Japanese paper—and acrylic. Crafted during her time in Japan, these pieces were a homage to the rich textures and vivid hues of Washi. Interwoven into these compositions are diverse elements such as different colored papers, Japanese calligraphy, papyrus, Ñanduti, and metallic acrylic hues of copper, gold, and red. This series holds profound significance for María Liz, marking her renewed appreciation for Washi and its significant place in Japanese tradition.
María Liz's forthcoming venture sees her splitting her time between Tokyo and Berlin, devoting herself entirely to her practice as a visual artist. Her aspirations extend beyond her own artistic creation, with plans to continue teaching painting and collage, and a new venture into teaching Ikebana. The artist's fervent belief in the universal right to creation underpins her love for teaching, reinforcing her conviction that artistic activities generate immense personal satisfaction. Berlin, a city well known to her and rich in opportunities for artists, is a font of creative inspiration for María Liz, and she eagerly anticipates participation in future exhibitions in either metropolis.
María Liz's artistic journey, which began in 2009, has been peppered with numerous exhibitions. However, she acknowledges the impact of the pandemic years on her artistic trajectory, a period when opportunities for exhibition planning were scarce. Now, with the pandemic behind her, María Liz has ushered in 2023, a year brimming with renewed energy and determination to continue her artistic journey in painting and Ikebana. For María Liz, the world of art offers a haven, a place of authentic self-expression, untethered by rigid planning. It is a world she finds captivating, providing comfort and happiness.