"Making art is more than an end to me. For an artist, expression is an irrepressible urge, namely to express oneself, for you can't help but find a way to do it."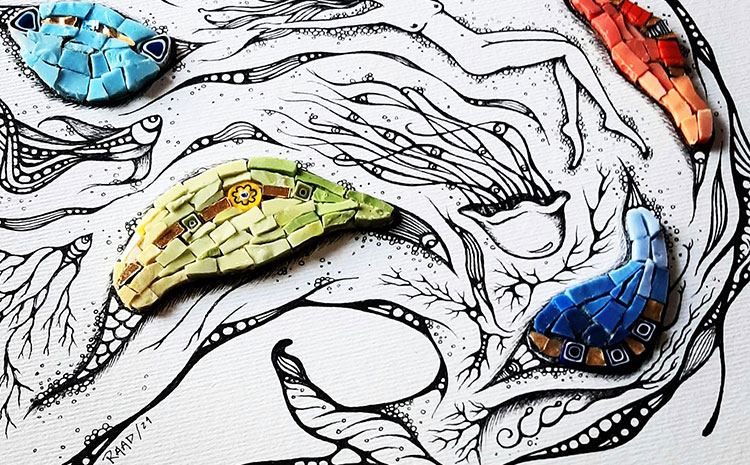 Cássia Raad was born in Brazil, in the city of Juiz de Fora, where she studied art. In her last years in Brazil, she lived in Sao Paulo. In 2007 she moved to Trento, Italy, where she has lived for 15 years. In the meantime, Italy has become her country and she has learned to love it, despite all the difficulties a foreigner faces when living here.
The artist works mainly with mosaic, but not in the conventional way that everyone expects when they hear about this art form. She studied traditional mosaic in Ravenna and then gradually moved away from the Byzantine technique to develop her own personal way of combining it with other art forms that were already part of her artistic universe, such as photography, drawing and also some painting, with techniques that she developed herself.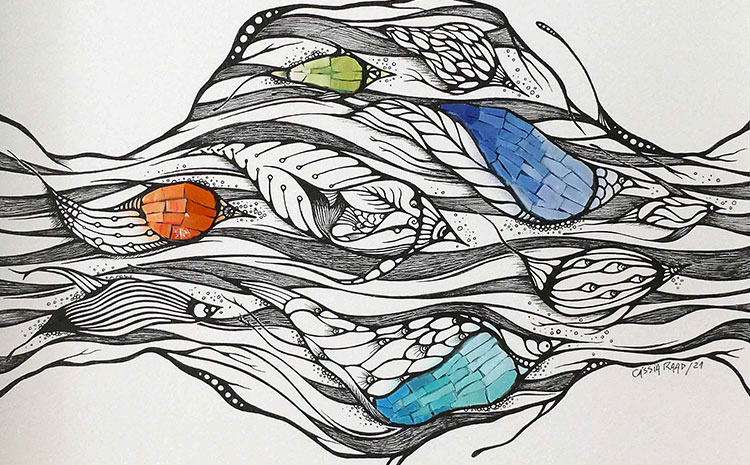 She uses Venetian glass (also known as Murano glass), marble, murrin and sometimes unusual materials like shells or semi-precious stones. In her works, the tiles become a tool to enhance or change what surrounds them, or they simply serve to highlight the beauty of a concept or the meaning of what she wants to express.
Cássia also works with "pure" mosaic, that is, only Venetian marble and glass on wooden bases, but always far from the traditional canon, trying to externalize everything she has inside, that is, her values, her history, her beliefs and sometimes even her indignation. For Cássia, creating is like reading her intimate diary in front of others, a kind of self-exposure.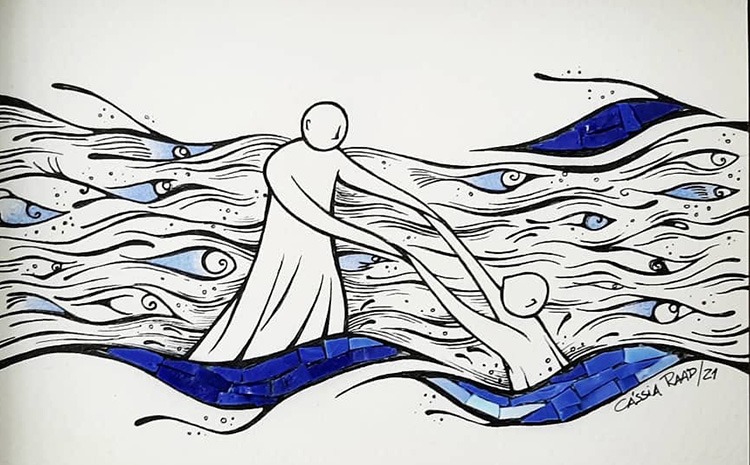 A few years ago, she created a series of works on immigration: Three people came to Italy against their will because of religious persecutions. These people lived through the hardest times and fought for their survival, managing to overcome adversity. By inserting the mosaic into the photos she had taken of them, she tried to give more feeling and value to their stories. She always exhibits these works with their story next to them, so that the viewer can get to know this part of these immigrants' lives and have the opportunity to identify with them and feel all the emotions they evoke, perhaps freeing themselves from unfounded prejudices.
Recognizing the value of one's work is always a constant desire of every artist, but when Cássia exhibits, her greatest satisfaction is the feeling that she has touched the heart of her viewer, the thought that he takes away something good, new, as if he had dived into a river. She is a Christian and when she creates something, she always asks God that her faith be reflected in what she does and "infect" others, if only for the joy that the colors she uses convey.