"Haiti is a wonderful breeding ground for artists. There are outstanding artists in our country who continue to create and enchant despite the circumstances."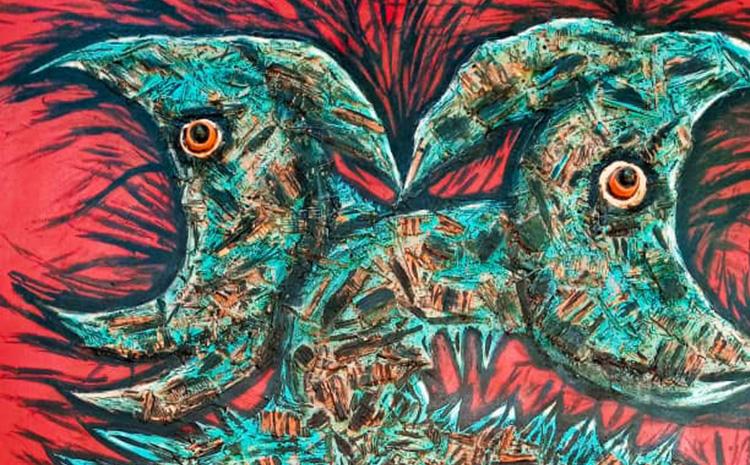 Jean Robert Alexis, born in Petite Rivière de l'Artibonite, a town in the department of Artibonite, is a visual artist from Haiti, where he was born on February 8, 1980. 
He made his first artistic attempts at the age of 11 with his late mentor Ismaïl Saincilus, art teacher at l'Ecole de l'Artibonite. After his classical training, Jean Robert was able to begin studies in international marketing before studying sculpture at the National School of the Arts (ENARTS) between 2012 and 2016. In the meantime, Jean Robert joined Le Collectif des Artistes de la Grande Rue, Port-au-Prince. Since then, his artistic activity has become his profession.
As a visual artist, Jean Robert deals with painting, drawing, sculpture and other techniques. His works are carriers of their own pictorial and plastic language. Esthetically, his creations oscillate between the primitive current, which we can call "naïf" on some level. His expressive forms express fantasy and astonishment, aiming to take a different look at reality. His works are mostly based on hybrid beings, with some pieces that testify to the rock and grotesque technique. In other words, images that spring from the imagination of painting, creating a world where humans and animals join hands. Jean Robert designs a labyrinth, a maze, an unreal, symbolic world. In short, graphic elements that overlap and give new meaning to things.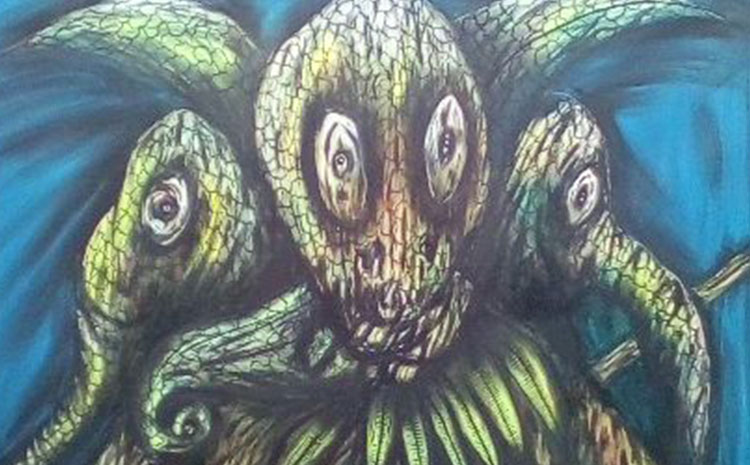 His visual and plastic universe bears the marks of protest. Jean Robert shows macabre, nightmarish, intertwined figures, disfigured images, incongruities that are both attractive and frightening, dinosaur heads, snakes, filthy beasts. For him, anything can be painted, be it the ugly, the beautiful mixed with reality, monsters, Taïnos and religious symbols that reveal other forces.
With his art, Jean Robert contributes to change the country and the world. His iconographies make visible his nightmares and his worries about the decay of this world, of his country. Moreover, he considers his creation as a powerful path to self-knowledge and self-acceptance, especially on a spiritual and metaphysical level. "It's also about reaching out to the other, with an approach of altruism and empathy."
When asked which series of works he is most satisfied with, Jean Robert points to "Créativité sans bornes," a series of drawings and mixed media from 2021.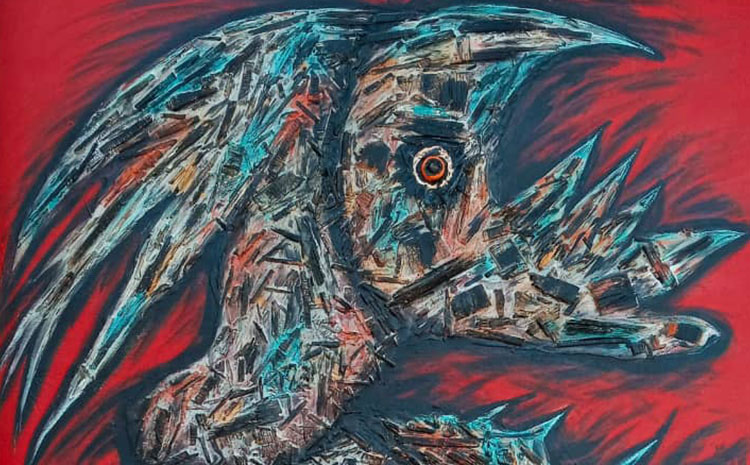 "I chose this series because it allows me to initiate a communication between humans and other beings in nature. This series is about the exchange and recycling of heterogeneous elements from a technical point of view (earth dust, river sand, wood, plastic and ceramics). For me, it's about helping people to become aware of their environment, to integrate perfectly with it, and finally to reach a liberated understanding and creativity."
In his near and distant future, Jean Robert would like to play a greater role in the art scene on a national level and become a preferred ambassador for Haitian culture on an international level. The artist would like to continue to produce and develop new artistic projects, continue his artistic mediation activities with young Haitians (Projet Entourage), and regularly participate in national and international exhibitions, biennials, and artist residencies in order to exert a consistent artistic influence on the international scene.