"My artwork (and entire career lifespans) have been about 'healing'."
The Healing Art of Rajul Shah
Before embarking on her artistic journey, Rajul Shah spent two decades immersed in the world of pharmaceutical and healthcare marketing. Throughout her career, she gained extensive experience in diverse therapeutic areas, such as breast, lung, prostate, colorectal and blood cancers, epilepsy, short- and long-term pain, incontinence, and sexual dysfunction. Shah played a pivotal role in synthesizing insights from physicians, medical professionals, patients, and caregivers, transforming their feedback into actionable strategies for marketing teams. This work allowed her to deepen her understanding of various diseases, which she found immensely rewarding.
From a young age, Shah displayed a passion for drawing, and as she grew older, her love for photography blossomed. Upon retiring from her first career, she yearned to pursue her artistic interests further. This desire led her to Japan in 2012, where she delved into the world of art, attending classes and workshops, and consuming literature and videos on a range of two-dimensional media, including photography. Ultimately, Shah discovered her true calling: painting.
Rajul Shah's inaugural exhibition took place in 2016, and she achieved her first national juried acceptance in 2018 at the prestigious Shinseisaku Exhibition held at the National Art Gallery in Roppongi, Tokyo. Subsequent national juried acceptances at the Tokyo Metropolitan Museum of Art and the Ueno No Mori Museum further cemented her status as a dedicated and accomplished artist, distinguishing her from mere hobbyists.
How Rajul Shah Transformed Loss into Art
Rajul Shah's artistic oeuvre is deeply rooted in the theme of "healing." Drawing inspiration from her experience in the corporate healthcare sector, Shah integrates the principles of the Japanese art of Kintsugi into her work. Kintsugi is a practice that embodies resilience, embracing imperfections and evolving into a stronger, more enlightened version of oneself. In Japan, broken pottery is not discarded but instead mended with gold and tree sap, resulting in a transformed, exquisite piece of art. Shah's creative expressions span abstract representations of figures, landscapes, and colors, all of which relate to her three collections: "The Kintsugi Body," "Kintsugi Planet," and "Kintsugi Chakras."
"The Kintsugi Body" centers on the female form and incorporates the philosophy of the human chakra system. This collection portrays various injuries as healed, with the body becoming increasingly beautiful due to the acceptance of imperfections and the determination to evolve into a stronger version of oneself. It encourages individuals to preserve hope while continuously reinventing themselves.
In light of the pressing issues of global warming and climate change, "Kintsugi Planet" offers hope and inspiration by showcasing different parts of the world being repaired with care and attention. This collection underscores the possibility of healing the Earth and leaving it a more robust and resilient place for future generations.
Lastly, "Kintsugi Chakras" explores the seven energy centers within the human body that help process emotional well-being. Based on the book "The Anatomy of the Spirit," Shah delves into the abstract realm to focus on the aura of each chakra and its connection to the human spirit. When a particular chakra is imbalanced, it can result in physical illness. By applying the Kintsugi philosophy, Shah aims to restore balance in the energy centers and promote wellness within the spirit.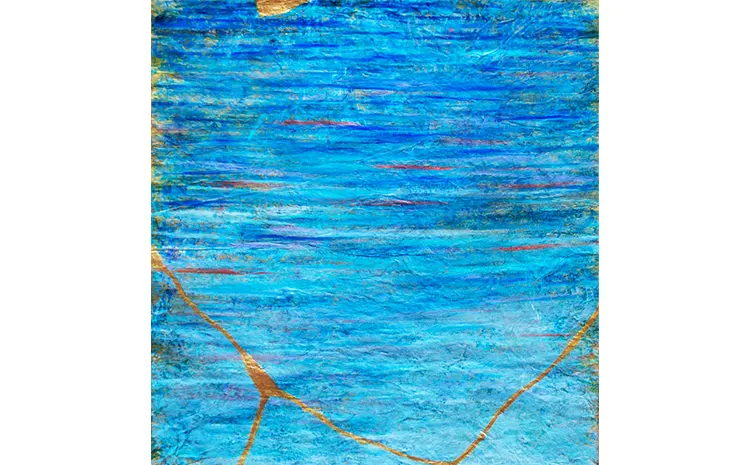 Creating a Platform for Healing: Rajul Shah's Purple Octopus Art
In the summer of 2021, while Rajul Shah was preparing for the XIII Florence Biennale, she came across hospital discharge papers from a miscarriage she had experienced years earlier. Shah discovered that these papers were the sole evidence of a baby she never had the chance to meet. Consequently, the artist created a poignant piece titled "Reconstruction," which depicts a mother tenderly cradling her mended womb, inspired by the Japanese concept of Kintsugi. This artwork not only provided Shah with solace, but also serves as a loving reminder of her lost child and the healing brought by her subsequent child.
Shah's creative process is not dictated by a specific routine or method. Upon entering her studio, she typically begins by running her hands over various painting surfaces, such as linen canvas, textured washi paper, smooth wood panels, papyrus, or tree bark paper. Shah's preference for a particular material is often determined by what feels right in the moment. As a tactile individual, she frequently applies the initial layers of her paintings using her hands.
Shah's workspace is a sunlit, tranquil area located on the third floor of her residence, which also features a serene outdoor space closely connected to the surrounding nature. The artist cherishes the peaceful ambiance, accompanied by the gentle sounds of birdsong in the mornings. Whether working indoors or outdoors, Shah thrives in environments that offer quiet solitude.
Currently, Rajul Shah is actively working towards realizing a dream project. As a co-founder of Purple Octopus Art, LLC (www.purpleoctopusart.com), she has established a platform for art and expressive writing that addresses human disease and environmental issues. At present, the company's focus is on Calls for Art and Writing within the realm of feminine cancer. Future projects will expand to include art and writing related to mental health and degenerative brain disorder illnesses.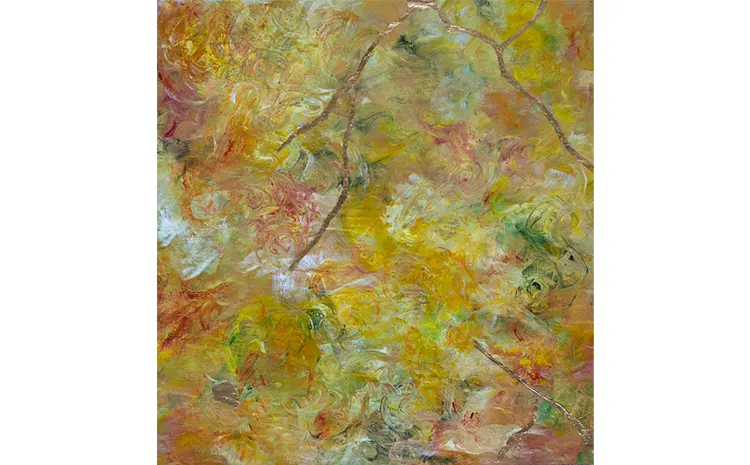 Embracing Artistry: Rajul Shah's Advice for Aspiring Artists
Promoting art and writing as therapeutic tools is a conviction deeply held by Rajul Shah and her partner. They both firmly believe in the power of creativity to facilitate healing and offer diverse perspectives of inspiration and truth. These perspectives enable patients and their loved ones to access innovative sources of information, circumventing clinical and technical terminology, and revealing a world beyond illness where one can still flourish.
Shah envisions her artwork, as well as the art and writing featured on her platform, being displayed in healthcare institutions, patient support clinics, and medical offices across the globe. Art and literature, akin to music and dance, are universal languages that can benefit the world through their unique perspectives.
For those who aspire to become artists, Shah advises them to simply start creating. Delve into painting, drawing, or other forms of artistic expression, without concern for the opinions of others. Embracing artistry involves a deeply personal journey filled with emotion and introspection. Initially, aspiring artists may be inclined to emulate the works they admire, such as those by Monet, Van Gogh, or other regional and local artists. This is a natural part of the process, as it aids in understanding the challenges associated with different media and the art of color combination.
Once these foundational skills are developed, artists can then embark on a journey of self-discovery, determining the type of artist they wish to become and the messages they want to convey through their art. Shah encourages artists not to hold back in infusing their creations with their souls, and to remember that they have complete control over whether or not to share their work with the world. These creations are their own, and it is up to them to decide their ultimate purpose.