"I started painting because I loved painting in general. Admiring the way they painted, I knew from that moment that I wanted to be a painter."
Mastering Acrylics and Non-Realistic Style
Francesco Cusumano, an Italian abstract artist, has called Switzerland home for over four decades. His artistic journey commenced at the tender age of 13 when he first delved into the world of painting, initially adopting oil as his preferred medium. Cusumano's early works primarily consisted of still life compositions and mesmerizing landscapes, demonstrating his innate talent for capturing the beauty of his surroundings.
However, it was not until a decade into his artistic career that Cusumano underwent a transformative shift in his style. He transitioned from a realist approach to exploring the realm of abstract art. This evolution was driven by his desire to convey the emotional depth and intensity inherent in realism, yet through a more unconventional and innovative lens. In doing so, the artist was able to redefine the way he expressed his creative vision, enabling him to continue pushing the boundaries of his artistic prowess.
Francesco Cusumano is renowned for his abstract and non-realistic style. His work delves into the exploration of various elements surrounding him, including nature, urban landscapes, and at times, contemporary issues. Through this approach, Cusumano skillfully captures the essence of his subjects and imbues them with a unique and transcendent quality.
Francesco Cusumano: The Artistic Influences of Rothko, Francis, and Pollock
Acrylics have emerged as Cusumano's medium of choice, with which he has been perfecting his craft for over three decades. Initially, he experimented with oil painting techniques for a decade, honing his skills in that particular medium. However, his affinity for acrylics ultimately won over, and he has since remained dedicated to this versatile and dynamic material.
Although Cusumano briefly dabbled in watercolors, he quickly abandoned the medium due to its lack of texture. Despite acknowledging the brilliance and luminosity of watercolors, the artist found that they did not adequately align with his artistic vision or offer the depth and dimension he sought to achieve in his work.
By embracing acrylics and an abstract, non-realistic style, Francesco Cusumano has developed a distinct artistic voice that resonates with audiences and collectors alike. His passion for exploration and experimentation continues to inspire his creative process, resulting in a body of work that is both captivating and thought-provoking.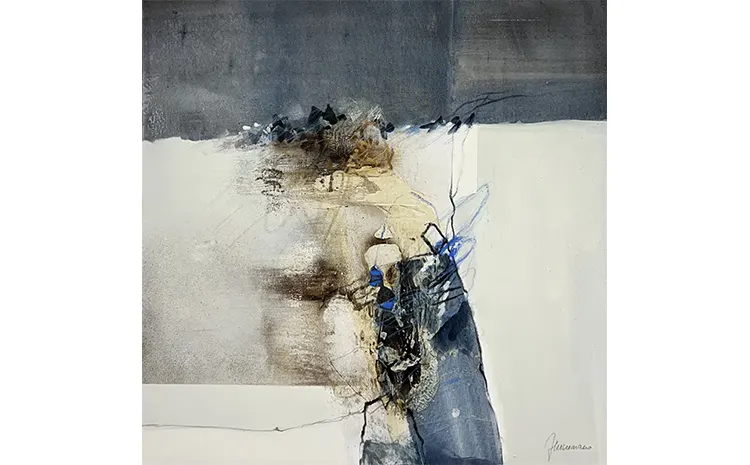 Striving for Perfect Equilibrium in Art
Francesco Cusumano's artistic preferences encompass a wide range of styles and artists; however, he finds himself particularly captivated by the works of Mark Rothko, Sam Francis, and Jackson Pollock. These iconic figures in the art world have undeniably left a profound impression on Cusumano's creative sensibilities.
Cusumano's journey as an artist began not by design, but rather from a serendipitous encounter with painting. During his youth, he spent the summer months working in a frame shop in Italy to earn some extra spending money. It was there that he crossed paths with two accomplished painters hailing from Naples.
Observing the Neapolitan painters' skillful brushstrokes and their innate ability to evoke emotion through their art, Cusumano was struck with a profound realization. From that pivotal moment, he was overcome with an undeniable passion for the art of painting, and he became resolute in his aspiration to master the craft.
As Cusumano continued to nurture his artistic talents, the influence of the painters he admired – Rothko, Francis, and Pollock – became more evident in his work. The inspiration he derived from these artistic luminaries fueled his dedication and commitment to honing his skills, ultimately shaping the accomplished artist he is today.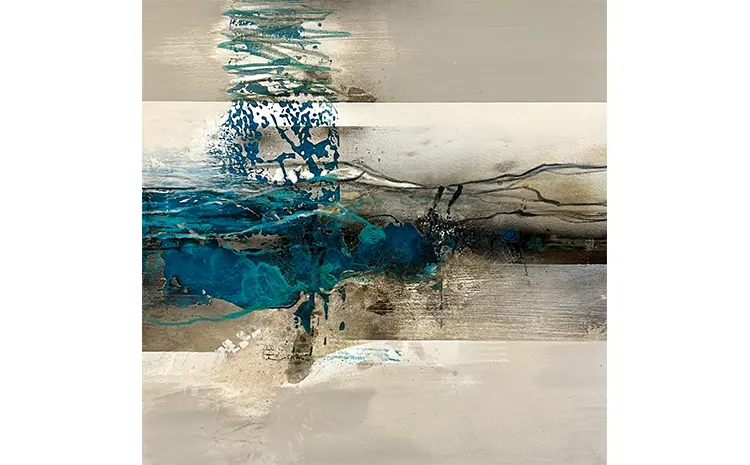 Francesco Cusumano: Countless Ideas and Future Aspirations in Art
Francesco persistently strives to achieve the perfect equilibrium in his paintings. This endeavor, however, can be quite challenging, given that his studio is ingeniously integrated into the frame shop. Despite the potential distractions this arrangement may present, Cusumano remains steadfast in his pursuit of artistic harmony.
When reflecting on the significance of his individual pieces, Cusumano finds it arduous to pinpoint one specific artwork that holds a particularly special meaning. Rather, he maintains that numerous creations resonate with him on varying levels, showcasing the depth and breadth of his artistic endeavors.
Regarding future aspirations, Cusumano's mind brims with countless ideas, making it difficult for him to determine where to begin. Recognizing the importance of focus, he acknowledges the need to hone in on a single project to set the stage for his next creative endeavor. By concentrating on one idea at a time, the artist will continue to evolve and flourish in the dynamic world of art.