"Your art is a zone for any your bold ideas, it doesn't have to be completely finished, strict and perfect."
Polina's Passion for Portraiture and Fantasy Art
Polina Zavodina, known professionally as Polarts, is a 22-year-old artist and creative professional. Her passion for art began during her formative years, as she was naturally drawn to creative pursuits such as reading and drawing, over physically demanding activities.
Recognizing her talent, Polina's parents enrolled her in drawing lessons at a local art school, where she spent six years honing her skills in academic drawing, color theory, and developing a strong curiosity for the vast world of art.
Today, Polina's artistic style is built on the foundation of the skills she learned during those early years, as she continues to refine and develop her classical techniques by incorporating modern ideas. The blend of traditional skillsets with contemporary creativity is a particular passion for Polina, as she strives to create unique and captivating works of art.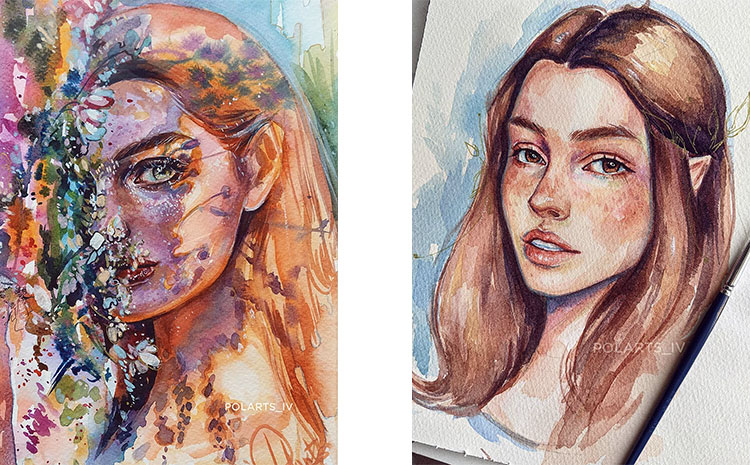 Finding Inspiration in Nature and Embracing Freedom in Art
Polina is a portrait artist who is intrigued by the human face and the emotions it can convey. Her artwork often features natural elements such as flowers and leaves, as she enjoys combining her two passions. Polina is also a fan of fantasy movies and often includes mythical creatures like elves and witches in her artwork.
When it comes to her preferred mediums, Polina enjoys working with watercolor and pencil, though she occasionally takes a break from them and experiments with acrylic and oil paints.
Polina dreams of a quiet and sunlit workshop that exudes a natural aura, complete with a multitude of shelves that showcase her materials and enable easy accessibility. A comfortable chair is also of paramount importance to her, given the extended hours she spends sitting and drawing. The space would also feature a wall for displaying her latest creations, while cleanliness is of lesser concern, as Polina often becomes so engrossed in her artistic process that she fails to notice drops and spills that may soil furniture and clothing. Ultimately, Polina envisions a cozy art space that promotes complete freedom of creativity.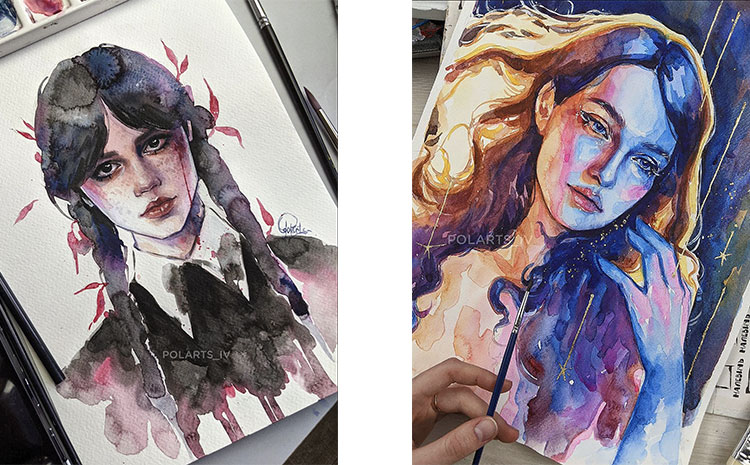 Exploring New Techniques and Embracing Transformation
Polina finds inspiration primarily in nature, relishing peaceful walks through verdant forests and other green spaces. She frequently encounters unique and captivating flowers on these excursions, which she takes care to incorporate into her artwork. As an artist, Polina recognizes that her emotional state can greatly impact her paintings, and therefore strives to maintain a sense of calm and stability. During moments of inner peace, she finds inspiration in even the smallest details, cultivating and cherishing this innate ability to see beauty in the world around her.
Polina's style has become more free, allowing her to leave some parts of her artwork unfinished and embrace the unexpected lines and drops. Gradually, she has moved away from the old art school rules and canons, and has started exploring new ways of drawing. In her tutorials and lessons, Polina often emphasizes that art is a space for bold ideas, and it does not have to be completely perfect or strict.
Polina revels in her experimentation with gradients, particularly in her series of paintings featuring faces adorned with blue, violet, and orange colors enhanced with striking golden details. Her growing expertise and experience promises the creation of many fascinating drawings in the future. It remains to be seen how her artistic style will evolve over the next few years, and Polina is open to the possibilities of transformation and growth.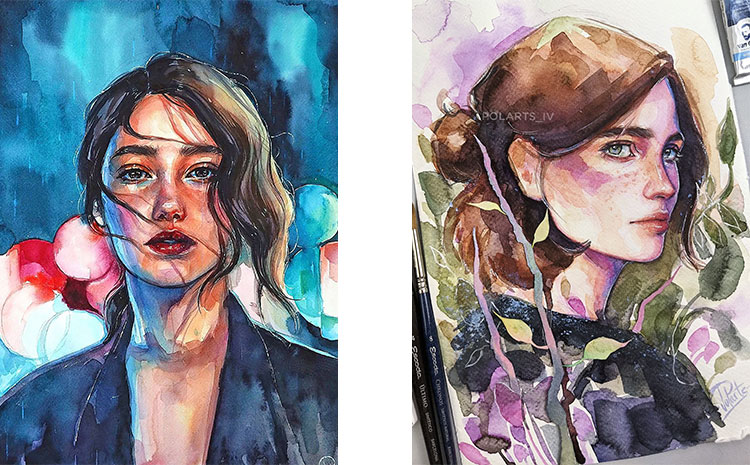 From Personal Exploration to Collaborating with Brands
In her artistic endeavors, Polina typically employs diminutive paper sizes. However, she harbors a curiosity to experiment with expansive canvases and walls, providing her with seemingly endless space to draw and seamlessly integrate facial features with sprawling landscapes or anatomical structures. Beyond her personal exploration, Polina aspires to collaborate with renowned brands and have her art reach a broader audience, potentially imbuing products with her unique artistic style and leaving a lasting impact on those who encounter them.
In regards to Polina, it can be observed that art plays a significant role in her life. Polina possesses a wealth of knowledge in regards to color combinations, thanks to her exposure to art, and she often utilizes this knowledge when designing her living space or selecting her wardrobe. Moreover, Polina's artistic inclinations have become so deeply rooted in her psyche that she perceives the world around her through the lens of an artist, imagining how she would capture the people and places she encounters on canvas. As a result, art has seamlessly integrated itself into every aspect of Polina's life.