I experience something oppressive in the world around me; it's a lot about looks and exterior; on social media and in real life, everyone wants to show themselves as beautifully as possible and impress the other, that the problem arises that the inner self cannot develop properly and remains empty, as it were.
Knowing Eveline Kieskamp
Eveline Kieskamp is a Dutch ceramic artist born in 1977. She currently resides in the village of Bennekom, Netherlands with her husband and two daughters, aged 13 and 18. Kieskamp received her diploma in art teaching from the University of Arts in Arnhem in 1998, and later returned to the same institution to earn her degree as an independent artist in 2002. She subsequently focused her artistic practice on ceramics, and now exclusively works with clay.
Last summer, Kieskamp spent a month as an Artist in Residence (AIR) at Guldagergaard in Denmark. There, she was able to focus on her ceramics work without any distractions from her daily life or family. She was joined by 15 other artists who also work with ceramics and had a great time.
Eveline's primary medium is clay, which she discovered and fell in love with over seven years ago. She finds joy in the changing consistency of the medium, from liquid to malleable to hard. Before working with clay, Eveline predominantly used textiles and epoxy, which she found to be more structured and planned compared to the organic and fluid process of working with clay. She typically builds her clay works in rings, adding decoration once the piece has firmed up. For Eveline, working with clay is a process of feeling, waiting, and feeling when it is time to move on.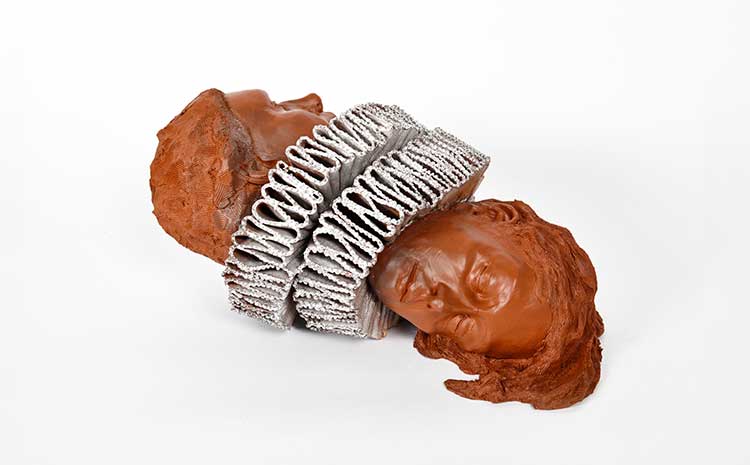 The Exploration of the Interplay Between Ornamentation and Confinement
In Eveline Kieskamp's work, many human figures are seen decorated to the point of oppression. This has been a theme that she has been focusing on in her work. She believes that this may be a reflection of her own experiences of feeling oppressed by the world around her, where social media and real life place a great emphasis on outward appearances. In her latest work, she has cut away part of the sculpture to reveal an empty space within, representing the emptiness that can result from focusing too much on outward appearances and not enough on inner growth.
The artist's recent works have been heavily influenced by literature, particularly the Wolf Hall trilogy by Hillary Mantel. In particular, Kieskamp was drawn to the portrayal of queens and their complex interplay of wealth, ornamentation, and confinement. She is currently reading a book about William the Silent, which has sparked her interest in Margaret of Parma, who she plans to focus on in her next piece. This work will explore the idea of a woman using her femininity and ornate appearances to wield power, even as governor of the Netherlands. This shift in focus reflects Kieskamp's ongoing exploration of these themes.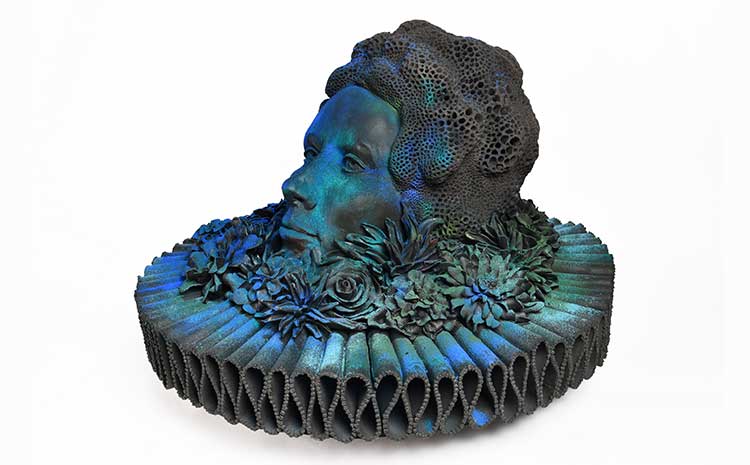 Finding Themes in Eveline Kieskamp's Artwork
Eveline Kieskamp sometimes creates works that explore certain themes, such as the work "Look at me". In this work, she explores the subject of a nature reserve built on the site of a former paper factory, where her grandfather used to work as a machine operator. The work features three men who are shown looking at each other through binoculars and failing to see a deer, which symbolizes nature. The work is meant to reflect the idea that the Dutch government is increasingly trying to control nature rather than manage it.
In her work about children playing hide and seek, Eveline Kieskamp explores how the game has changed over time. In the past, children would play this game outdoors and get plenty of exercise, but now they often play on their mobile phones and remain stationary. The only thing that moves is a ball, which invites the viewer to engage with it as if it were a toy.
Eveline Kieskamp is a sculptor who finds joy in crafting stories through her art. She has a passion for working with clay, and feels driven to create. Kieskamp has struggled with Crohn's disease, which once prevented her from making art. This experience ultimately led her to focus entirely on her visual art as she recovered. She is particularly proud of her series "Frozen Queens," which she believes captures her feelings on the subject in a universal way. Kieskamp also enjoys the process of refining her sculptures, starting with a rough construction and adding smaller details to create her unique artistic style.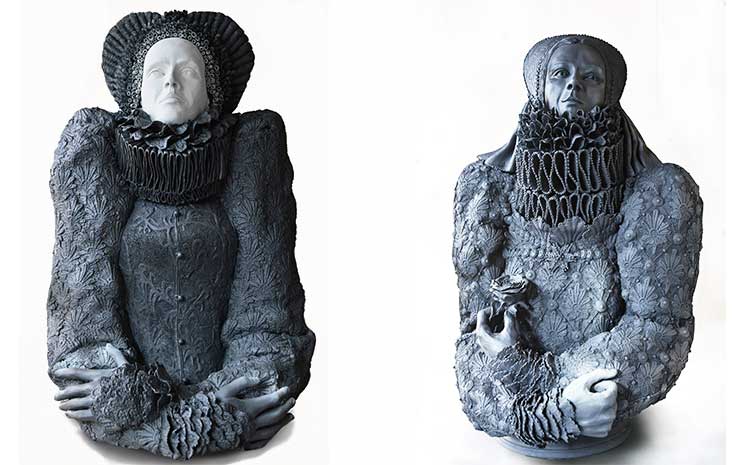 Expressing Emotion through Artistic Process
Kieskamp is most proud of her series "Frozen Queens." She believes this is due to the universality of the subject and the way she was able to express her feelings through her work. Additionally, she enjoys the process of building the pieces, starting with rough construction and then refining the smaller details. She feels this process truly reflects her artistic style and handwriting.
Eveline Kieskamp would like to develop herself further through an artist in residence program and the EKWC (European Ceramic Work Centre in Oisterwijk) is very high on her wish list. She also thinks that an AIR in Latvia (Daugavpilz's Marc Rothko Centre) in combination with the biennial there seems fantastic. Exhibiting her work in beautiful places is her biggest desire for the near future.