"Art helps me connect with people. My character is more reserved, and exhibiting artworks or creating projects puts me out of my comfort zone."
Nina Urlichs' Visual Art: Layering and Experimentation
Nina Urlichs creates a variety of visual art that spans two and three dimensions, including photographs, prints, paper collages, and drawings. She layers these materials together, often framing or mounting them on canvas, and occasionally creates large-scale installations that are free-standing and unframed.
In addition to her static artworks, Nina also incorporates experimental video elements into some of her projects. These videos have been a longstanding part of her artistic practice and serve to complement and expand upon her other visual expressions.
For Nina Urlichs, inspiration is found in the grandeur of an expansive, vacant space featuring large windows with views of the surrounding natural world. The tranquility of the early morning gives way to a vibrant and bustling community of international artists and friends as the day progresses. Inspiration for her artistic pursuits is derived from a variety of sources, including the natural environment, the people around her, the busy streets, and the captivating exhibitions she encounters. Often, the spark of inspiration arises unexpectedly, akin to a delightful surprise, and she remains constantly vigilant and receptive to it. This approach, while perhaps idealistic, has become a tangible reality for Nina Urlichs over time.

Artistic Evolution: Embracing Change and Involvement
Speaking of Nina Urlichs and the evolution of her artistic style over time, it can be noted that a variety of factors have contributed to its gradual yet constant transformation. Nina's journeys, residencies, and encounters have all served to enrich her experiences, ultimately affecting her art. Initially, Nina's work centered around body movements and shapes, but over the past year, her focus has shifted towards the creation of more figurative portraits. However, Nina's artistic vision remains dynamic, and she is currently exploring ways to incorporate abstract elements into her work in order to distill it to its essence. It is evident that Nina values the importance of embracing change and involvement, and after two decades of creating, she continues to learn and integrate new techniques into her art.
Nina Urlichs is particularly satisfied with her series entitled "Heroines". The collection features portraits of both famous and ordinary women, spanning various time periods and backgrounds. These women serve as embodiments of strength and courage in the face of persecution, fighting for their rights, their communities, and the environment. In 2021, the series was displayed at the Museum of Art in Germany, and one of her works was recognized with a prestigious drawing award in Paris.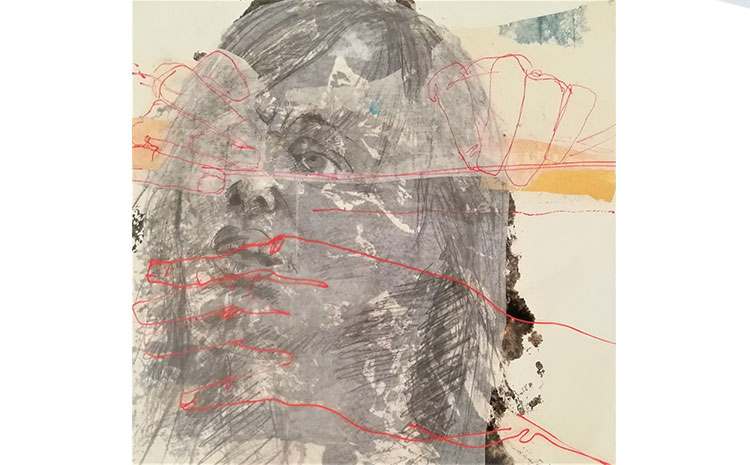 "Imbued with Trees": A Dream Project of Collaborating with Nature
In her artistic endeavors, Nina Urlichs is currently engaged in pursuing her dream project, "Imbued with Trees." Through this project, she aims to establish a collaborative relationship between humans and trees, celebrating the silent, contemplative exchange between the two entities.
Nina takes prints of tree barks from different countries, much like fingerprints that are unique to each individual. She seeks to depict the singular structure of each tree's bark, whether rough, smooth, wounded or imperfect, in her monotype prints that capture the sensuality of the tree's "skin." Executed in a black and white graphic style, her monotypes convey an almost abstract, singular impression.
In addition to her monotype prints, Nina integrates drawings, writings and videos featuring portraits of local individuals committed to protecting the natural world. She draws inspiration from the diverse landscapes, flora and fauna that have been shaped over thousands of years by humans. Dialogues with the individuals she interviews play an integral role in supplementary video documentaries, as they intimately share their passion and connection to their forest and trees.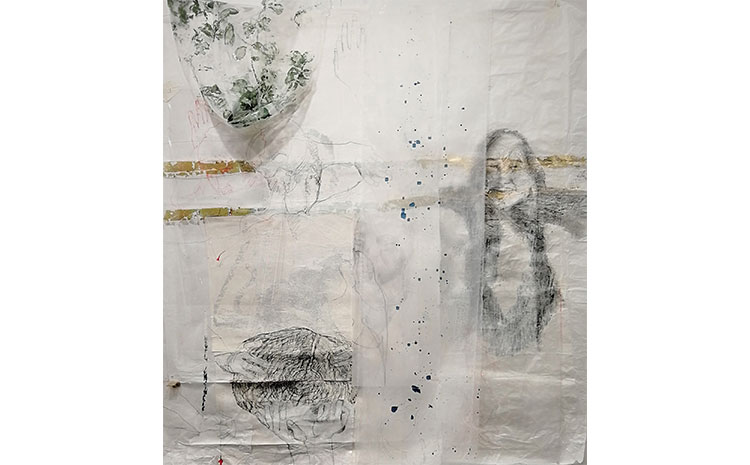 Personal Growth and Sharing the Passion
Nina's project transcends geographical borders, as she plans to take prints of local trees to showcase the globalization of environmental problems. Her aim is to depict portraits of ordinary people from different parts of the world who live in close proximity to nature, and whose lives are intimately connected to the forest. "Imbued with Trees" began in Germany and Italy in 2021, and Nina is actively seeking out art residencies worldwide to continue its realization.
In Nina Urlichs' case, artistic pursuits provide a means of connecting with people. Being a reserved individual by nature, engaging in the creation of artwork and pursuing creative projects often takes her out of her comfort zone, thereby promoting personal growth. She believes that this is a crucial aspect of her development both as an individual and in her relationships with others. In addition to her own personal growth, Nina also takes pleasure in sharing her passion for the arts with others. She frequently attends art shows with friends and acquaintances, introducing them to the joys of artistic expression. She has even taken on the role of art instructor on occasion, offering courses to groups during her travels around the world. Overall, Nina is a firm believer in the power of the arts to bring people together and transform lives.