"I understand things spatially; I have to see something to make sense of it."
The Evolution of an Artistic Prodigy
Born on July 14th, 1980 in Norwalk, Connecticut, Matthew Shlian embarked on his academic journey at Alfred University, attaining his BFA in 2002. His thirst for knowledge led him to Cranbrook Academy of Art, from which he graduated with a master's degree in 2006.
During his undergraduate years at Alfred University, Shlian's artistic inclinations gravitated towards ceramics. However, as his academic pursuits evolved, he ventured into a diverse range of mediums. By the culmination of his studies, Shlian boasted dual specializations in ceramics and print media. Rather than confining himself to the traditional realms of print or ceramic work, he showcased an affinity for large digital prints. Through meticulous cut scores and creases, he crafted expansive pop-up spreads, featuring elements such as 4-foot v-folds or strut fold pieces. The allure of paper, with its immediate and inherent geometric attributes, captivated him. For Shlian, the act of constructing these masterpieces mirrored the intricacies of solving a complex puzzle. His need for spatial visualization — an innate desire to see in order to understand — steered his passion. This fervor was further nurtured by Anne Currier, a notable faculty adviser, who bestowed upon him the gift of pop-up books. By delving into their anatomy, Shlian unraveled the mechanics behind them, marking a pivotal moment in his artistic journey.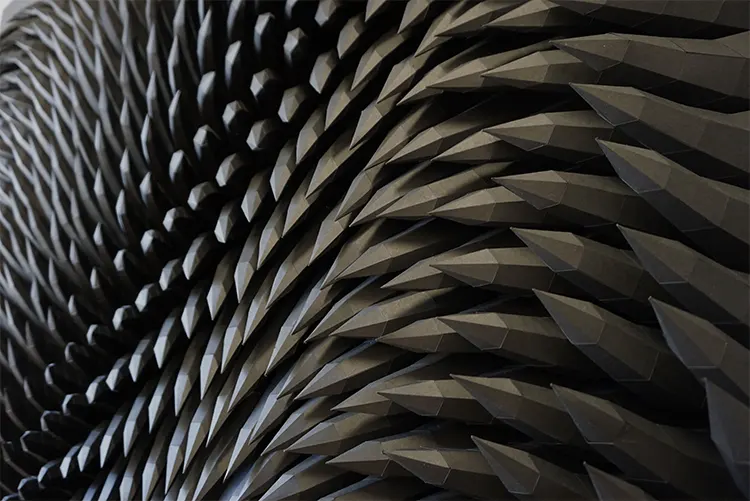 Matthew Shlian: A Delicate Dance of Intuition and Precision
Matthew Shlian's approach to creation is as fluid as it is intuitive. Rather than commencing with a concrete objective, Shlian often sets parameters for himself, allowing for both intention and serendipity to shape his pieces. Occasionally, unforeseen errors serendipitously become the focal point of his art. Driven by a profound sense of curiosity, Shlian seeks to unravel understanding through his creations. He is especially captivated by pieces that possess the power to astonish him. In a testament to his commitment to the enduring quality of his work, Shlian meticulously selects acid-free and archival materials.
Concerning his material preferences, Shlian's repertoire comprises a diverse range of papers tailored to individual projects. When crafting white pieces, he exhibits a predilection for acid-free archival paper sourced from Neenah Paper. The adhesive he chooses is equally particular: the PVA glue from Hollanders stands as his preferred choice. Within Shlian's toolkit, one finds an impressive array of instruments, from bone folders and #11 blades to Reverse Action Tweezers, Casselli Spatulas, and Soft Crease Meteorites. Moreover, he harnesses the capabilities of AutoCAD software and the precision of Graphtec flatbed plotter cutters to perfect his craft.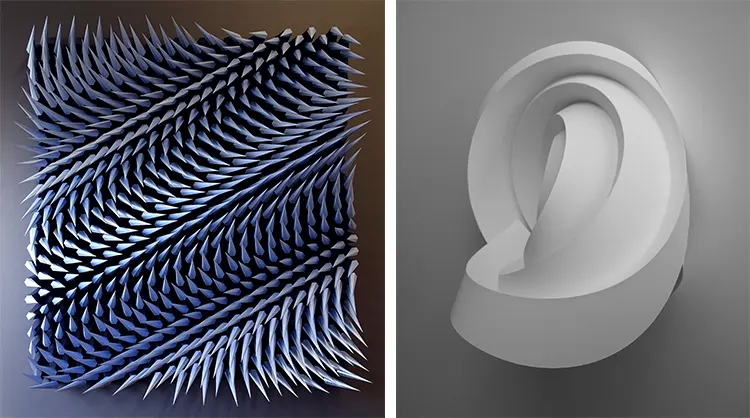 A Kaleidoscope of Inspirations
Within the vast tapestry of inspiration, Matthew Shlian finds catalysts in myriad forms. From the intricate designs of solar cells and the mysteries of protein misfolding to the mesmerizing patterns of Islamic tiles, Shlian harnesses motivation from diverse domains. His distinctive worldview illuminates nuances that many might overlook. Shlian's pantheon of influences is broad and varied, encompassing luminaries such as musician Brian Eno, writer Ted Chiang, and architect Daniel Libeskind.
For those eager to delve deeper into Shlian's creative universe, a plethora of books and documentaries await. Paul Jackson's oeuvre provides an astute comprehension of folding techniques, while David A Carter's "Elements of Pop up" is a masterclass in the art of pop-up design. "Between the Folds" by Vanessa Gould presents a captivating cinematic journey, while Gülru Necipoglu's "The Topkapi Scroll" elucidates the nuances of Islamic architecture. Eric Broug's work illuminates the realm of Islamic geometric design, and not to be missed is "39 Microlectures in Proximity of Performance" by Matthew Goulish, a work that proved to be a turning point for Shlian.
Periodically, the artist facilitates workshops. Details of imminent sessions are typically disseminated via Shlian's social media channels and his newsletter, THE FOLD.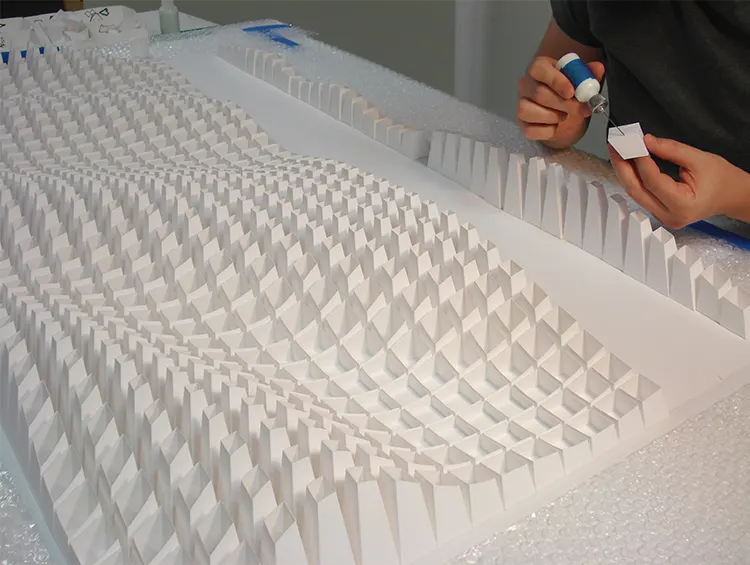 Matthew Shlian: From Studio To World: Unfolding Matthew's Legacy
Matthew Shlian, currently based in Ann Arbor, Michigan, is deeply engrossed in the intricate craft of paper folding within the confines of his studio. It is in a personal setting that one truly appreciates the depth and nuance of his work. Those eager to immerse themselves in Shlian's latest exhibitions or presentations are encouraged to consult his social media platforms or subscribe to his newsletter.
Shlian expresses gratitude for the burgeoning interest in his creations, spanning collaborations, academic pursuits, and media features. Nevertheless, he posits that the essence of grasping his art rests with the observer. It extends beyond the mere "what" to encompass the intricate layers of "how" and "why."
For aspiring artists, Shlian offers sage advice: demonstrate patience, exhibit unwavering persistence, and allow one's distinct flair to unfurl organically. While dedication might pave the way to acclaim, Shlian emphasizes that the core reward remains rooted in the act of creation itself.