"I decided to give myself the gift of time —- to experiment, to play, to fail — without any judgement or expectations. This remains a cornerstone of my practice."
Leah Kaplan's Pursuit of Artistic Independence
Leah Kaplan courageously embarked on a full-time artistic career at the age of fifty, an unexpected decision given her inherent aversion to risk. Looking back on her journey, it seems to Kaplan that her artistic pursuit was a blend of destiny and inevitability. She was a lifelong lover of creation, curious about the inner workings of things and the processes behind their manufacture. Her natural predisposition as a visual learner led her to compile a digital archive of inspiring images and ideas on her personal device.
Raised in the vibrant culture of Minneapolis, Kaplan found joy in transforming everyday materials into sculpture and exploring her artistic abilities through painting and drawing. Despite her intrinsic passion for art, she failed to see it as a feasible career path. This was largely due to a dearth of unconventional role models in her vicinity during her formative years. With aspirations to explore art at a deeper level while studying at Brown University, Kaplan considered cross-registration at the prestigious Rhode Island School of Design. However, logistical issues combined with her hesitation to fully commit to the field of art hampered her plans.
Upon completing her education and commencing work in New York, Kaplan chanced upon a clay studio during her daily transit. This fortuitous discovery transformed her life when, after an unexpected job loss, she enrolled in a pottery class. There, she was entranced by the tangible, expressive nature of clay. Kaplan's instructor, a celebrated ceramicist, took on the role of a mentor, generously imparting her wisdom, techniques, and rare clay formulas.
Despite confronting a myriad of obstacles, including losing access to studio space and the pressures of demanding professional engagements, Kaplan doggedly pursued her passion over the span of two decades. She navigated the complexities of urban migration and family life with fortitude. As she neared the age of fifty, Kaplan and her husband engaged in a profound introspection of their future aspirations. His transition to a new career, which afforded the family a better work-life balance, paved the way for Kaplan to allocate more time and energy to her passion for ceramics, thereby invigorating her drive for artistic exploration.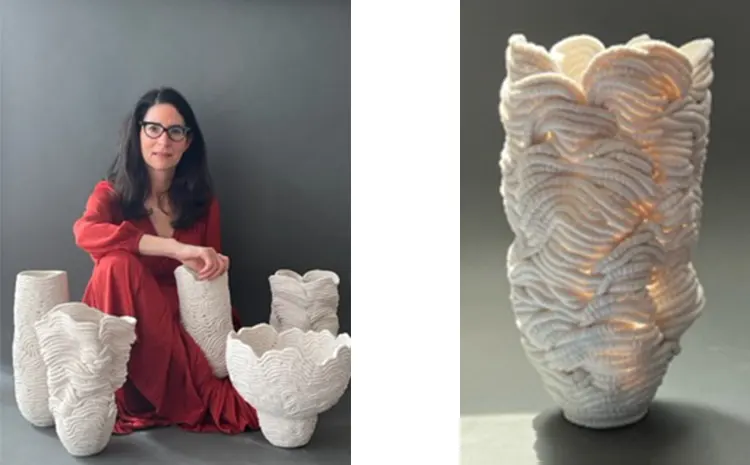 The Transformative Power of Leah Kaplan's Own Studio
Leah Kaplan began her artistic journey at The Clay Studio in Philadelphia, where she held the position of an associate and shared her creative space with 30 fellow artists. This vibrant community stimulated her creativity, yet Kaplan yearned for solitude and independence to further cultivate her craft.
In pursuit of solitude, she migrated to a shared studio in a vocational technical school. However, her aspiration for a dedicated workspace persisted. It was her serendipitous encounter with a quaint commercial condo in Old City Philadelphia, a neighborhood imbued with historic charm, that provided the answer. Despite the property's condition, Kaplan perceived its potential and acquired it. High ceilings and expansive windows instilled a sense of spaciousness, thus offering an ideal environment for her creative exploits.
Owning her own studio transformed Kaplan's approach to her work. This transition shifted her emphasis from productivity to the process, enabling her to engage more deeply with her craft.
Each studio transition compelled Kaplan to adapt her methods and explore innovative techniques, contingent upon the available resources and equipment. These adaptive experiences have palpably shaped her artistic style. The cultivation of her artist's curriculum vitae began by participating in juried shows, thereby enhancing her visibility within the art community.
Nevertheless, it was the advent of social media, specifically Instagram, that significantly transformed Kaplan's career. The platform enabled her to broadcast her work to a larger audience, connecting her with galleries and potential collectors. It also served as a gratifying medium, allowing her to remain engaged with her practice during periods of absence from her studio.
The power of Instagram fostered a burgeoning following for Kaplan. As her online presence expanded, she began receiving inquiries from art enthusiasts and collectors. Kaplan primarily transacts her work directly with collectors, a practice that was especially relevant during the pandemic, with virtual studio visits emerging as the new norm. The direct engagement with her clientele is mutually enjoyable: they relish the opportunity to discover a new artist, while she delights in sharing her passion and creations with her patrons.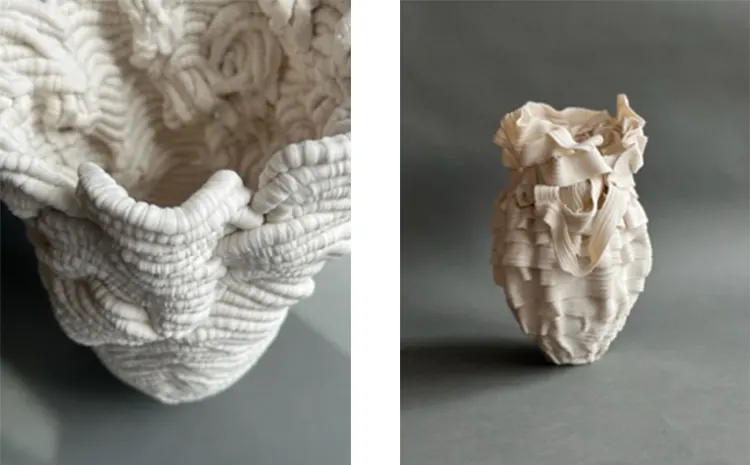 Shaping Artistic Methodology: Leah Kaplan's Adaptive Journey
In a diverse assortment of studios equipped with a variety of clay bodies, glazes, and equipment, Leah Kaplan's artistic methodology was shaped and influenced. Despite the hindrance posed by nerve damage in her left hand, she has deftly integrated hand-building as a crucial element of her artistic process. Kaplan views these constraints not as a setback but as an essential catalyst for her creativity, prompting her to adopt innovative and resourceful techniques.
Ultimately, Kaplan founded her own studio, choosing to dedicate her creative energy to the intricate manipulation of porcelain exclusively. The material's sleek, white characteristics and the tactile satisfaction it offered entranced her. As her engagement with the medium deepened, she was enthralled by porcelain's luminous translucency, inspiring her to craft thinner, layered works that ingeniously played with the effects of light and shadow. This exploration of the material's textural possibilities became a pathway to unexpected artistic discoveries.
Contrary to the inquiries she frequently encounters, Kaplan harbors an aversion to the use of complex or technologically advanced equipment, including 3D printing. Her conviction firmly rests in the belief that her hands, in their dexterity and intuition, serve as the most effective tools for her creation. She savors the simplicity of traditional hand-building methods—such as slabs, coils, and pinching techniques—that have been employed by artisans for centuries. The intricacy inherent in her work is a testament to the elementary processes that incrementally converge to create her exquisite pieces.
The timescales for Kaplan's work range widely. Some pieces mature over days, evolving gradually, while others are actualized within a few hours. Some require multiple renditions to reach their ultimate form. She revels in the rhythm of fluctuating between the meditative, slow-paced methodologies and those that demand more intense bursts of creative energy. Each method, in Kaplan's view, holds its unique merits and the thought of exclusively adhering to one approach seems inconceivable.
Kaplan's stylistic preference can be encapsulated by the term 'intricate minimalism', defined by elaborate detail and texture that refrains from appearing ostentatious or superfluous. Her most favored creations exhibit an inherent fluidity and spontaneity. Owning a personal studio provides her the luxury of maintaining her pace, granting her the freedom to revisit her projects without interruption. The solitude and command over her workspace have been instrumental in significantly propelling her artistic evolution.
On entering her studio, Kaplan's routine typically commences with playing music and perusing her emails and Instagram, before her hands meet the familiar touch of clay. Ideally, she prefers an ongoing project awaiting her, as starting a new venture in the morning can pose a challenge. Her workflow is consistent, moving around her creation to visualize it from various angles. Lunch breaks are often sacrificed for the sake of her craft, working relentlessly until the piece is completed or reaches an appropriate halting point. Identifying the right moment to pause can be a challenging task, yet Kaplan meticulously plans her schedule when a set finishing time is imminent.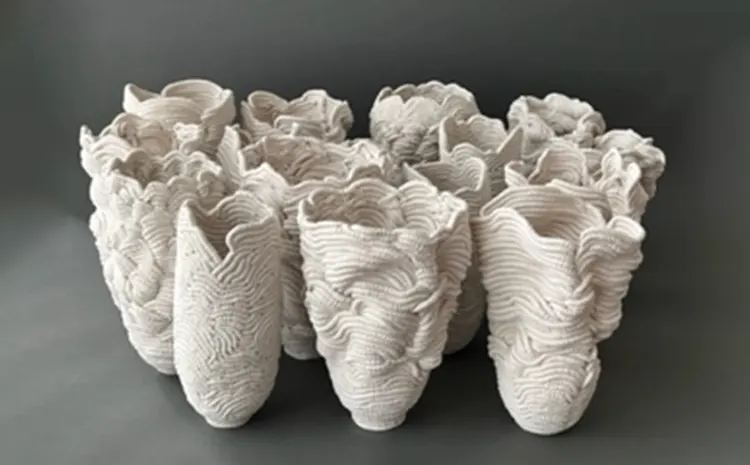 Intricate Minimalism: Unveiling Leah Kaplan's Artistic Style
Kaplan firmly believes in maintaining a positive ambience in her studio, conscientiously evading any negative energies. In the event of an unforeseen complication such as a collapse or a crack in her work, she navigates her way to a different technique or approach, reserving the resolution for the following day. This mindfulness ensures that her creative sanctum remains a realm of positivity and unhampered creativity.
Leah harbors a keen interest in broadening her creative horizons. She aspires to extend her artistry into the realm of product design, potentially through a collaborative endeavor with a lighting designer. Alongside these ambitions, Kaplan is drawn towards metal casting and wall installations, with an additional intention of participating in an artist residency. Such a residency would allow her to overcome the current limitations imposed by the size of her kiln, opening up the possibility of scaling up her works through modular techniques.
Kaplan is renowned for her unique artistry in creating sculptural vessels that embody a distinctive elegance. Her works masterfully focus on interior spaces, compelling the observer's gaze to be drawn inward and downward. The diverse array of inspirations for her artwork is a reflection of her rich experiences. Notably, the artisans she encountered in remote locations significantly contribute to her work, their unique crafts leaving a profound influence. Additionally, she is intrigued by Wabi-sabi forms prevalent in basketry and textiles, with particular references to kuba cloth, ikats, and molas. Japanese boros and Shibori also hold a special fascination for her.
In Kaplan's artistic practice, the dialogue she engages in with her chosen material is paramount. This interaction often leads her to unforeseen discoveries, shaping her work and directing it towards novel pathways. Her aim is to preserve this dynamic equilibrium between intention and surprise, thus maintaining a constant receptivity to unexpected outcomes.
Kaplan's creative approach extends beyond her studio, with walking playing a pivotal role in her artistic process. She covers substantial distances on foot throughout Philadelphia, a routine that aids in problem-solving and instigates creativity. During these walks, Kaplan takes a collection of eclectic photographs that contribute to her work. She captures the essence of movement, textured surfaces, light, and shadow in these images. This practice of active observation prepares her mindset for creation in the studio, where she surrenders herself to the forces of attraction that guide her artistry.