"I know I'm inspired by something when I feel little butterflies in my chest, not unlike an anticipation of going on a first date!"
The Artistic Vision of Kayla Martell: A Canadian-Irish Oil Painter
Kayla Martell is a Canadian-Irish oil painter based in Wicklow, Ireland. Having lived in Ireland for nearly a decade, Martell has been greatly inspired by European artists. Her oeuvre primarily revolves around still life and interior scenes, including depictions of lemons, tea, coffee, bathrooms, and sitting rooms. Martell is particularly noted for her ability to capture the mood and atmosphere of a scene, especially when painting furniture in front of windows. Despite the technical difficulties posed by these works, Martell regards them as some of the most rewarding pieces she has created.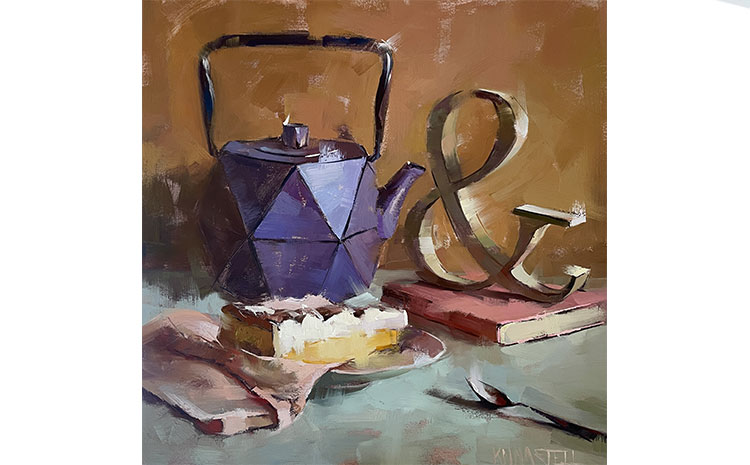 The Creative Process of Kayla Martell
Kayla Martell does not always commence her creative process with a fully formed concept. Instead, she seeks inspiration from the composition and arrangement of her subject matter. The process can at times be time-consuming, but she firmly believes that the composition is a critical aspect of the artwork. On occasion, she may spend several minutes adjusting the position of a simple object, such as a teacup, until its placement is aesthetically pleasing within the painting. She is often able to identify when she has found her muse, as she experiences a sense of excitement, akin to the flutter of butterflies in anticipation of a first date. The stronger the nervous energy, the more confident she is in the composition's potential for success, provided she is able to effectively execute her vision. Inspiration can come from various sources, such as a pair of shoes, a still life, a model fishing boat, or even a bathroom.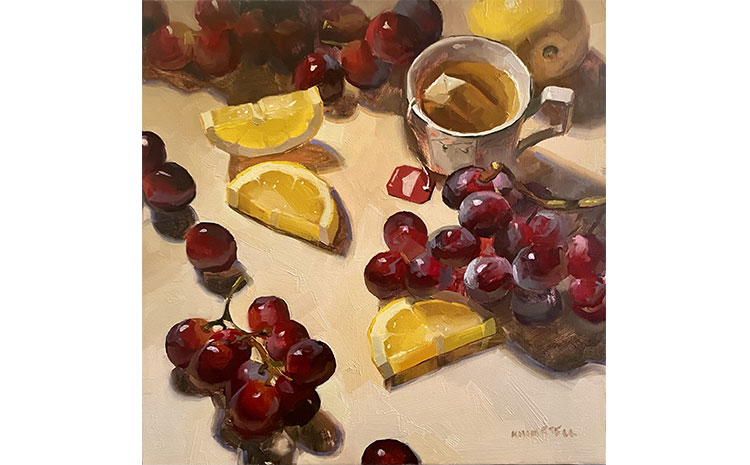 Breaking Boundaries: The Diverse and Evolving Art of Kayla Martell
Kayla Martell constantly pushes the boundaries of her creative limitations in her work. She experiments with various techniques, such as utilizing a limited palette, incorporating different brush strokes, and limiting the duration of her painting sessions, among others. This constant exploration has led to a diverse and evolving body of work, showcasing a marked departure from her previous uniformity in the thickness of paint.
Martell is particularly drawn to painting shoes, finding immense satisfaction in capturing the intricate details and textures of footwear. This has become a recurring theme in her work, serving as a source of inspiration whenever she experiences artistic block. One of her most prized creations is a painting of shoes that accompanied a written passage, which remains a personal favorite to this day.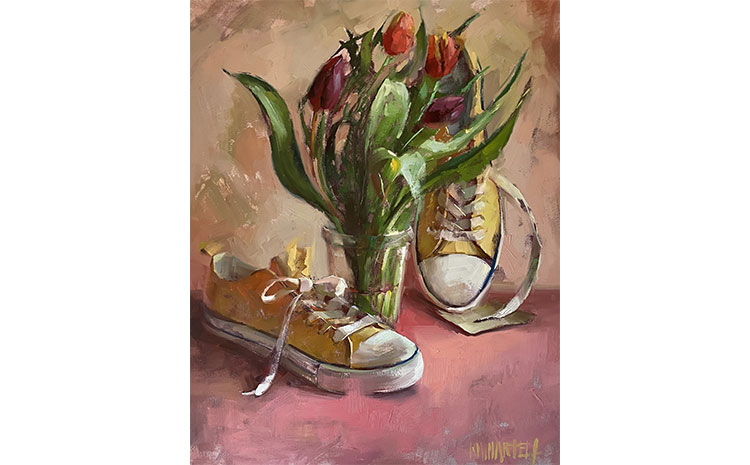 Kayla Martell: A Multi-Talented Artist Blending Writing and Painting
Kayla Martell is a talented individual with a passion for both writing and painting. She aspires to create a series of artworks that would seamlessly blend with different elements of her book. To achieve this, Kayla has already begun her journey by painting one of her book's characters, Anya, through a representation of Anya's favorite yellow sneakers, which were central to a memorable scene in the book. Kayla's goal is to continue this creative pursuit and produce a collection of visual narratives that would beautifully illustrate various extracts from her book.
When it comes to her artistic process, Kayla follows a similar approach to her writing style, starting with the broad strokes before refining the finer details. This allows her to bring her stories to life in both written and visual forms, showcasing her remarkable talent and imagination.