"I paint my emotions, my feelings… I try to share my emotions… I'm proud of my works when they touch people, but I'm never really satisfied because I tell myself that I can always do better."
Freddy Loupien: A Multifaceted Artist & Overcomer
Freddy Loupien is a painter with a talent for both manual labor and painting. Born on June 29, 1965, Freddy has always been driven by his love of creation, and has spent his life exploring and developing his skills. From his early days as a boat fitter, to his more recent role as a parquet layer, Freddy has always sought to challenge himself and push the boundaries of what he's capable of.
But despite his many accomplishments, Freddy faced his greatest challenge in April of 2019, when he was involved in a devastating motorcycle accident. Undeterred by his injuries, Freddy refused to let this setback slow him down. Instead, he saw it as an opportunity to delve even deeper into his art, honing his skills and becoming an even more accomplished painter.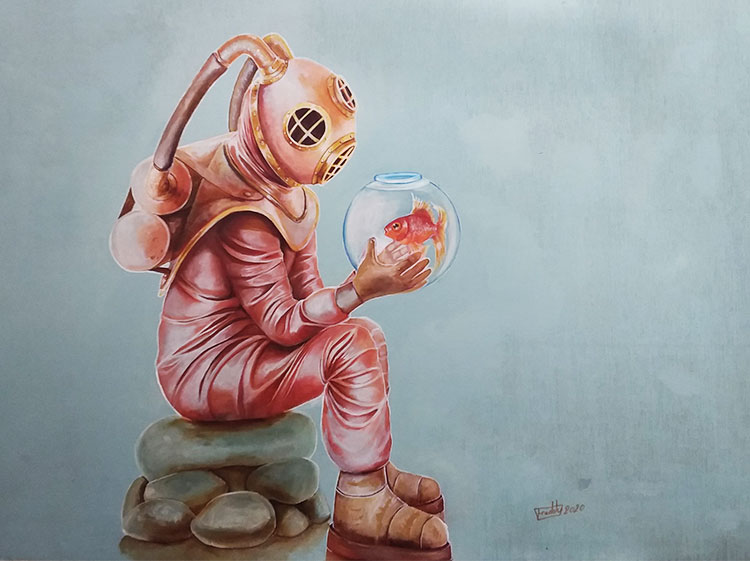 From Humble Beginnings to Creative Pursuits
Today, Freddy resides with his wife and son in a loving and supportive home, where he continues to pursue both his artistic and professional goals. Whether he's using his hands to create beautiful works of art or to build stunning pieces of furniture.
It is important to note that Freddy's love for painting extends far beyond this recent experience. In the late 1990s, he was selected for the prestigious Concours des Arts et Lettres de France in Bordeaux, a testament to his talent and dedication. However, due to time constraints, he was unable to pursue this opportunity at the time.
Freddy Loupien hails from humble beginnings, where the prevailing philosophy was "Lead by example and remain silent." Freddy's father was a talented painter, known for his picturesque seascapes and hunting scenes. It is from this background that Freddy's passion for art was born. For his parents, painting was just a hobby, but for Freddy, it became a refuge, a confidant, and a means of self-expression.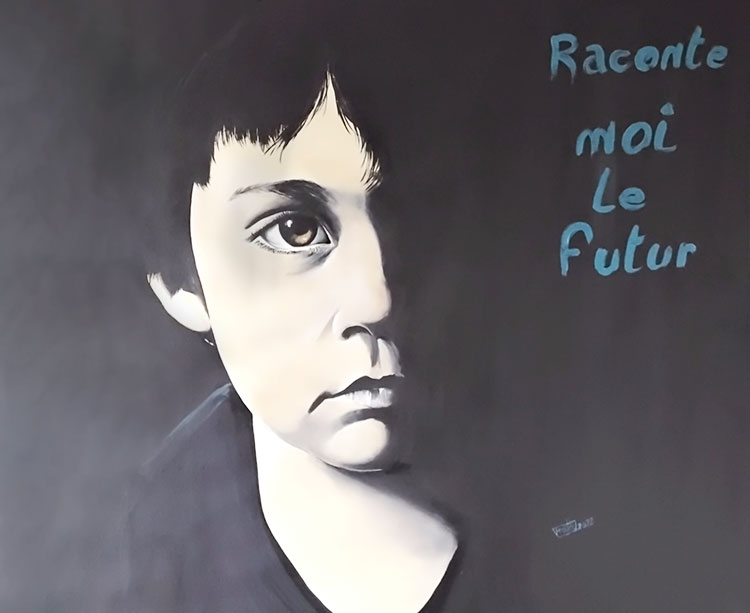 Emotional Expressions: The Artistic Vision of Freddy Loupien
Freddy approaches painting with impulsiveness, infusing his works with his emotions and feelings. The surface he paints on varies depending on his mood, and he uses acrylic as his preferred medium. Freddy does not concern himself with whether his art will be well-received; his aim is simply to share his feelings and pour his soul onto the canvas.
Freddy Loupien is an artist on a mission to express his deepest emotions through his captivating creations. Driven by a desire to share the vivid images that he conjures up in his mind, Freddy draws inspiration from a multitude of sources – the rhythm of music, the wisdom of others, the power of meaningful glances, and the memories that come flooding back. Each day, Freddy embarks on an inner journey, one that leads him to the heart of his artistic vision.
A true master of his craft, Freddy takes immense pride in his work, especially when it connects with others on an emotional level. Despite his accomplishments, he is never satisfied and constantly strives for excellence, pushing himself to new heights with each masterpiece he creates. With a keen eye for detail and a passion for perfection, Freddy's art is nothing short of breathtaking.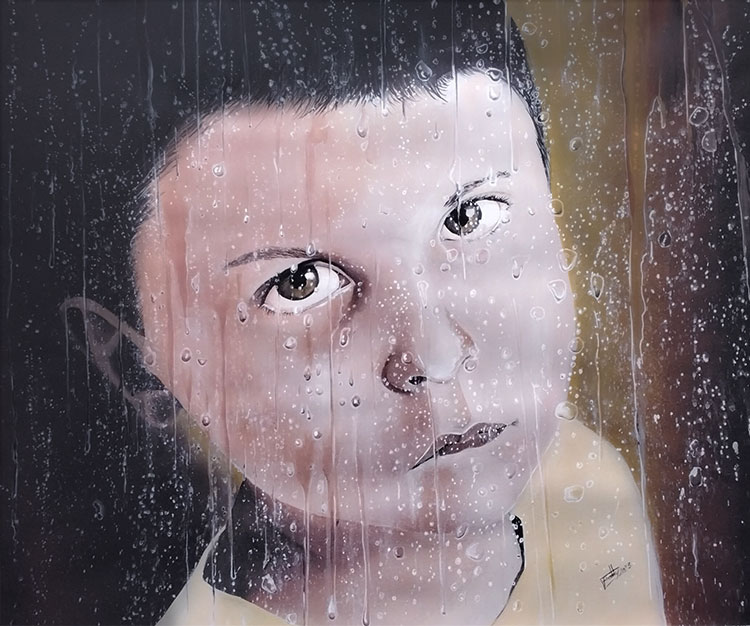 Freddy Loupien's Endless Pursuit of Artistic Excellence
And yet, the artist's journey is far from over. Freddy's ultimate goal is to bring his images to life through animation, and though he has already created a rough draft, the final product remains a work in progress. Fueled by a dream of one day being recognized as a masterful painter, Freddy continues to pour his heart and soul into each and every piece, crafting works of art that will be treasured for generations to come.
For Freddy Loupien, art is not just a hobby, it's a way of life. It sustains him in every moment, nourishing his soul as surely as food and drink sustains his body. A true artist to his core, Freddy continues to pour his heart and soul into every creation, inspiring others with his passion, skill, and expertise.