"My work is about allowing uncensored access to feelings of grief and loss, joy and peace, broken and whole, without attachment to anything specific. It's before language, beyond thought."
The Influence of Danish Heritage on Kat Noonan's Artistic Sensibilities
Kat Noonan was born in 1961 in Canada to a German father and a Danish mother. Following her parents' divorce in 1970, she relocated to Denmark with her mother, older sister, and two younger brothers. Initially, Noonan was unfamiliar with her mother's family and struggled with the Danish language. The family's challenging circumstances were further compounded when, just a few months after their arrival, Noonan's six-year-old brother tragically passed away in a traffic accident. Consequently, the family moved back to Canada before eventually returning to Denmark around a year later. Noonan's early life was marked by chaos and frequent transitions between schools.
Upon settling in Denmark, Noonan and her sister attended a local school where they dedicated themselves to learning Danish. They stayed after classes every day, with two teachers taking turns to teach them the language. As they became more fluent, the sisters began to establish friendships and adapt to their new environment. The initial culture shock gradually faded, and their memories of Canada became more distant.
During the summers, Noonan would create cherished memories with her family at the beach. Alongside her mother and grandmother, she reveled in the ocean, performing handstands and "drinking tea" on the ocean floor. Meanwhile, her brother busied himself with building sandcastles on the shore. These idyllic experiences deeply influenced Noonan, allowing her to preserve a sense of playfulness and wonder throughout her life.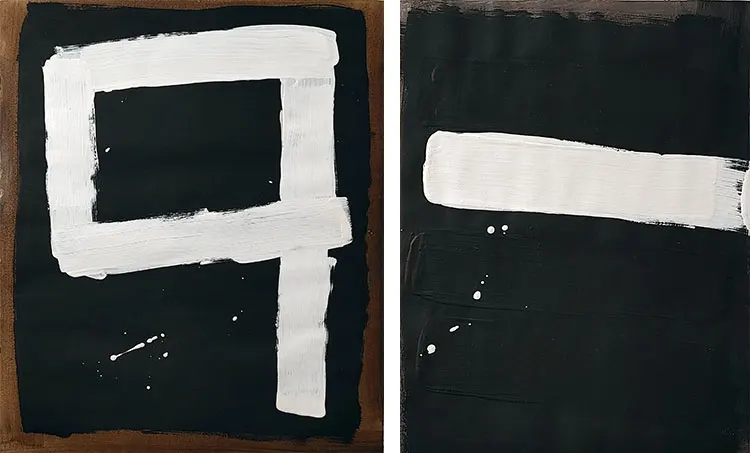 The Impact of Japanese Aesthetics in Kat Noonan's Art
Kat Noonan's artistic sensibilities have been deeply influenced by her Danish heritage, particularly the renowned emphasis on design and the integration of form and function. This concept, akin to the Danish notion of "hygge," permeates the culture and fosters a collective experience. Noonan takes immense pride in this cultural aspect, which has significantly shaped her perception of the world and subsequently manifested itself in her artwork.
During her early adulthood, Noonan experienced a period of struggle and adjustment. In pursuit of self-discovery, she embarked on an international journey, which included a visit to her father in Canada. It was during this time that she met her future husband. After returning to Denmark, Noonan enrolled in a local art school in 1991.
Although initially more inclined towards poetry, Noonan discovered a newfound passion for drawing and painting. The art school provided her with an extensive education in various disciplines, such as classical drawing, live figure drawing, and blind contour, deliberately excluding painting. This pedagogical approach was rooted in the belief that a strong foundation in drawing was essential for mastering painting techniques. Despite facing significant challenges in the initial stages, Noonan persevered, thanks in part to a supportive and nurturing teacher.
Upon completing three years at the art school, Noonan relocated to Canada, where she married and embarked on her independent journey as a painter, leveraging the skills and insights she had acquired during her formal education.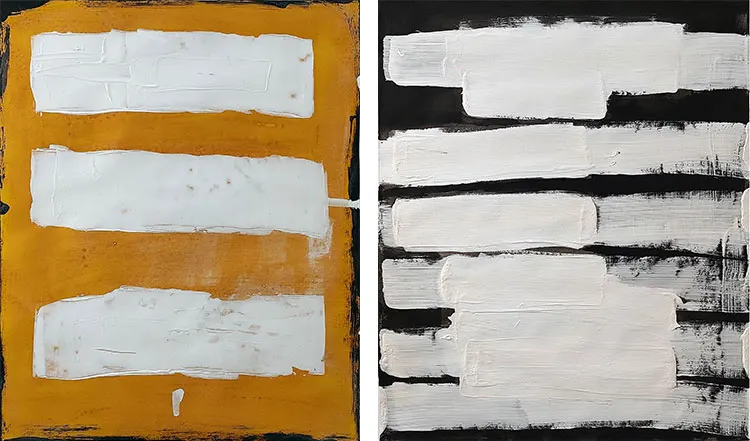 Art as a Meditative Process: The Unfiltered Expression of Kat Noonan
In 1999, Kat Noonan and her husband found themselves in Japan during the revered Cherry Blossom Season. This experience left an indelible mark on Noonan, as she marveled at the admiration and respect the Japanese people held for the ephemeral beauty of the blossoms. The elegance of their cuisine, the enchanting Japanese gardens, the awe-inspiring temples, and the fragrant incense permeating the streets captivated her senses. The couple relished the opportunity to travel between cities aboard the Shinkansen, exploring various art museums along the way.
During this time, Noonan recognized a shared appreciation for art and design in public spaces between Denmark and Japan. The meticulous attention to detail, the love of form, and the simplicity in both cultures resonated with her. Although she may not have been fully aware of it at the time, she absorbed these influences, which would later emerge in her work.
Following a profound loss in 2010, Noonan took a hiatus from painting that lasted a decade. When she returned to her art in 2021, her style evolved into a unique fusion of Danish and Japanese minimalism. Characterized by a predominantly black and white palette or a restrained use of colors, her work emphasizes line, form, and structure. This stylistic transformation surprised Noonan, but it felt like a natural and authentic progression.
Though her art may not overtly convey narratives, Noonan believes her pieces are rich in storytelling. The minimalist approach she employs aligns seamlessly with her poetic sensibilities, allowing her to express herself in a manner that feels both genuine and evocative.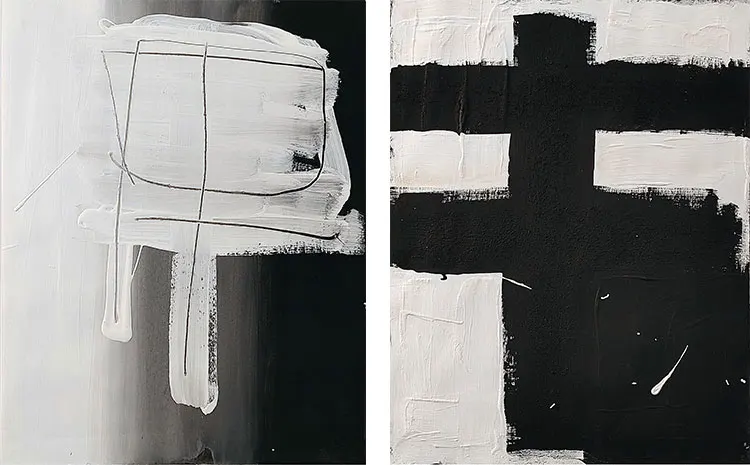 The Natural Haven that Inspires Kat Noonan's Art
The artistic expression of Kat Noonan centers around providing an unfiltered exploration of emotions, ranging from grief and loss to joy and tranquility, without fixating on any specific subject matter. Her work transcends the boundaries of language and thought, cultivating a sense of openness and freedom. In a unique approach, Noonan opts to number her creations rather than assign titles. For her, the act of painting serves as a meditative process, characterized by silence and intense focus, which allows her to bypass conscious thought and access her intuition.
Currently, Noonan's workspace is confined to a small area, which has led her to favor the creation of more compact works on paper. Her residence is ideally situated adjacent to a protected wetland, offering a rich environment teeming with diverse wildlife, such as deer, moose, squirrels, hares, woodpeckers, and an enchanting blend of willow and aspen forests. This natural haven serves as the backdrop for her daily morning walks. Additionally, the artist finds herself within close proximity to the majestic landscapes of Jasper and Banff in the Rocky Mountains, as well as the captivating Badlands near Drumheller.
Despite her deep appreciation for her current surroundings, Noonan dreams of relocating to Vancouver Island. There, she envisions a life overlooking the ocean with a spacious studio, permitting her to create large-scale works that resonate with her coastal spirit.