"My advice to young artists is to do not seek any advice from anyone. Be aware of all forms of art and art history but never follow them or get influenced by them. If you want to follow someone follow yourself."
The Creative Process of Deviprasad C Rao: Intuition and Meditation in Abstract Art
Deviprasad C Rao is a self-taught artist that began his journey in the creative world over two decades ago while working as a marketing and public relations professional and freelance journalist. In the late 90s, Rao encountered a traumatic experience that led him to explore the spiritual realm, using painting as a meditative technique. His initial goal was not to create artwork or become an artist, but rather to achieve a sense of accomplishment, find happiness, and cultivate reverence for himself and others.
During this period, one of Rao's kinesiology therapists remarked that his work resembled that of Paul Klee. Unfamiliar with Klee at the time, and possessing little knowledge of art history—especially Western art history—Rao's subsequent discovery of the esteemed artist invigorated him and ignited a desire to become an artist himself. A close friend later compared his work to that of Joan Miro, prompting Rao to explore Miro's oeuvre and delve deeper into the world of abstract art. In the process, he discovered the works of Jackson Pollock, Brice Marden, and Yves Tanguy, all of whom became his ethereal mentors.
In 2002, Rao embarked on a personal journey to Barcelona, partly inspired by the opportunity to view Miro's original works. Visiting the Miro Foundation Museum and witnessing the artist's lifetime of creations provided Rao with immense encouragement and solidified his identity as an artist. Upon returning to India, he made the life-altering decision to leave his career in marketing and public relations to dedicate himself fully to the artistic path.
During this transformative period, Rao's spiritual guru, Osho, introduced him to the concept of Objective Art and the transformative power of meditation for both art and the artist. This guidance supported Rao's pursuit of his unique visual language. In 2002, he officially launched his career as an artist with his first exhibition in New Delhi, India. Over the past 21 years, Deviprasad C Rao has continued to thrive on his chosen path, embracing his artistic journey with unwavering passion and dedication.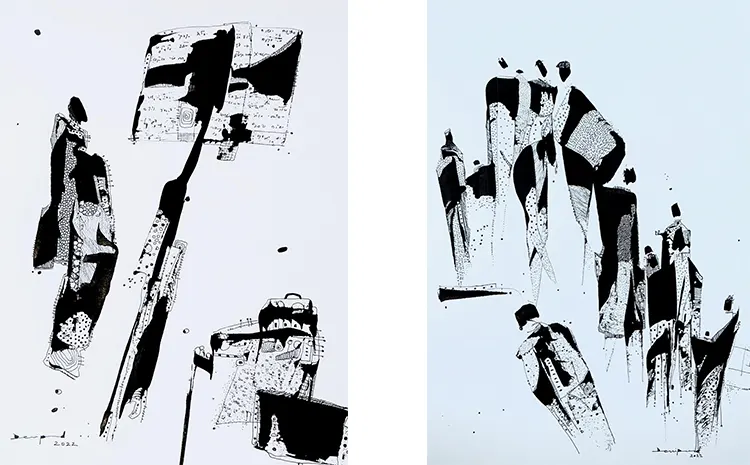 The Artistic Repertoire of Deviprasad C Rao: From Pen Drawings to Site-Specific Installations
Deviprasad C. Rao is an abstract artist who dabbles in action abstract painting and, on occasion, explores the fusion of abstraction and realism. His work is predominantly driven by intuition, with each stroke, dot, form, or figure emerging spontaneously and evolving organically without a preconceived plan. Rao's artistic repertoire includes ink or pen drawings, watercolor on paper miniature paintings, and acrylic on canvas paintings that range from small to large formats. Furthermore, he sometimes creates wire sculptures and installs site-specific installations for special occasions.
For Rao, the ideal working environment is less about the physical space and more about a state of mind – one of unconditional happiness. In such a state, he feels motivated to create, but when he is unhappy, moody, or sad, his artistic abilities are inhibited. He tends to work best in a state of relaxed awareness and requires an inner sense of restfulness to fuel his creativity. When experiencing unconditional inner joy, any environment becomes an inspiring one.
The artist's creative process can be described in three distinct stages, beginning with achieving relaxed awareness. This involves cultivating a heightened consciousness of his inner and outer selves, as well as his surroundings. By maintaining a non-judgmental and observant state, Rao allows creative glimpses to enter his mind's eye, neither holding onto them nor blocking their departure. This daily practice has been referred to by a friend as "painting in the mind."
The second stage in Rao's creative process is the development of visual vocabularies through spontaneous and intuitive expressions. These abstract or suggestive forms materialize as playful lines and dots, with no conscious thought dictating their creation. Over the past 15 years, he has documented these visual elements in numerous small books with black liners, which he refers to as "visual dictionaries." To ignite inspiration for new drawings, paintings, or series, he periodically peruses these books at random.
The final stage of Rao's creative process involves the actual creation of the artwork, be it on paper or canvas. He begins by forming shapes and then layering colors onto them, followed by meticulous detailing through various patterns, lines, and dots. Once the composition appears balanced, dense with details, and visually intense within the given space, he considers the work complete.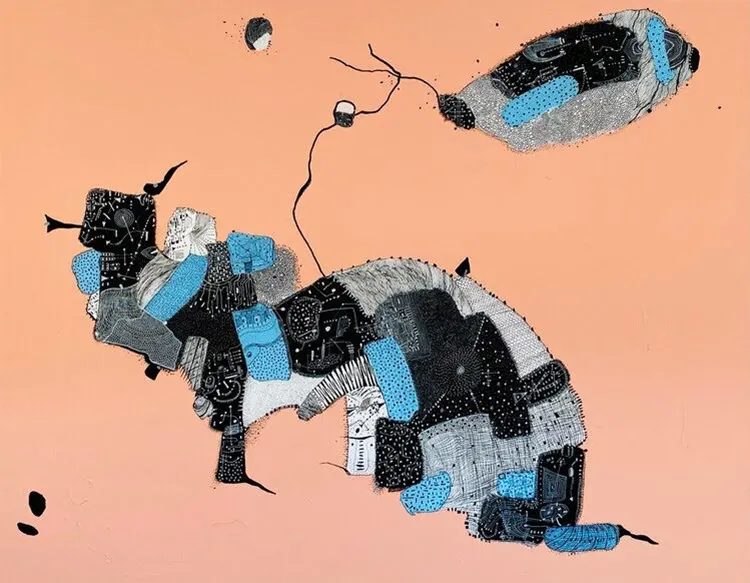 Deviprasad C Rao's Vision: Spontaneous Calligraphic Script in 'Language of The Secrets'
Deviprasad C. Rao's artistic approach varies based on the subject matter he chooses to explore. For his cityscapes, the artist meticulously plans and executes each piece with a preconceived notion in mind. However, his other series, which primarily consist of pure abstraction or illusory figurative works, diverge from this methodology.
Rao envisions an ambitious project, titled "Language of The Secrets," which is centered around spontaneously created calligraphic abstract script that materializes in real-time. The exhibition would feature action paintings and performing installations, commencing with an empty gallery space. Visitors would witness the artist inhabiting this empty space, and during the opening, he would initiate the creation of multiple action paintings that would gradually adorn the walls. Throughout the exhibition, Rao would reside in the gallery 24/7, communicating only in gibberish, and engaging in impromptu gibberish monologues and conversations with visitors.
On the seventh and final day of the exhibition, a Finissage would take place, showcasing all the artworks created during the week-long event. Attendees would then be able to view the paintings as they would during a traditional vernissage. This would be followed by the display of selected photographs and video presentations from the performance. After the eighth day, the artist would return home.
For Rao, every piece of art he creates holds a special significance, and he does not single out any one work as his favorite. The creation process for each piece embodies an experience of joy, making it challenging for him to expound upon his relationship with individual works. If a piece does not resonate with the artist, he considers it contrived and ultimately destroys it. Rao strives for his art to spark dialogue among viewers, regardless of whether the conversation is positive or negative. As long as his work elicits a response, even if it leads to someone tearing or burning the painting, he feels he has achieved his goal. If his art does not provoke a reaction or stimulate discussion, he recognizes that changes must be made in his creative approach.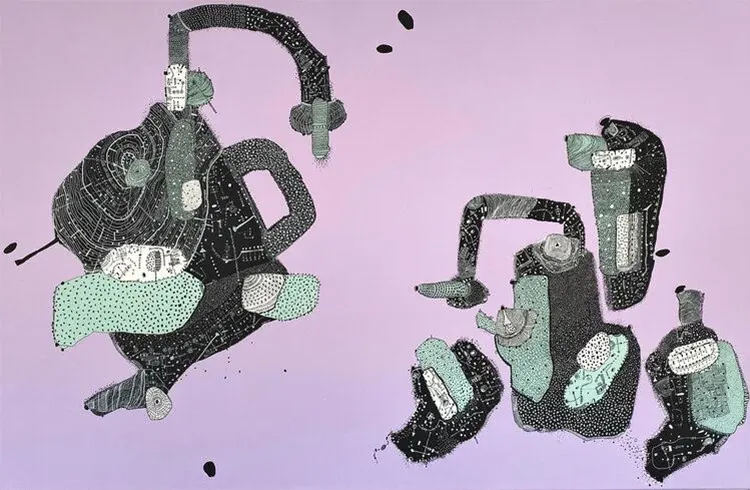 From Personal Challenges to Artistic Triumphs: The Journey of Deviprasad C Rao
Deviprasad C Rao, a native of India and an artist born in 1970, is presently living in Zurich, Switzerland. His familial roots are associated with farming, teaching, and cooking. Teaching runs in his family, with both his father and grandfathers being educators, and one grandfather also having a background in astrology. His father initially pursued a career as an art teacher but later transitioned to working as a cook until his retirement. In keeping with his family's expectations, Rao obtained a degree in Book Keeping and Accountancy, which led to a job as a marketing executive promoting IT software. Gradually, he ventured into public relations, bringing him closer to journalists and ultimately launching his freelance journalism career.
Throughout his childhood, Rao faced numerous personal and economic challenges. Living apart from his parents due to his father's inability to care for him, he experienced longing for his mother and endured various forms of abuse from those entrusted with his care. Alongside these hardships, he struggled with epilepsy. Despite the adversity he encountered, he harbored a desire for a happy and fulfilling life, though the means to achieve it remained elusive. His journey towards contentment eventually led him to spirituality and art, which brought happiness into his life. He chose to create art as a means of self-expression and a path to happiness, recognizing the ease with which unhappiness could manifest itself.
Rao's advice for aspiring artists is to refrain from seeking guidance from others. While it is essential to be aware of the diverse forms of art and their histories, he encourages young artists to avoid emulating or being influenced by them. Instead, he advocates for following one's instincts and forging a unique path in the art world. By acting as their own shepherd, rather than following the lead of others, artists can develop their own visual language and establish a distinct presence in the realm of art.