I am connected to matter, to everything that is imbued with organic life and intertwined with the life of all of us and our bodies.
Early Life and Education of Davide Viggiano
Davide Viggiano was born in 1994 in a small town in southern Italy, where he spent his early years. As a boy, he attended the Art Institute in his town and graduated with a degree in Textile Design. Viggiano continued his artistic education by attending the Academy of Fine Arts in Foggia from 2013 to 2016 and then the Brera Academy of Fine Arts in Milan from 2017 to 2020, where he developed his artistic research.
Viggiano is an artist who uses fabric and garments as his medium to explore the connection between matter and organic life. He has a particular interest in the ways that clothing can connect us to each other and our bodies, and has focused on the materiality of his work over time. Through his art, Viggiano aims to uncover the hidden connections between ourselves and the world we live in, using his medium to create pieces that are thought-provoking and meaningful.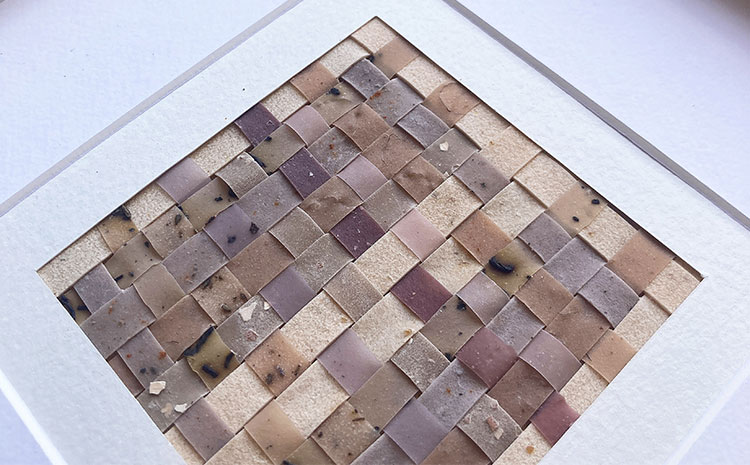 Davide Viggiano: Stitching Together a Vision Through Art
Davide was born and raised in a rural community near Potenza, Italy. Throughout his childhood, he developed a deep curiosity about the world and a passion for the visual arts. As he grew older, he moved around frequently, but he now resides and creates art in Rome. Viggiano does not believe that his geographical location has greatly influenced his work; rather, it is the life experiences, the people he has encountered from various cities in Italy and beyond, and the customs and climate he has encountered that have truly shaped his artistic style. These experiences have "stitched together" his creative vision, and he treasures them as a valuable exchange.
His artistic practice is characterized by a heightened sensitivity to the materials he uses in his sculptures and installations. He is known for incorporating elements of parietal art, which emphasizes the tactile sensations and forms produced by the materials themselves. Viggiano's dedication to his craft is evident in the evocative power and captivating impact of his artwork, which stands out for its precision and attention to detail. In addition to his sculptures and installations, Viggiano often incorporates multimedia elements such as sound and video into his work, creating immersive experiences that engage the senses and invite viewers to engage with the art on a deeper level.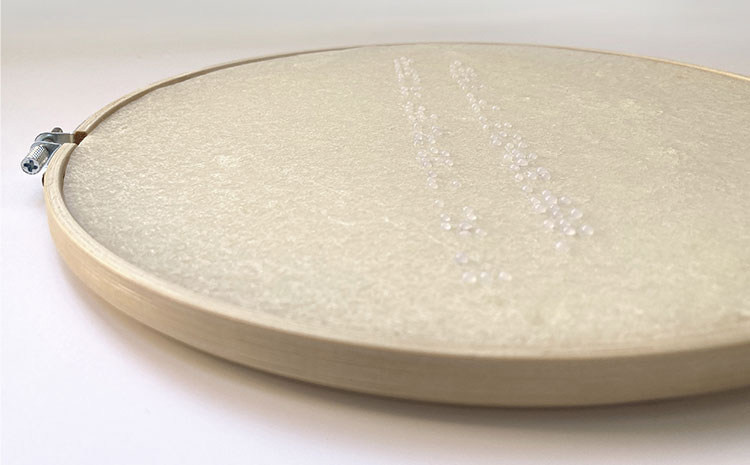 The Transformative Power of Contemplation
Viggiano is a dedicated learner who believes that an artist must be constantly seeking out new knowledge and experiences. He draws inspiration from a wide range of sources, including books on art, science, philosophy, ecology, anthropology, and the feminist and post-anthropocentric movements. Before starting a new project, Viggiano spends time reading and writing, using his writing as a guide to help him select the right materials for his vision. His commitment to learning and exploration allows him to create unique and captivating works of art.
As a dedicated artist, Davide recognizes the profound impact of thought on the human experience. Through his art, he strives to convey his personal ideas and experiences, using his work as a means of exploring the world around him. His artistic practice is an ongoing investigation of the interconnectedness of all things, reflecting his deep belief in the transformative power of contemplation.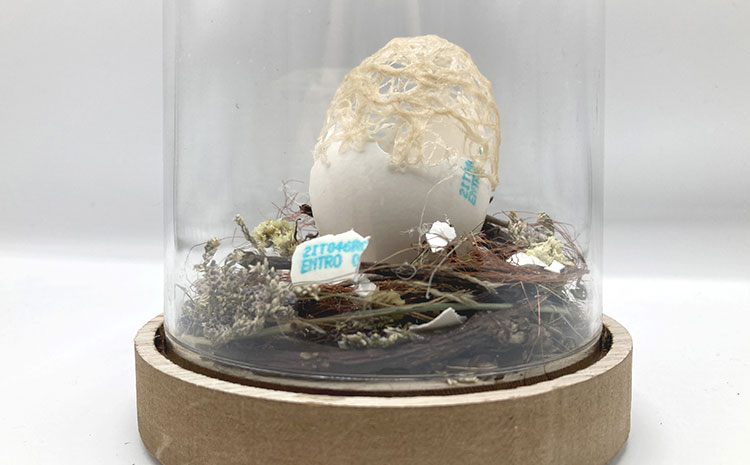 Alchemy and Biomatter in Art
Davide Viggiano is a constantly evolving artist who revels in experimentation. He has a passion for natural fiber textiles, which he often combines with other materials in his creations. However, he has recently shifted his focus to biobased materials of organic origin. Instead of simply manipulating existing matter, Davide now delves into the realm of alchemy, where he creates matter from scratch. He enjoys developing plant membranes through chemical means and studying the changes in their state to enhance his final works.
Davide Viggiano is pleased with his contribution to the "LIMEN" exhibition at the TRAleVOLTE Association, curated by Maila Buglioni and Ivan D'Alberto. Over the course of three months, he worked on "ENCICLODERMA," an installation that used 25 phototypes of dermis created with self-made organic bioplastic to draw attention to skin discolorations. This research spawned two additional works, the "Scarti Ibridi" series and "Biological Specimens #25," which explores the relationship between human, plant, and animal worlds through the lens of biomatter. Viggiano intends to continue experimenting with plant-based biomaterials in his art, as well as in textiles, and hopes to keep teaching at the Academy of Fine Arts, where he enjoys engaging with the next generation of artists.