"She'll be an artist one day"
Landscape and the Human Experience in Bea Last's Art
Bea Last, currently residing in Scotland, self-identifies as a person of mixed heritage whose family background differs from that of her parents. Following the loss of her father when she was six, she pursued her education in England, which sparked a lifelong pursuit of a place to call home. As a result of this journey, she has developed a distinct sense of not quite belonging while also feeling connected to the wider world. Last's diverse heritage is likely a contributing factor to her ability to establish relationships with various cultures around the world. Her curiosity and desire to explore boundaries have fueled her development, connection, conversation, and relationships.
From her earliest recollections, Last has been passionate about drawing and painting. Throughout her life, she has continuously pursued creative endeavors. Her childhood memories are punctuated by moments of artistic recognition, such as winning a national art prize at the age of seven and overhearing adults remarking that "she'll be an artist one day". Last's unwavering dedication to her craft led her to art school, driven by a deep-rooted belief that being an artist is an intrinsic aspect of her identity.
Bea Last's artistic approach is driven by a process-oriented methodology, delving into the realms of drawing and painting through the innovative creation of what she terms "sculptural drawings." These distinctive forms are crafted from repurposed and recycled materials, as well as found objects, including biodegradable plastics, recycled newspapers, and natural sources such as bamboo.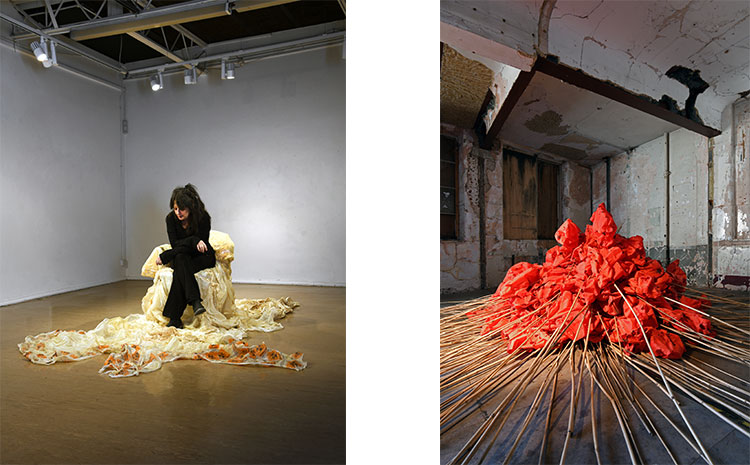 Sculptural Drawings: Resilience and Adaptability
When Last speaks of "landscape," she alludes to both the internal and external realms, encompassing personal experiences and contemporary global issues that resonate with individuals and the broader community alike. Her work seeks to forge connections and encourage dialogue about the shared human experience.
Sculptural drawings by Last can be situated in various contexts—indoors or outdoors, rural or urban—where they become responsive to the environment in which they are placed, often adjusting in size accordingly. Critical themes that emerge from her work include relationships, placement, boundaries, connection, fragility, strength, and physicality.
Last's emphasis on the physical aspect of her sculptural drawings is designed to foster engagement and stimulate conversations around topics that may be perceived as challenging. In this way, her art transcends the purely aesthetic, inviting viewers to immerse themselves in the multifaceted dimensions of the human experience.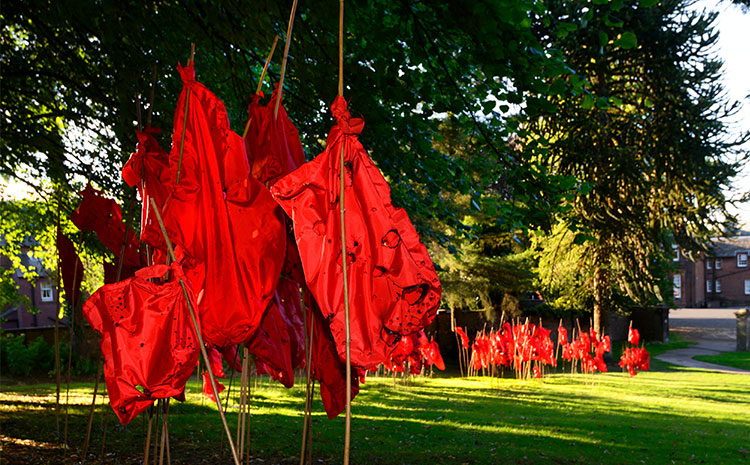 The Evolution and Journey of "The Red Bags"
Bea has recently garnered recognition as a shortlisted finalist for the esteemed Aesthetica Art Prize 2023. Her installation, titled "The Red Bags" (Repurposed waterproof canvas / Bamboo / Bullet Holes), is currently on display at the York Art Gallery in York, U.K., until June 4th. This accomplishment marks a pivotal moment in Last's career, providing her with the opportunity to showcase her creative talents to a wider audience of galleries and curators.
"The Red Bags" installation serves as a prime illustration of Last's focus on artistic process. The piece was initially commissioned for an exhibition at Gracefield Art Centre in Dumfries, Scotland, a year prior. Originally intended for a five-week display, the curator extended the installation's duration to five months due to its resonance with the changing exhibitions and seasons.
Remarkably, "The Red Bags," a temporary installation, endured three major storms and an unprecedented heatwave in Scotland. This testament to the strength and resilience of the artwork is particularly striking given its construction from seemingly fragile materials. Over time, the bags were partially bleached by the sun, accumulating debris and evolving with the passage of the seasons.
Following the Gracefield Art Centre exhibition, Last was invited to showcase "The Red Bags" at the Oxo Tower Gallery on London's Southbank. This time, the installation was reimagined within the gallery's captivating interior, demonstrating the recyclable nature of the sculptural form. This transition ultimately led to the Aesthetica Art Prize and the subsequent display at York Art Gallery.
Emphasizing the process-driven nature of her artistic practice, Last now finds herself following the trajectory of "The Red Bags" and allowing the installation to guide her creative journey. The next destination remains a thrilling mystery, as the artist and her work continue to captivate and inspire audiences.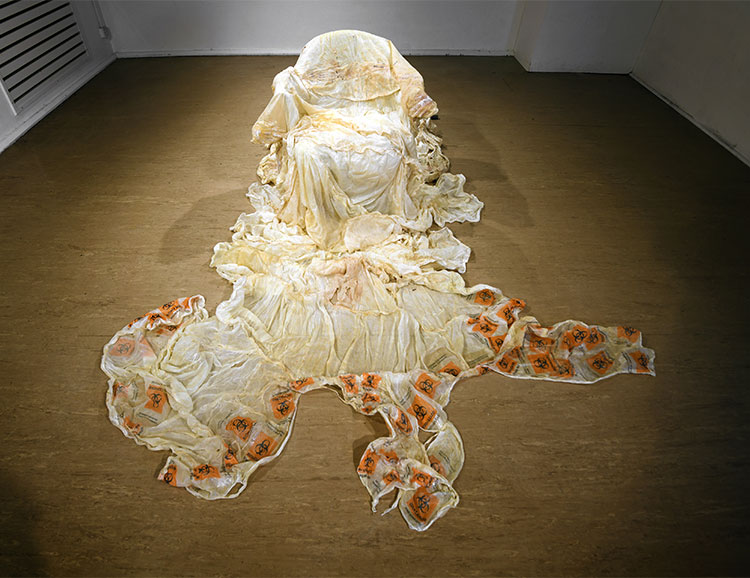 Navigating the Art World: Advice and Aspirations from Bea Last
Bea Last's creative practice is inherently process-driven, perpetually evolving and advancing. The artist likens her artistic journey to the fluidity of life itself, with challenges arising that require inventive solutions. Last often revisits earlier pieces, whether they were deemed complete for a deadline or an exhibition, to further explore and experiment with the work. This ongoing process embodies the notion of art as a living, breathing entity.
Throughout her career, Last has experienced a multitude of working environments, yet she still envisions her ideal workspace as a vast, converted warehouse that provides ample room for her artistic endeavors. Naturally, easy access to coffee-making facilities would be an indispensable requirement for her dream studio.
For emerging artists, Last offers a word of advice: be cognizant of the competitive nature of the art world. Pursuing a career in this industry can be a difficult journey, often with minimal financial rewards, particularly in the early stages. She emphasizes the importance of persistence, self-belief, and resilience in the face of rejection, which is an inevitable aspect of the profession. Rather than becoming disheartened, it is crucial to learn from setbacks and maintain forward momentum.
As for Last's future aspirations, she continues to conceptualize large-scale installations in a variety of captivating spaces, both exterior and interior, with an unwavering ambition to create even grander artistic expressions.