"It is very important to me to have a refuge space where I can take a moment to pause, take a deep breath and then engage in a creative process."
Embarking on the Artistic Journey: Wioleta's Roots
Wioleta Kaminska, a Polish-American interdisciplinary artist, designer, and educator, currently resides in Savannah, Georgia. With an international presence, her artwork has been exhibited in museums, galleries, and art festivals around the world.
Born and raised in Poland, Kaminska earned her master's degree in Applied Linguistics from Warsaw University. Her fascination with storytelling, both visual and auditory, began in her early childhood, shaping her perception of her immediate surroundings and the larger world. Consequently, her master's thesis explored the effectiveness of children's literature, specifically stories and fairy tales, in foreign language acquisition.
Upon relocating to California in her mid-twenties, Kaminska first lived in Santa Cruz before moving to San Francisco. She was immediately captivated by California's landscapes, cultural diversity, and vibrant artistic community. This newfound inspiration rekindled her childhood passion for drawing animals, leading her to pick up a brush and begin painting. Her work, which often featured fantastical landscapes, animals, and plants, sought to encourage viewers to pause and become immersed in whimsical environments. Kaminska's first solo exhibition in Santa Cruz marked a proud and transformative moment in her artistic journey.
As Kaminska continued to develop her artistic practice, she sought to explore a deeper, more elusive aspect of her creativity. This search led her to the California College of the Arts in San Francisco, where she immediately felt a sense of belonging. She was subsequently accepted into a master's degree program in Interdisciplinary Design, providing her with the opportunity to further expand her creative horizons.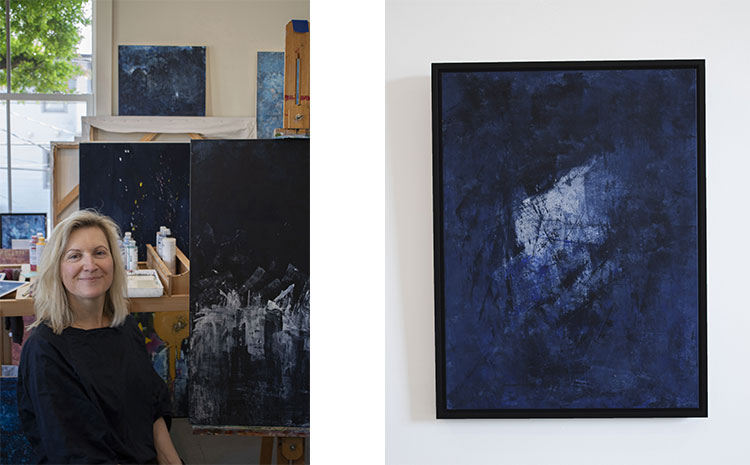 Inspirations: The Driving Forces Behind the Art of Wioleta Kaminska
While pursuing her studies at the California College of the Arts (CCA), Wioleta Kaminska delved into various disciplines, including Industrial Design, Interaction Design, Graphic Design, and Design Research. It was during this period that Kaminska developed a fascination with the concepts of time and space, particularly as they relate to our perception of landscapes and the role of technological advancement. She observed the growing challenge in experiencing a sense of awe and wonder in our immediate surroundings.
Drawing on her observations and collected raw materials, Kaminska's master's thesis culminated in the creation of visual worlds where awe and time coexist. Her objective was to fashion spaces that would captivate and inspire viewers to pause for contemplation and reflection—moments she believes are essential for maintaining a balanced life. This endeavor resulted in the And the Whole World Stops series, which features three video landscapes that evoke a sense of awe, prompting viewers to slow down and reflect on their surroundings.
Subsequently, Kaminska has continued to explore the theme of awe in everyday environments through diverse media such as video, animation, painting, drawing, and photocollage. Her work invites audiences to slow down, reflect, and rediscover their appreciation for nature.
Interestingly, Kaminska finds moments of stillness through walking. This activity is integral to her creative process and serves as a means of capturing the essence of a place. Initially walking at a brisk pace, she gradually slows down, immersing herself in her surroundings. These walks provide opportunities for contemplation and reflection, which later translate into her studio work, including drawing, painting, video editing, animation, and writing.
Inspiration for Kaminska's ideas and creations comes from a myriad of sources: classroom discussions with her students, conversations with colleagues, friends, and chance encounters during her walks or travels. The seeds of an idea might be planted when reading a poem, essay, news report, or simply through her experiences with the natural world, such as witnessing a glacier, smelling jasmine in a park, or observing a young owl learn to fly. It is her connection and engagement with the environment that serves as the driving force behind her ideas, ultimately fueling her desire to create and tell stories.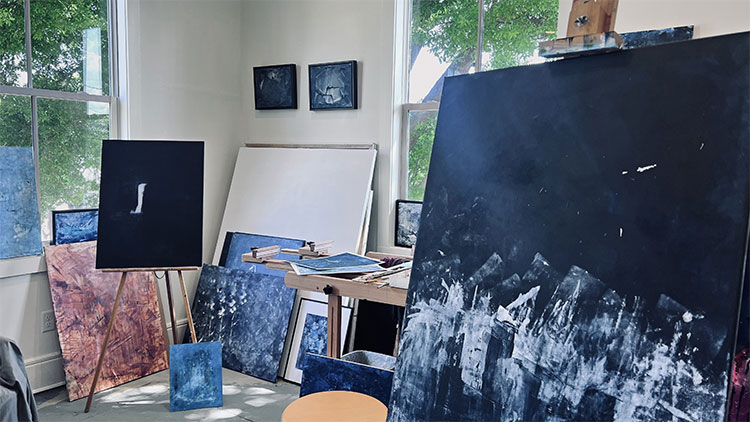 The Stories Within: Exploring Wioleta's Creative Process
Wioleta Kaminska thrives in a serene studio space bathed in light, surrounded by an array of paints, painting tools, and a selection of canvases and boards at the ready. A dedicated desk space is equally essential for the artist, as it allows her to edit videos and create digital art. Kaminska recognizes the significance of a sanctuary where she can momentarily pause, breathe deeply, and engage in the creative process amidst the hectic nature of modern life.
FOG, a video landscape from the series And the Whole World Stops, holds particular sentimental value for Kaminska. This piece, the first of three video installations she developed at the California College of the Arts, served as a catalyst for her continued research and exploration of various media. The artist seeks to capture moments of awe and stillness, encouraging viewers to decelerate, reflect, and experience wonder in an era defined by stress, anxiety, and uncertainty.
During the summer months of 2022, Kaminska participated in an artist residency in Iceland, immersing herself in a wondrous period characterized by stimulating discussions with fellow artists and locals, daily excursions to awe-inspiring sites, and introspective moments. She dedicated countless hours in the studio to writing, painting, video editing, and ultimately assembling her solo exhibition at Deiglan Gallery in Akureyri. Since returning to the United States, Kaminska's multidisciplinary body of work, titled "Retreating," has continued to evolve. She maintains her focus on painting, video installations, and the development of a book entitled "Retreating: A Book of Reflections from the Edge of the World." This visual meditation serves as a testament to her deeply impactful experiences, featuring personal narratives, visual essays, and images of her artwork, as well as reflections on the wild, breathtaking beauty of Iceland.
Kaminska's ambitious project recently achieved a milestone with the successful completion of a Kickstarter campaign. With the support and generosity of her community, she raised the necessary funds to self-publish her book. As the "Retreating" project expands, a selection of six large-scale photocollages, which fuse Icelandic landscapes, will be exhibited at the Jepson Center at Telfair Museums in Savannah, Georgia, at the end of April.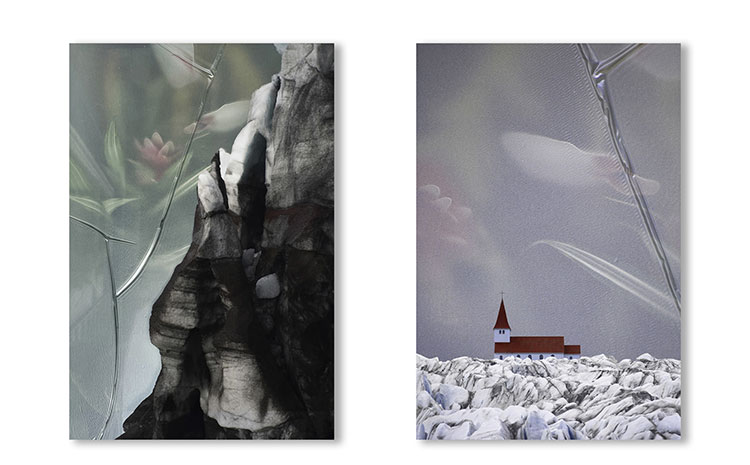 A Bright Future: Wioleta Kaminska Impact and Aspirations
In late September 2023, Wioleta Kaminska's solo exhibition will grace the Cedar House Gallery, showcasing her project "Retreating" for an entire week. This multifaceted display will encompass various artistic mediums, including paintings, drawings, photo collages, video installations, and animations, all of which were conceived during and after Kaminska's sojourn in Iceland. The ever-evolving nature of "Retreating" has prompted the artist to consider further explorations, such as transitioning from two-dimensional photocollages to immersive three-dimensional spaces. Kaminska is eager to embrace these innovative directions and anticipates the emergence of new ideas and artwork.
Kaminska offers sage advice to emerging artists embarking on their creative journey: exercise patience with oneself and the artistic process. She encourages the cultivation of curiosity, exploration, and inquiry, as well as remaining engaged with the world at large. This connection to the environment can be fostered through simple acts such as walking, birdwatching, appreciating sunsets, conversing with strangers, and traveling when possible. Additionally, she emphasizes the importance of absorbing knowledge from books, visiting museums, and studying the lives and works of other artists who have persevered through various challenges and obstacles.
Lastly, Kaminska urges aspiring artists to breathe and pause periodically, replenishing their energy reserves and providing the motivation to continually challenge themselves and move forward in their artistic endeavors.