"I wanted to paint full time. I battled my inner critic and stopped painting for 15 years. When my kids were school-aged, I picked it back up."
Rediscovering a Passion for Painting
Jennifer Mohr is an acrylic painter who resides and creates her artwork in the Treaty 7 Territory of Alberta, Canada. With a deep-rooted fondness for the Prairie landscape, she draws inspiration from her upbringing in Saskatchewan, which significantly influences her artistic expressions.
Mohr's artistic journey began during her childhood, like many others, as she found solace in the arts. Art provided her with a means to communicate her thoughts and feelings in a non-confrontational manner, which suited her shy and introverted personality. For years, she regularly attended Saturday morning art classes, nurturing her passion for creativity.
A pivotal moment in Mohr's life occurred during a family vacation to the West Coast when she was twelve. She found herself captivated by the original artwork displayed in her aunt's upscale Vancouver apartment. Much of the collection consisted of pieces by a local artist who happened to be her aunt's neighbor and friend. This exposure to the world of professional art sparked Mohr's realization that a career as an artist was within reach.
Subsequently, she earned her Bachelor of Fine Arts from the University of Saskatchewan. Upon completing her degree, Mohr and her partner relocated to Calgary, where she took on a day job to support their new life. Unfortunately, a long struggle with her inner critic led to a hiatus from painting, which lasted for nearly 15 years.
When her children reached school age, Mohr returned to painting, rediscovering her passion for the craft. It became evident that pursuing art full-time was her true calling. Since then, she has been diligently cultivating her creative practice and establishing her presence in the art world.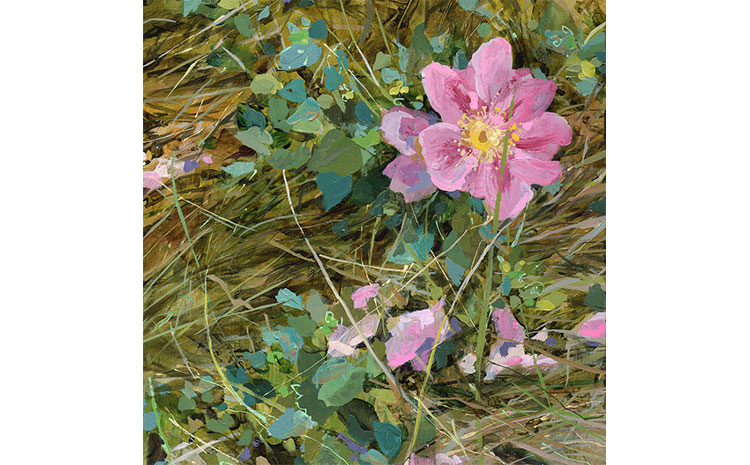 Embracing the Prairie through Landscape and Botanical Art
Jennifer Mohr employs acrylic and mixed media to craft intricate, multi-layered landscape and botanical paintings inspired by the natural beauty of the Prairie. Upon rekindling her passion for painting, Mohr delved into various subjects to rediscover her artistic capabilities. Ultimately, she found herself captivated by landscape and botanical themes, which have since become the focal points of her creative pursuits.
Drawn to the allure of natural environments, Mohr feels a profound sense of connection and belonging within them. While many landscape artists often emphasize the sky or manmade elements such as buildings, fences, and roads, Mohr opts to concentrate on the grasses, weeds, and other plants. Her intention is for viewers of her artwork to feel as if they are seated on the ground, immersed in a moment of mindful observation.
Influences and inspiration from a myriad of other artists have undoubtedly shaped Mohr's artistic journey. Although she finds it challenging to pinpoint a single significant artwork, one particular source of inspiration is the masterful wild-scape gardens designed by Piet Oudolf. Mohr, whose art revolves around personal experiences within the landscape, greatly appreciates the emotive qualities of Oudolf's naturalistic gardening style. She dreams of visiting his gardens one day to witness the captivating interplay between nature and emotion firsthand.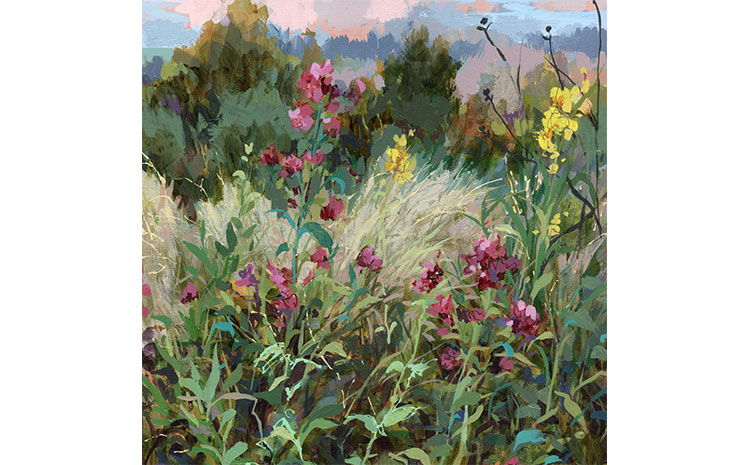 A Glimpse into Jennifer's Creative Process and Studio Space
The creative process can be elusive to define, as it undergoes constant transformation. Jennifer Mohr engages in extensive sketchbook experimentation, incorporating a multitude of media with expressive, automatic mark-making. These preliminary sketches frequently inform the final paintings she creates. In her acrylic paintings, Mohr adopts a highly expressive, multi-layered approach, constructing space and composition through both transparent and opaque paint application, as well as etched or drawn lines. She often works on multiple pieces simultaneously and typically employs multiple photographic or sketched references. At certain stages of the creative process, Mohr may discard these references entirely, allowing the painting to develop its own distinct identity.
Jennifer Mohr has long been captivated by the allure of plein air painting. The romantic notion, however, is tempered by the reality of the often harsh Prairie environment, where wind poses a significant challenge for outdoor painting. Thus, Mohr opts for sketching and collecting photographic references when outside, reserving painting for her indoor studio space. She is fortunate to have a 280-square-foot studio within her home, equipped with a table, wall easel, and large north-facing windows that provide ample natural light. Despite some minor inconveniences, Mohr considers her current studio an ideal setting for this stage in her life. Its location within her residence enables her to be present for her children when they return from school, and the flexibility of working from home greatly facilitates the management of family life.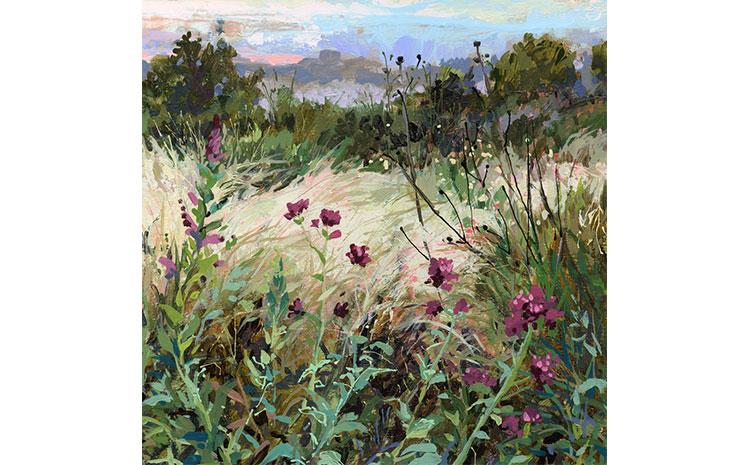 Envisioning the Future and Cultivating Artistic Growth
Jennifer Mohr envisions her artistic future with enthusiasm, as she contemplates the possibility of exhibiting her work in a solo show or participating in an artist residency. Teaching is another potential avenue she considers, despite her uncertainty about how well she would excel in this role. Ultimately, Mohr's driving force lies in her relentless pursuit of capturing the essence of her artistic vision, recognizing that the creative journey itself is an invaluable and integral part of the process.
To those who aspire to become artists, Mohr advises striking a balance between introspective reflection and curiosity-driven exploration. She believes that such equilibrium is crucial in producing authentic and evolving work that both aligns with the artist's vision and resonates with others. Delving into self-discovery can be challenging, yet it is essential for comprehending the underlying concepts and motivations behind one's artistic choices. In parallel, embracing curiosity and maintaining a sense of wonder allows for continuous growth and improvement in one's work. Mohr herself continuously strives to cultivate these qualities in her artistic practice.