"Collage is a journey of which we do not know the destination."
Exploring the Cultural Influences of Artist Aurelio Pareja
Aurelio Pareja, also known as simply "Aurelio," is a 55-year-old artist of Spanish descent currently residing in France with his family. He lives near the picturesque town of Chartres, which is 130 kilometers from the vibrant metropolis of Paris. As an artist and teacher, his cultural heritage has greatly influenced his perspective and approach to his craft. Growing up in a working-class background instilled in him a deep sense of curiosity and appreciation for the arts, particularly in music, painting, and architecture. This fascination with images, which began in his childhood with school projects and collectible stickers, ultimately led to a deeper understanding and appreciation for master paintings, black and white photography, cinema, and album covers.
His education, which included a study of literature, civilization, and Hispanic culture at the University of Tours, further enriched his understanding and appreciation for the cultural influences that shape his work. Today, his art is a fusion of his Spanish roots, French upbringing, and a lifetime of experiences, making it truly unique and captivating.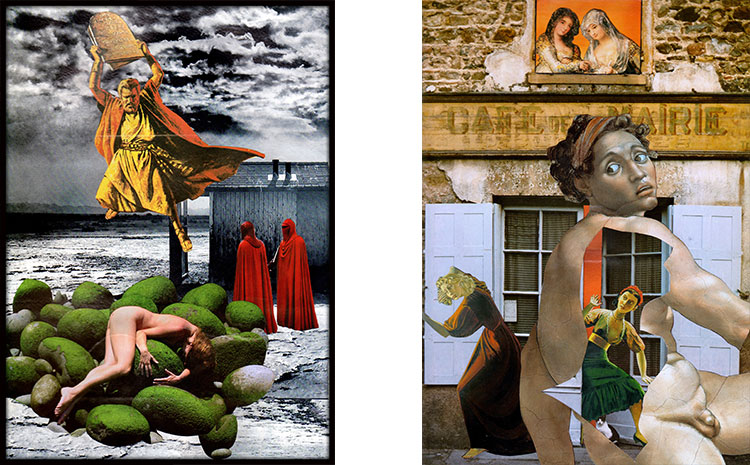 Human Forms through Analog Collages: The Art of Aurelio
Aurelio specializes in the creation of analog collages, utilizing a variety of cut-out images sourced from a diverse range of publications such as art, travel, and photography books and magazines. His process involves carefully selecting and assembling these images in a manner guided by his inspiration and imagination, resulting in compositions that often feature a focus on human forms, including faces, bodies, and characters extracted from various paintings. Aurelio is particularly drawn to the intricacies and nuances of human expression and behavior, and enjoys experimenting with the juxtaposition of these elements in unexpected and incongruous contexts to imbue them with new meaning.
Aurelio finds inspiration in the art of curation, carefully selecting and arranging visual elements from a plethora of sources to create something new and unique. The tactile act of physically cutting images from magazines serves as the genesis of his creative process, as the unknown potential of each image sparks a sense of wonder and excitement. Through the act of collage, Aurelio is able to diverge from the original intent of each element and skillfully blend them together to create something entirely new. As the French artist Jean Dubuffet once said, "Collage is a journey of which we do not know the destination." Each image Aurelio chooses to incorporate serves as a gateway to an endless array of possibilities, allowing his imagination to take the reins and guide him on his artistic journey.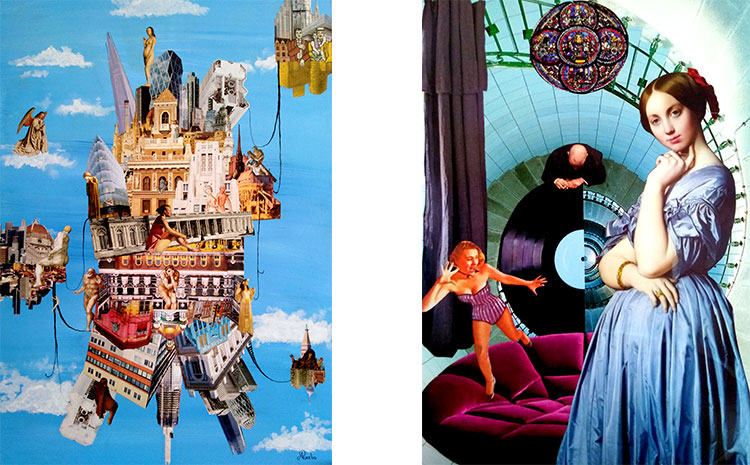 Aurelio's Artistic Evolution: From Photo Montages to Thought-Provoking Collages
As Aurelio progressed in his artistic endeavors, his style underwent a metamorphosis. Initially, his creations were primarily comprised of photo montages that he shared with friends, which had a more "poster-like" aesthetic. However, a turning point occurred when he produced two collages that deviated from his previous works – one that was politically charged, addressing the plight of migrants, and another that was more fanciful, guided by his imagination. Since then, his approach has been to start with an image that resonates with him, and to compose in a manner that is as coherent as possible. He strives to achieve a level of technical proficiency and precision in his cut-outs and composition, while also ensuring that his creations are easily legible and not overly cluttered. The outcome is never predetermined and is determined by the success of the combination, which brings him satisfaction.
Aurelio is particularly proud of a collage he created entitled "Prohibido el paso," which addresses the subject of migration. It serves as a contemporary interpretation of Théodore Géricault's renowned masterpiece, "The Raft of the Medusa." Despite its technical shortcomings, the piece holds a powerful message that is deeply meaningful to him. This collage was instrumental in launching his nascent career as an artist, and it has consistently elicited strong reactions and stimulating discourse among viewers. Additionally, he is quite satisfied with "Cité céleste (Heavenly City)" which employed acrylics to achieve a striking luminosity and encapsulated a myriad of personal inspirations. The process of creating this work was both challenging and immensely rewarding. Lastly, he would like to mention "Couvre-chef (Headgear)" which, despite its minimalistic nature, has the ability to transport him to a realm of imagination through its simplicity and restraint.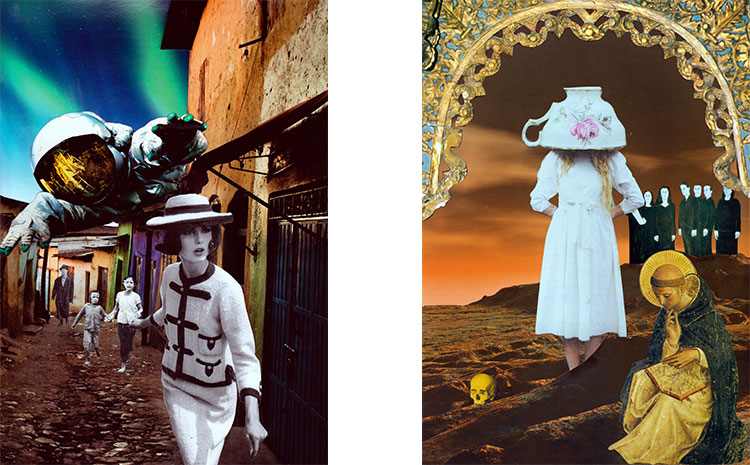 A Communal Artistic Experience in a Busy Metropolis
Aurelio has an aspiration to realize a project that would be exhibited in a reputable art gallery situated in a bustling metropolis. This would afford him the opportunity to engage with a diverse audience and engage in meaningful discourse about his work. The act of explaining his creative process and offering insight into his artistic vision would be particularly fulfilling for him. Additionally, Aurelio relishes the prospect of listening to the reactions and personal narratives of viewers, as it would foster a sense of communal engagement and shared understanding. In essence, his dream project is one of communal sharing and artistic expression.
Art plays a crucial role in the cultivation of one's personal development. Through artistic expression, individuals are able to enhance their self-esteem, engage in meaningful exchanges with others, and gain a deeper understanding of the purpose and beauty of life. Through his own artistic pursuits, Aurelio has found that they greatly enrich his overall well-being and understanding of the world around him.