"I craft unique pieces that capture reality, trapping remnants within a transparent void that allows for any possibilities. I draw inspiration from everything and everywhere, infusing my works with a delicate balance of joy and sorrow, fantasy and terror."
Anne-Marie Vesco: A Trailblazing Artist from Montreuil
Anne-Marie Vesco is an artist living in Montreuil, a suburb of Paris. She holds a degree in Fine and Applied Arts from École Normale Supérieure (ENS) of Cachan. From 1995 to 2011, Vesco worked as an educator in the city of Paris before deciding to pursue a career as an independent artist. Despite coming from a background with no prior connection to the arts, she has made a significant impact in the realm of living arts, including theatre, music, and dance. Her passion for experimentation and exploration of different mediums has been a hallmark of her artistic journey.
Vesco's upbringing in the mountainous region of France has shaped her perspective as an artist. Her love for the wild, untamed landscape has given her a keen eye for detail and a patient approach to her work. She views people and animals, as well as the human body, as atlases rich with signs and symbols waiting to be explored. Precision is a guiding principle in Vesco's work and she approaches each project with a sense of challenge and determination.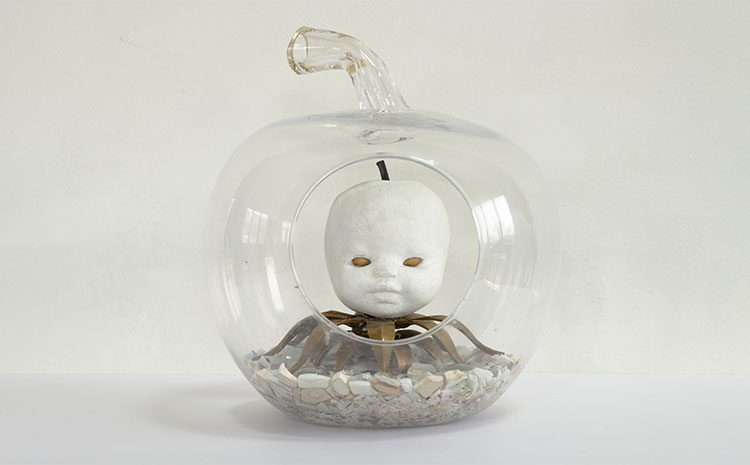 An Eclectic Exploration of Art
Vesco's artistic portfolio reflects her eclectic and imaginative approach to painting. Beginning with her "Élephant" series, each work is imbued with the characteristics of the animal, conveyed through the use of black oil ink on crumpled brown tissue paper. This series serves as a central focus in her larger body of work, which encompasses various other themes such as "Big and Small Things," "Skin as a Landscape," and "Reflections."
Anne-Marie Vesco is an artist who has expanded her artistic vision in 2013 to include contemporary still life paintings. She utilizes old mirrors as self-sustaining supports and peels off the mirror coating in places to reveal the objects. In the following year, Vesco experimented with transparent resin, filling it with a collection of objects and painting onto the surface to create a unique and surprising visual illusion. This process requires precision and patience, as each coat of oil paint must dry before the next can be applied.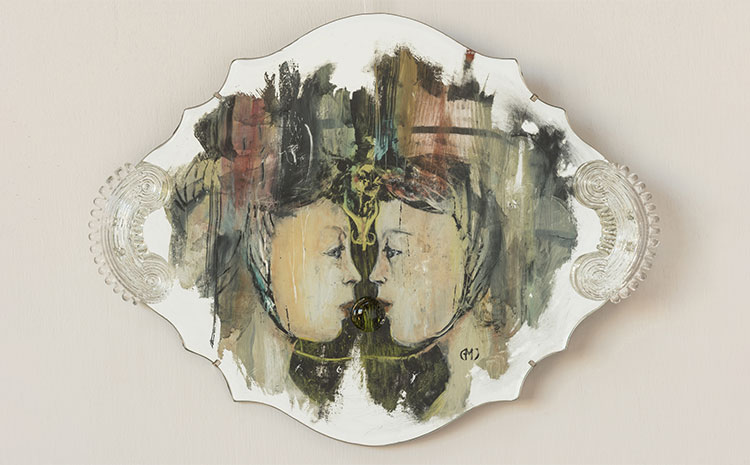 Contemporary Curiosity Cabinets and Traditional Oil Paintings
Vesco's works come to life as contemporary curiosity cabinets by incorporating old collected frames or boxes, taxidermy and modeled resin. However, she continues to produce traditional oil paintings on canvas as well, which she finds relaxing due to their larger size and lack of reverse painting. Her works are a fusion of the realistic and the imaginative, serving as puzzle pieces in a larger artistic narrative.
Vesco is driven by a constant pursuit of inspiration and creativity. Her sources of inspiration are diverse, ranging from flea markets to everyday accidents in the creative process. She has a sponge-like mentality, absorbing her surroundings and transforming them into thought-provoking works of art.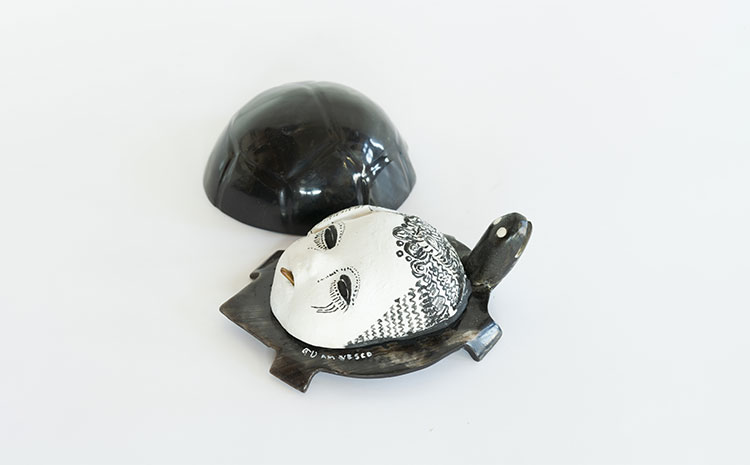 Anne-Marie Vesco: Ambiguity and the Unconscious through Art
Anne-Marie Vesco is an artist who has seen her style evolve over time. Her early works were rooted in a realistic approach based on photographic images, but her style is now grounded in mental images inspired by classical fine art and outsider art. Vesco's art is characterized by a delicate balance between humor and sadness, dreams and nightmares, with a distinct search for ambiguity. This is evident in the importance she places on the title of her works, which she determines only after the creative process has been completed.
Vesco's pursuit of ambiguity and inspiration has been a hallmark of her work from the beginning, and continues to drive her forward in her artistic journey. Some of her notable series include Élephant Skin, now known as Chimera Skin, Skin as a Landscape, and the Curiosity Cabinet. These works evoke dreamlike states, fantastical tales, and the fluid interplay between the realm of flora and fauna. Vesco uses screens to bridge the gap between the tangible world and the unconscious and her curiosities symbolize her mastery in doing so.
Vesco aims to create works of art that are accessible and appealing to a broad audience. Art is a vital aspect of her existence and she believes it has the potential to enrich the lives of collectors by providing a form of escapism and offering a unique perspective.