"I just start painting and he see what happens. Most of the time, when he plan a painting with an image in mind, it usually ends up in the scrap pile."
Finding Inspiration in Pembrokeshire: A Painter's Journey
Adam Taylor is a 43 years old painter who calls the county of Pembrokeshire in Wales his home. After leaving his birthplace of Shrewsbury in England nearly 20 years ago, Adam has fully embraced the Welsh way of life and found inspiration in the breathtaking landscapes of Pembrokeshire.
The rugged coastlines and serene winter landscapes have left a lasting impression on Adam's artistic style, and despite having lived in the fast-paced artistic hub of London, he finds that the tranquil, unhurried pace of life in Pembrokeshire provides the perfect environment for him to unleash his creative potential. This tranquil solitude is evident in Adam's body of work, which exudes a sense of peace, freedom, and artistic vision.
A Masterful Blend of Color, Texture, and Emotion
Adam Taylor's artistic vision is a bold and captivating one, challenging conventional norms with his deeply personal and thought-provoking abstract works. Inspired by the complexities of his surroundings, Taylor weaves a tapestry of color, texture, and emotion using a unique and carefully curated blend of materials. From the luxurious and velvety depths of oil paint, to the raw energy of spray cans, each stroke on the canvas serves as a testament to his mastery of the medium.
But it's not just about the materials for Taylor; it's about the emotional impact of his art. By intentionally adding a sense of decay and aging to his pieces, he imbues them with a timeless quality that transports the viewer to another world. The use of thinned bitumen, rubbed onto dried layers of paint, creates a warm patina that is both striking and alluring, further emphasizing the sense of otherworldly beauty that pervades his work.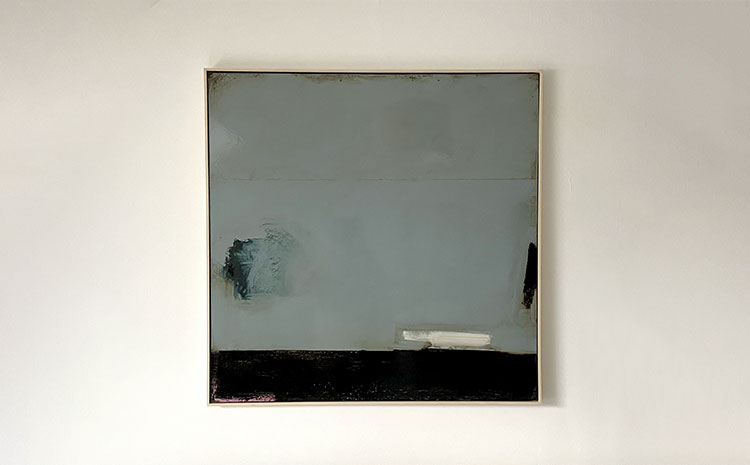 From Forager to Fearless Painter: Adam Taylor's Connection to Nature
After moving to Pembrokeshire, Adam Taylor found employment as a forager, tasked with collecting seaweeds and vegetation from the coastlines and forests. He quickly fell in love with the rugged beauty of the region and the challenges that came with working in diverse weather conditions, often spending hours upon hours immersed in nature. His connection to the great outdoors remains strong to this day, fueling his adventurous spirit.
When it comes to his artistic endeavors, Adam Taylor is a true improvisational painter. He approaches each canvas with a fearless attitude, allowing the paint to guide his hand and the creative process to unfold organically. He has discovered that the results are often more captivating when he lets go of preconceived notions and expectations. In fact, many of his best pieces have arisen from spontaneous moments of inspiration, while works that he planned out in detail often end up discarded.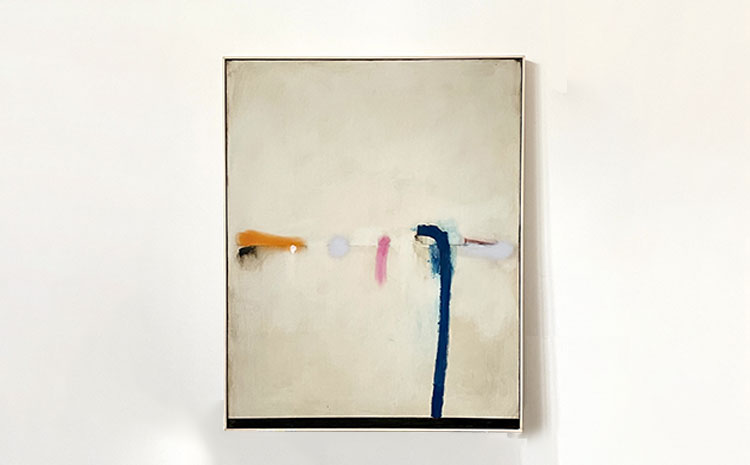 Adam Taylor's Artistic Breakthrough with "Serpent"
As Adam Taylor's artistic journey progressed, he discovered the power of unshackled expression. He found the courage to paint from his heart and soul, ignoring external pressures and opinions. This fearless approach to art has led him to create one of his greatest masterpieces – "Serpent". This hauntingly gorgeous piece of art caught the eye of none other than the legendary Sean Scully, who chose to showcase it in his highly anticipated summer exhibition in London. This was a pivotal moment for Taylor, who has always been in awe of Scully's work.
Looking ahead, Taylor is determined to continue pursuing his passion with renewed vigor and unwavering commitment. He plans to seize each opportunity that comes his way and let his art speak for itself. At the forefront of his priorities, is finding a larger studio space that would allow him to push the boundaries of his creativity and unleash his imagination. Currently, Taylor's artistic vision is hindered by the constraints of a small outbuilding attached to his home. However, he remains optimistic about the future and is eager to see where his art will take him next.