"I work with attention to the media and human desires that have a great influence on the framework of human thinking."
Exploring the Influence of Media on Human Thought
Seoul-born artist Yunjung Choi earned a Bachelor's degree in Painting and Drawing and a Master's degree in Art Education from Hongik University. Her artwork, characterized by subtle motifs and pastel palettes, invites viewers to challenge their perceptions. Choi's paintings have been showcased in esteemed art exhibitions including the Korean International Art Fair, Affordable Art Fair (Hong Kong, Seoul, Singapore), SCOPE Miami, and Busan Art Show.
Choi explores the influence of media on human thought in her work, drawing attention to the uncritical consumption of images and issues produced by it. In her Pop Kids series, Choi encourages contemplation on the framework of contemporary thinking. Her paintings portray modern society with a balance of gravity and delight.
Capturing the Zeitgeist of Contemporary Society
Yunjung Choi has created a meticulously planned series called Pop Kids, which seeks to capture the zeitgeist of contemporary society. As an artist, she has a deep interest in exploring the complex network of human perceptions and experiences that define our current era.
In today's world, the media heavily influences our thoughts and behaviors, and it plays an increasingly dominant role in shaping our lives. Through her work, Yunjung Choi endeavors to analyze the interplay between the media and human desires, which together form the foundation of our cognitive framework. The series employs a powerful visual metaphor, using glasses to symbolize the various frames through which we view the world.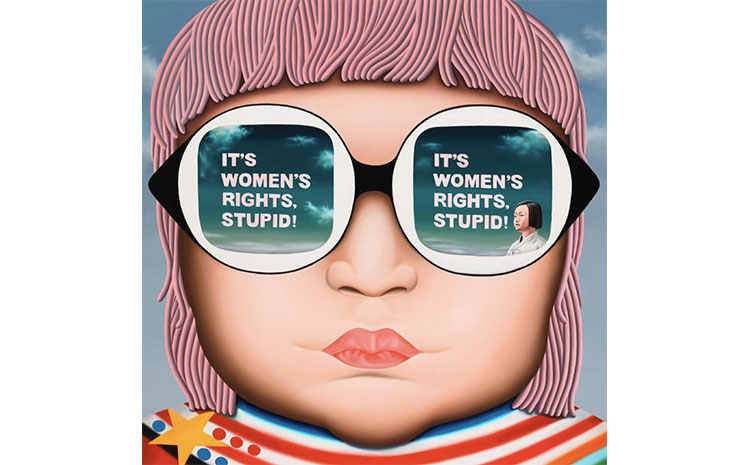 Critical Examination of the Impact of Media on People's Lives
Yunjung Choi, through the Pop Kids series, critically examines the powerful impact of media on people's lives. She emphasizes how media can influence their actions and shape their perspectives, often without their conscious awareness. The series also explores the phenomenon of people uncritically accepting media-created images and issues, as well as the growing trend of using personal media for self-expression. Through her work, Yunjung Choi raises thought-provoking questions about modern society, presented in a playful and serious manner. Her artistic style has evolved over time to focus on increasingly complex themes and narratives. Although she has a strong affinity for all her creations, Yunjung Choi believes that Pop Kids has received the greatest admiration.
Yunjung Choi aspires to work in a tranquil environment that provides ample ventilation and enough space to spread out her canvas. For her, having a space where she can observe the ebb and flow of urban life is a valuable source of inspiration.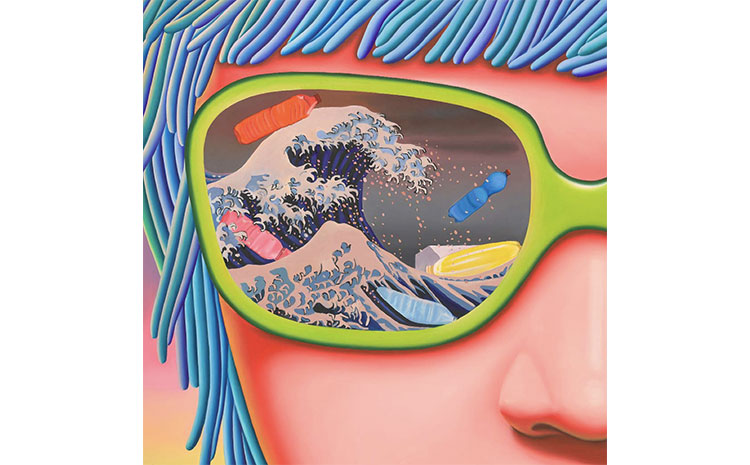 Conceptualizing a Show that Resonates with Artistic Vision
Observing human behavior and discourse is a continual source of inspiration for Yunjung personally.
At present, Yunjung is conceptualizing a show that truly resonates with her artistic vision. Although its form is currently nebulous and abstract, she is contemplating the possibility of an exhibition that employs intricate and sophisticated media. Ultimately, she envisions this forthcoming exhibit surpassing the aesthetic quality of its predecessor, imbuing the viewer with a heightened sense of gratification.
Undoubtedly, the presence of Art in Yunjung's life imbues it with an enriching and invigorating quality, inciting contemplation on a plethora of topics. In contrast, the notion of a life devoid of Art appears unremarkable and unstimulating.