I highlight the links woven between beings and those that we maintain with nature; I put forward hybridization and metamorphosis, symbols of the complexity of our personalities, but also of the adaptation, the renewal and the perpetual evolution of our identity.
Inner Desires and Beliefs Through the Art of SylC
As an artist hailing from the picturesque rural village of Chevreuse Valley, located in close proximity to Paris, SylC is deeply influenced by the natural surroundings of her home. Her art seeks to transport viewers to a dreamlike realm and inspire them to explore their innermost desires and beliefs through the recurring themes of metamorphosis and metempsychosis, which lend a sense of continuity and transformation to her pieces. These motifs invite the viewer to contemplate the interconnectedness of all things, and encourage a journey of self-exploration and contemplation. The belief in the transmigration of the soul, expressed through the theme of metempsychosis, adds an additional layer of depth and meaning to SylC's work, imbuing it with a sense of the interconnectedness of all beings.
Dreamlike Quality of the Human Experience in SylC's Art
SylC's work is strongly influenced by the dreamlike quality of the human experience. She seeks to explore and reveal the complexities of the human condition, including the paradoxes and dualities that exist within our identities. In her art, SylC frequently incorporates elements of the natural world, such as animals and plants, as a way of emphasizing the interconnectedness of all living beings and our connection to nature. Through her work, she explores themes of hybridization and metamorphosis, which serve as symbols of the ongoing evolution and adaptation of the human experience.
SylC finds inspiration primarily through poetry, but she also occasionally draws creativity from particularly vivid or enduring dreams.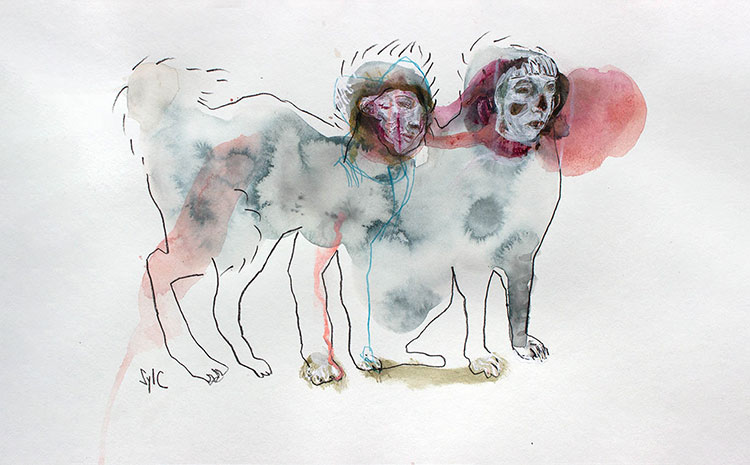 Evoking Emotion through Dualities: SylC's Evolving Artistic Style
Over time, SylC's style has undergone a transformation. As she has matured and her sensitivities have evolved, her artistic approach has also evolved. Currently, SylC strives to leave room for interpretation in her work and to explore dualities, such as the interplay between violence and gentleness. Her aim is to evoke emotions that may be buried within the viewer and to allow them to create their own narrative based on their own experiences and personal sensitivity. SylC finds the diversity of interpretations that her work can generate to be particularly compelling.
SylC is extremely proud of all of her series and considers each one to be a highlight of her artistic career. She places a great deal of emphasis on the scenography of her exhibitions, carefully curating the arrangement of her works in order to elicit contrasting emotions in the viewer. SylC's ultimate goal is to create an immersive, emotional experience for the viewer, and when she receives feedback that she has succeeded in doing so, she is highly satisfied with the results of her efforts.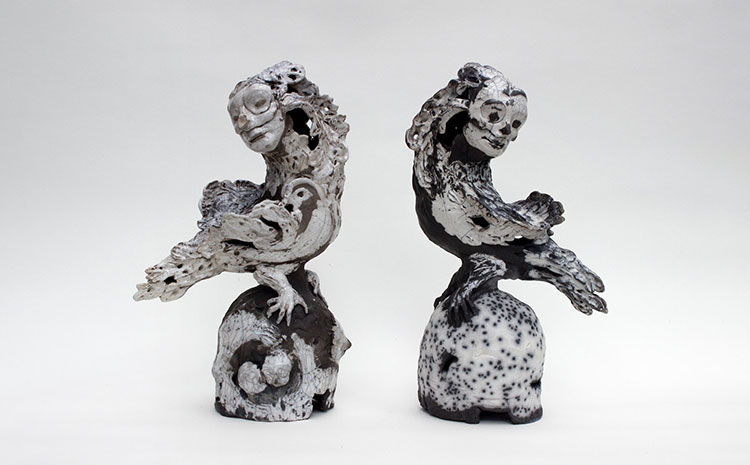 SylC's Dream Project: A Residency at the Manufacture de Sèvres
SylC has a dream project that she would love to create one day. She wishes to participate in a residency at the renowned Manufacture de Sèvres, where she could have the opportunity to experiment and advance the boundaries of ceramic work. It would be a challenging and fulfilling experience for SylC, allowing her to fully utilize her artistic abilities and make a contribution to the legacy of the institution.
SylC has expressed a desire to participate in a residency at the Manufacture de Sèvres in order to challenge and expand upon her ceramic work. Through the medium of art, SylC has the potential to gain greater self-understanding and the ability to convey inner emotions. This process can lead to a more fulfilling and balanced life, allowing SylC to approach the various aspects of her life with increased grace and proficiency.