"My practice is oriented towards abstract expressionist art."
From Acrylics to Digital: The Evolution of Serge Tardif's Artistic Medium
Serge Tardif, born in Arthabaska, Quebec, Canada, in 1955, has nurtured a lifelong interest in the arts. From an early age, drawing captivated him, fueling his passion and artistic pursuits. Tardif began his academic journey by studying photography, followed by a comprehensive education in visual arts at the University of Ottawa.
Throughout his formative years, the artist devoted much of his time to music and drawing. Drawing inspiration from record covers, he skillfully adorned the walls and ceiling of his room with vibrant, psychedelic patterns and colors characteristic of the era. His studies in visual arts eventually led him to embrace painting, and in recent years, digital drawing printed on large format paper. Concurrently, Tardif has cultivated a distinguished career in graphic design, illustration, and motion graphics.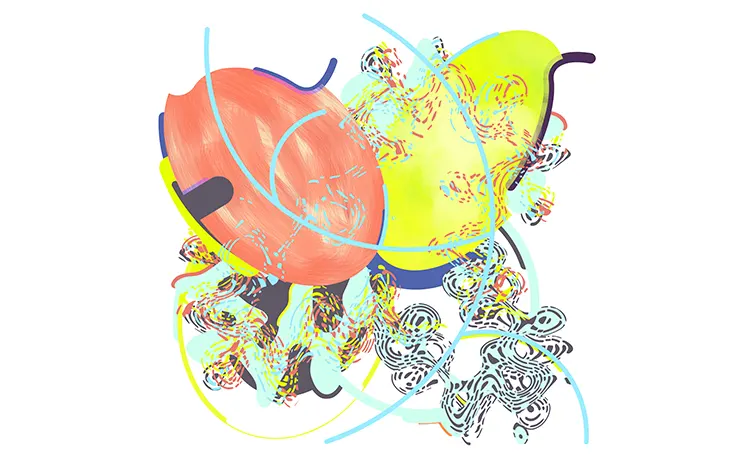 The Creative Process of Serge Tardif: Abstract Expressionism and Digital Tools
In the initial stages of Serge Tardif's artistic journey, he employed acrylics on expansive canvases, relishing the tangible connection between the dimensions of the canvas and the human form. However, Tardif's current preference is for digital mediums, which offer him greater control over every facet of his artwork and grant him the freedom to experiment with color palettes at his leisure.
Tardif's artistic practice is grounded in abstract expressionism. Utilizing digital tools, he is able to revisit and refine elements such as shapes, colors, and lines within his compositions. The artist places great emphasis on the interplay within his creative process, striving to achieve a harmonious equilibrium between space, movement, and color. His ultimate goal is to conceive independent and dynamic image-objects that fully realize his artistic vision.
Working in series, Tardif creates groups of 7 to 10 drawings that explore the same visual themes. Each drawing contributes to the development and evolution of these themes, ultimately concluding when the artist feels he has exhausted all possible variations. Alternatively, a series may give rise to a new one when a particular detail captivates Tardif and inspires him to delve further into its potential. By striving for a unique sensitivity in each piece, Tardif's artwork embodies a compelling blend of aesthetic intrigue and emotional resonance.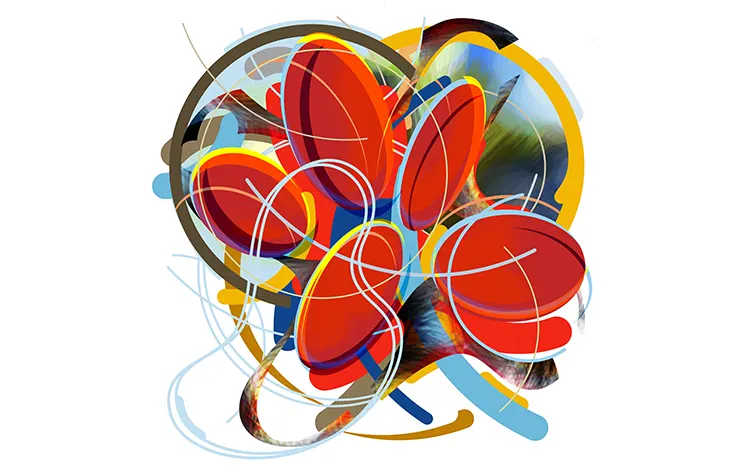 Inside Serge Tardif's Workspace: Designing for Optimal Focus and Continuity
Serge Tardif's workspace is an amalgamation of functionality and creativity, featuring two expansive metal tables, dual computer systems, a Wacom graphic tablet, and an iPad. The environment is carefully designed for optimal focus, with ambient lighting and a soundtrack of jazz and classical music. Tardif can become deeply engrossed in his artwork for hours at a time, ensuring an additional screen is always available to display previous drawings as a constant reminder of his artistic intentions. This approach helps to create a sense of continuity and dialogue within his oeuvre, rather than a collection of isolated pencil strokes.
During his formative years, Tardif found inspiration in the works of prominent artists such as Jackson Pollock, who was renowned for action painting; Frank Stella, celebrated for his shaped canvases; Joan Mitchell; and David Hockney. In the present day, he continues to discover and draw inspiration from a diverse range of contemporary artists, including Shantell Martin, Julie Mehretu, Salman Toor, Manuel Mathieu, and many others, thus maintaining a dynamic and evolving artistic vision.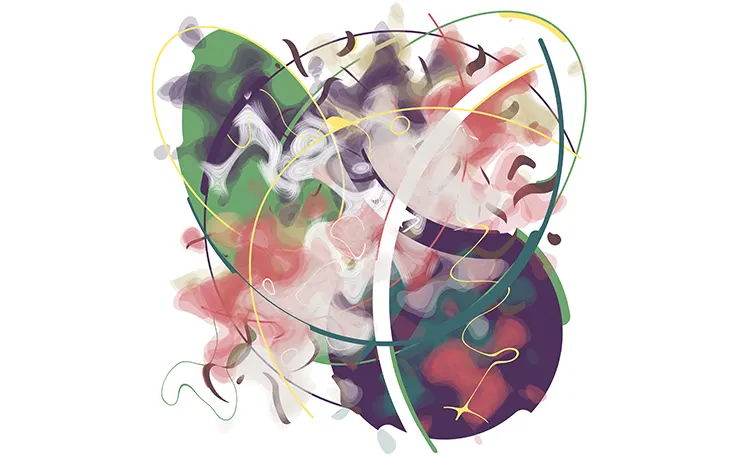 Bigger Trees Near Warter: The Artistic Inspiration of Serge Tardif and David Hockney
Serge Tardif finds profound inspiration in David Hockney's 2007 piece, Bigger Trees near Warter. The scene is set in a quaint Yorkshire village, where Hockney became entranced by the ever-changing natural landscape. In order to create this captivating work, the artist faced the formidable technical challenge of obtaining a comprehensive view of his composition. Utilizing computer technology, he seamlessly combined 50 individual 36×48-inch canvases, effectively monitoring the development of his masterpiece.
Tardif particularly admires Hockney's innovative adoption of technology in his artistic process. In Bigger Trees near Warter, Hockney reduces the brushstroke to its most basic form—simple lines and spots—then multiplies and arranges these elements to depict the rich textures of foliage and tree branches. This technique would later be employed in Hockney's iPad paintings. Tardif seeks to emulate this approach in his own digital drawings, harnessing the power of simplified line and form through deliberate accumulation and placement within the artwork.
Eager to refine his artistic sensibilities and produce increasingly impactful pieces, Tardif envisions collaborating on the development of a life-size, high-definition touchscreen measuring 48×48 inches. This innovative tool would enable him to create digital works directly on the screen at their intended size, offering a constant overview of the artwork in progress.