"I recall that my twin sister and I, who also painted watercolors, painted on every available surface. My love of painting, which began in those days, became the focal point of my education, career, and eventually my whole life."
The Life and Education of Watercolor Artist Rukiye Garip
Rukiye Garip was born in Bartın in 1964 and spent her childhood in this small town located on the Black Sea coast of Turkey. Growing up in a modest house with a garden surrounded by nature, she was exposed to the natural splendors of soil, plants, flowers, clear streams, and bright blues and greens, which contrasted with city life. Rukiye and her twin sister shared a passion for painting and would often paint watercolors on every available surface.
Her love for painting that began in her early years became the focal point of her education, career, and eventually her entire life. She graduated from Gazi University's Faculty of Vocational Education, Department of Painting. After teaching painting for twenty years in several cities and schools, Rukiye eventually retired from teaching to focus exclusively on her art.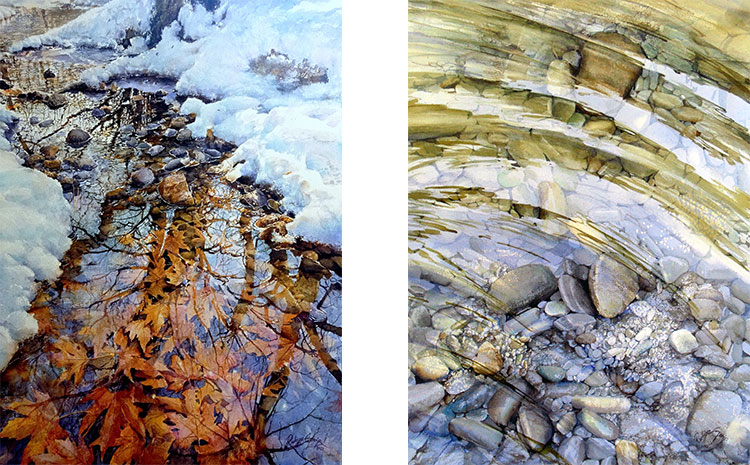 Rukiye Garip's Transparent Watercolor Technique and Artistic Style
In 2014, she switched to watercolors and has since participated in over 70 jury-selection international exhibits, biennials, and festivals in several countries. Her artistic creations are inspired by the natural environment she experienced during her childhood. Rukiye is a signature member of the American Watercolor Society (AWS) and a member of the International Masters of Watercolour Alliance (IMWA).
Rukiye Garip utilizes the classic transparent watercolor technique in her art. While her style may initially appear realistic or hyper-realistic, it is not constrained to accurately depicting the visible world. Instead, she prioritizes the effective conveyance of emotions and maintains a deep connection to her subjects throughout the creative process. Rukiye values freedom, uniqueness, and transparency in her watercolor technique and style. Every detail contributes to the creation of a self-explanatory artistic language that speaks to her audience. Her paintings feature textures, organic forms, and other elements that reflect the dynamic interplay of beings over time. Water and reflections are Rukiye's primary subjects, representing the cyclical nature of life and the interconnectedness of all things. Transparency is a critical aspect of her work, representing a prerequisite for understanding our interactions with other beings. Her art celebrates the natural world, reminding viewers of the vital role played by air, water, and soil. Rukiye has created series inspired by a diverse range of subjects, including "Rocky Stream," "Lonely Willow," "Goldseed," "Autumn Reflections," "Sea-Waves," "Portraits," "Still Life," "Rusty Series," "Fish-Fishermen," and a limited number of figural works.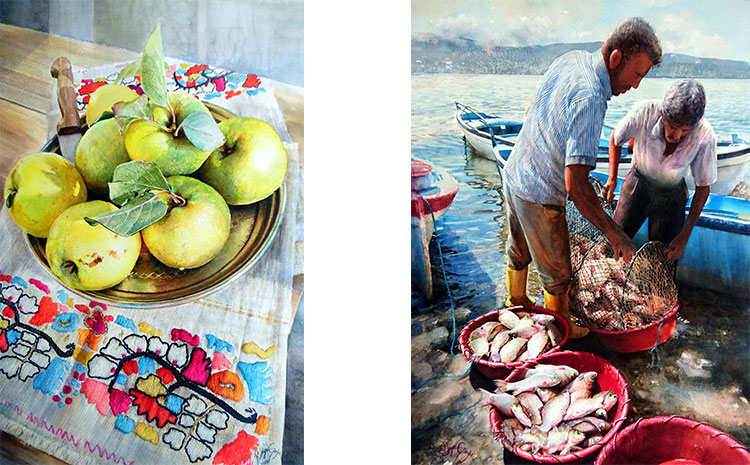 The Inspiration and Work Environment of Rukiye Garip
Garip has a preference for working in the studio rather than outdoors. She finds it more comfortable to work independently, with the addition of music, in a controlled environment. Her preferred work hours are typically between 1 and 5 p.m., allowing her to fulfill her daily responsibilities before focusing on her craft. Rukiye's ideal work environment is a clean and organized studio, where she can work alone and remain isolated from the outside world.
Rukiye Garip finds inspiration in her surroundings, particularly in the people she loves and cares about deeply. In her daily life and travels, she photographs the scenes that move her, which then serve as a valuable resource for her future artistic endeavors. Occasionally, she immerses herself in nature to capture the essence of a subject by observing the interplay of light, shadow, and texture, preparing herself emotionally for the task ahead. The artist also revisits places that have left a profound impact on her soul, providing her with the spiritual nourishment she needs. She reflects on her experiences and imagination to create compositions inspired by the diverse array of subjects and appearances that spark positive energy and further augment her aspirations.
Rukiye Garip has remained steadfast in her admiration for the objects and sights that have inspired her artistic vision since childhood. Although her realistic portrayal of these subjects has undergone an evolution, her dedication to them remains constant. With the passing of time, Rukiye's proficiency in the application of her chosen medium has increased, granting her an even greater mastery over its properties. As a result, her realistic style has become more refined and intricate, showcasing the full extent of her technical skill.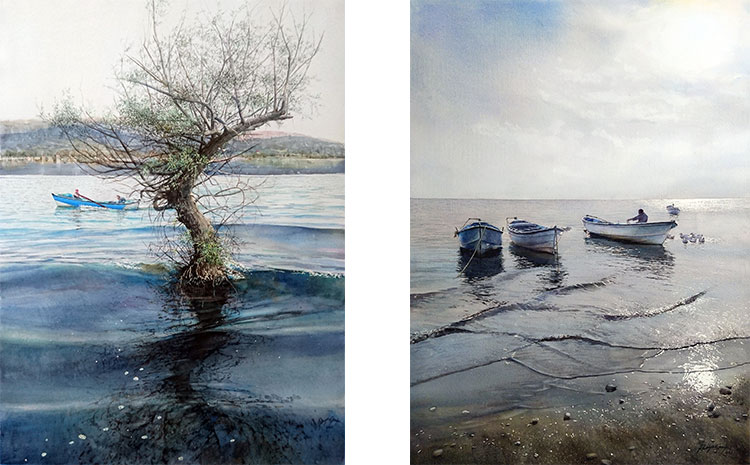 Rukiye Garip's Passion for Watercolor and Future Aspirations.
Rukiye Garip, with every painting she embarks on, experiences a sense of excitement and anticipation for her next creative endeavor. Envisioning her forthcoming masterpiece, she sets her sights on continual improvement, utilizing this objective as a motivational tool to inspire her daily endeavors. Although she has yet to settle on a specific project aspiration, she fondly remembers her initial foray into watercolors, where she dreamt of capturing the fluidity of the medium on paper. As she continues to refine her craft, she remains optimistic that one day she may realize this ambitious goal.
Rukiye has been attempting to balance her passion for watercolors with her daily activities since 2014. Devoting time to painting has required her to establish priorities and limit her availability in other areas. Despite this, Rukiye finds the experience of painting to be both productive and satisfying, with positive effects on other aspects of her life. During the pandemic that lasted for two years and affected the entire world, Rukiye turned to her paintings as a means of healing her soul. While the recent earthquake has left millions of people in their country saddened, Rukiye hopes that the healing power of art can be a comfort to all of humanity. She believes that the journey of artistic expression can bring people together and promote unity and understanding.