"The desire to unite with nature, become one with it, and even dissolve in it."
Reiner Heidorn's Dissolutio Technique: An Ode to Nature's Beauty
Reiner Heidorn is a self-taught painter, residing and practicing his craft in the picturesque town of Weilheim in Bavaria, Germany. Nestled near Munich, this idyllic locale boasts verdant forests and tranquil lakes, which consistently inspire the artist.
The essence of Heidorn's art lies in examining the interplay between humanity and nature through his monumental, monochromatic paintings. His creations reflect an innate yearning to harmonize with the natural world, to meld into its essence, and to achieve unity with its splendor. The artist brings to life vast expressionistic oil paintings, portraying flora, landscapes, woodlands, and water bodies, eschewing any adherence to realism. In essence, Heidorn's oeuvre celebrates the inherent beauty of nature, giving shape and hue to his profound musings.
Over time, Heidorn has cultivated a distinctive painting technique, which he has dubbed "Dissolutio." This term, signifying disappearance, encapsulates the artist's aspiration to converge with the natural world. Utilizing a blend of turpentine, pigments, and oil colors, Heidorn generates minuscule components that coalesce in a myriad of green and blue shades, gracefully transitioning across the canvas. These elements evoke forests, lakes, plant life, and even entire worlds, imbuing his artwork with an ethereal, dreamlike quality.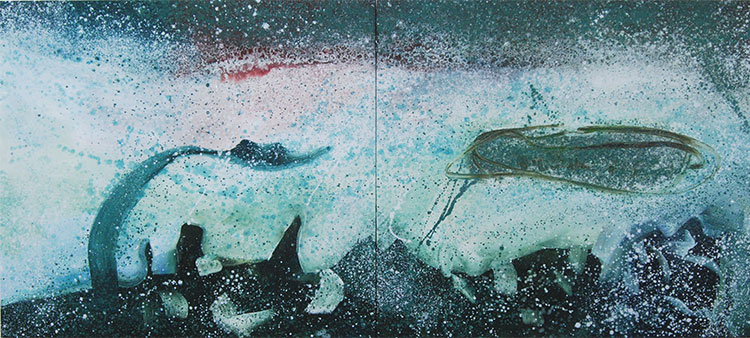 "The Infinite Cycle" 170 x 380 cm, oil on canvas
The Significance of Reiner Heidorn's Art in Contemporary Discourse
In an era defined by urgent concerns such as climate change and humanity's growing detachment from the natural world, Reiner Heidorn's artistry has garnered profound contemporary significance. His oeuvre occupies a pivotal position within a socially pertinent discourse, compelling spectators to contemplate the intricate equilibrium that exists between humans and the environment.
Heidorn's artistic prowess has earned him international acclaim, with his creations displayed in esteemed galleries across the world. His exhibitions have spanned diverse locations such as Brazil, Dubai, the United States, and numerous cities throughout Germany and Europe.
Previously, the artist collected landscape photographs and microscopic images from various locations in Germany to serve as his inspiration. However, in recent years, Heidorn has focused solely on the immediate surroundings of his hometown as a creative muse. He executes his paintings on the floor with remarkable speed, allowing the initial layers of color to partially dry before introducing a multitude of speckles. Once completed, the artworks remain on the floor for a two-week period to fully dry before they are mounted for display. Heidorn's creative process often involves working in series, underscoring the cohesiveness of his artistic vision.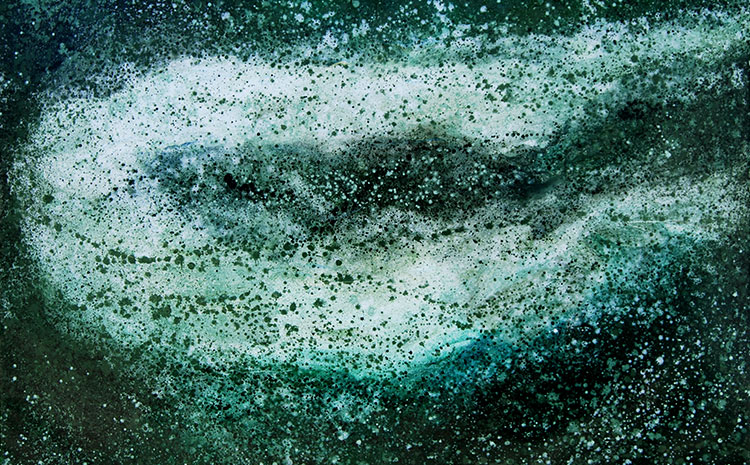 "Plantcomet" 150 x 230 cm, oil on canvas
Reiner Heidorn's Studio: A Sanctuary of Creativity
Reiner Heidorn's studio, brimming with canvases, has been an integral component of his life and artistic journey. His international career took off when he began exhibiting his work in the United States, Brazil, and Dubai. Through these shows, Heidorn attracted a dedicated network of collectors and esteemed curators who have collaborated with him. Moreover, the internet has served as an invaluable platform for disseminating his unique artistic style to a broader audience.
For Heidorn, the ideal creative space would comprise an even larger studio and an infinite supply of canvases. Currently, his workspace is an inviting hall adorned with a refrigerator, a sofa, and hundreds of canvases, evoking an atmosphere akin to a sealife sanctuary.
One of his notable works, "The Path Out," serves as a metaphor for the immigration crisis at European borders. Heidorn sought to create an expansive diptych that resembled an aged, yellowed photograph depicting a path leading out of a forest. This piece reflects on the reprehensible practice of illegal push-backs at borders and symbolizes a precarious journey into the unknown, not only for refugees but for all individuals navigating uncertain futures.

"Othersurface" 160 x 400 cm, oil on canvas
The Path In: Reiner Heidorn's Latest Politically-Charged Art Project
Reiner Heidorn is collaborating with a legal expert in refugee law to create a politically-charged project. Their innovative concept combines a thought-provoking lecture by the attorney with a carefully curated selection of Heidorn's evocative dark botanical works. The duo aims to secure a prestigious location within a government facility for the presentation, with the intention of donating proceeds from the artwork sales to support civil sea rescue efforts. The exhibition is aptly titled "The Path In."
Heidorn offers sage advice to emerging artists embarking on their creative journeys. First and foremost, he emphasizes the importance of making a resolute decision regarding their chosen subject matter. He encourages them to explore and revisit this subject repeatedly, refining their craft until a certain level of quality is attained. While it may seem counterintuitive, Heidorn believes that maturing as an individual serves as a reliable indicator of the development of an artist's unique and distinguished style.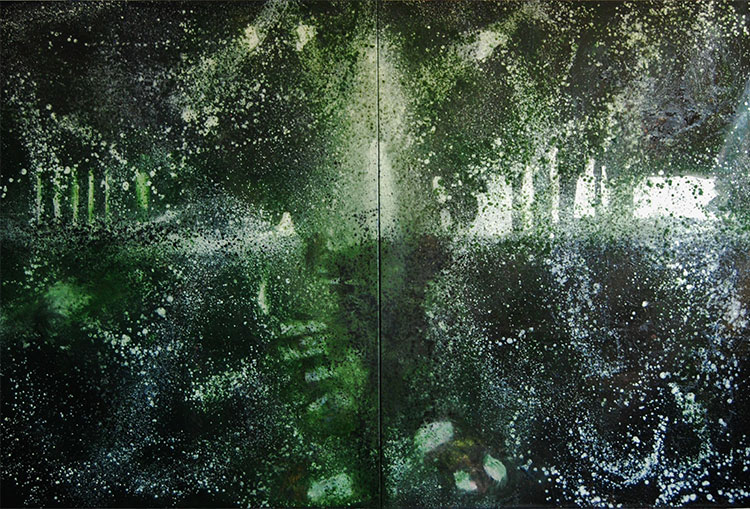 "The Path Out" 240 x 380 cm, oail on canvas