"I hope you won't forget the aesthetics of slowness by living patiently in a rapidly changing world."
Humanity and Technology through Metal-Welded Sculptures
Oh Dong-hoon is a metal-welded sculptor whose work primarily consists of "people" and "old shapes." He approaches his work with a focus on materiality, utilizing metal welding to express volume and shape through the cutting and connecting of circles. Oh also employs 3D technology in the creation of his sculptures, incorporating accurate measurements to achieve balance and a sense of gravity in his pieces. The artist has been dedicated to outdoor sculptures for 15 years and his series, "Adagio," aims to convey human attributes through the combination and connection of shapes rather than solely focusing on human beauty. Oh's sculptures often incorporate spherical shapes, evoking a sense of movement and texture through the use of metal. His works also explore the relationship between humanity and technology, as seen in the "Bubble Man" and "Red Bubble" series, which feature humanoid forms made of repetitively arranged spheres. Overall, Oh's sculptures are characterized by their sensitivity to the human form and their emphasis on the properties of the materials used in their creation.
Hailing from the historic city of Gyeongju, South Korea, Oh Dong-hoon has stated that his origins have played a significant role in shaping his artistic inclinations and approach. The proximity to the sea and the city's designation as a UNESCO site instilled in him a fascination with three-dimensional objects from a young age, as he was exposed to the intricately crafted earthenware of the ancient Silla civilization at local museums. These experiences imbued him with a sense of connection to his ancestors and a desire to create works that could similarly endure as future relics. This mindset informs his current artistic pursuits, as he strives to express a shared understanding or consensus through his creations.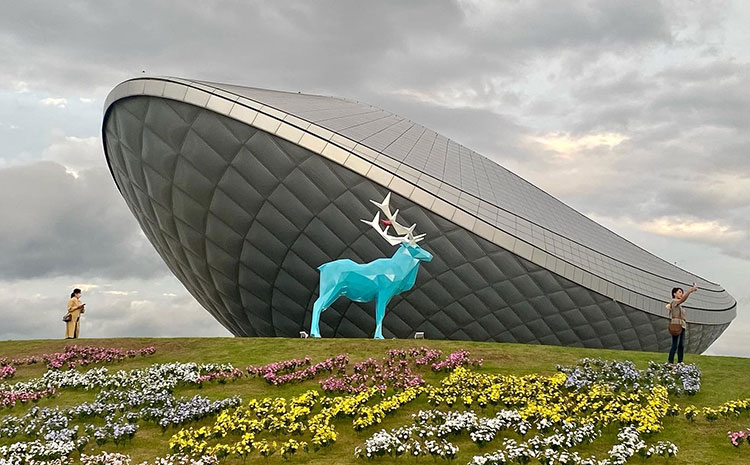 The Dynamic Beauty of Spherical Shapes and Soap Bubbles
Oh Dong-hoon specializes in creating works that possess a distinct combination of spherical shapes, bubbles, modularity, expandability, and color. By utilizing shapes of varying sizes, he is able to form basic structures while maintaining a sense of dynamic balance through the proper adjustment of the spatial relationship between sphere aggregation and relaxation. The motif of soap bubbles imbues a sense of lightness and inflatability that naturally evokes an emotional sense of rhythm. The final product is achieved through the connection and expansion of large and small spheres, and is further enhanced through the application of color. His approach to color is one of simplicity, primarily utilizing a single color but with strategic points of emphasis, such as the head, arms, and legs, being rendered in contrasting hues to create a sense of tension and focused visual appeal.
Oh found inspiration in the whimsical and ephemeral nature of soap bubbles on a playground. Witnessing the bubbles merrily adhering, dissipating, and spreading without any defined shape, he was struck with the concept of "Bubble Man," which has since become a seminal piece in his body of work. Believing that traditional interpretations of the Renaissance style had been exhausted, he sought to explore new forms and expressions of the human body through this imaginative and innovative concept.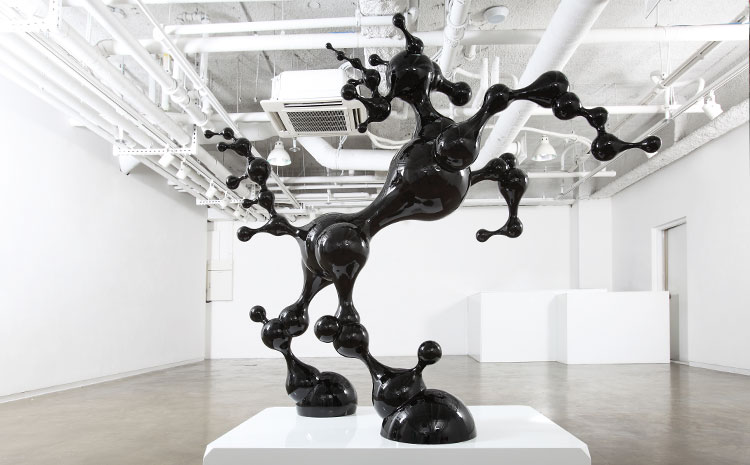 Exploring the Human Form: Oh Dong-hoon's Artistic Journey
Throughout the evolution of Oh Dong-hoon's artistic journey, he has consistently sought to explore and experiment with the human form. Initially, his fascination with the malleability of clay during his university studies led him to focus on sculpting as his primary medium. However, as he progressed in his artistic pursuits, he felt an increasing desire to broaden the scope of his work and gain a deeper understanding of the properties of various materials. This led him to explore new techniques, such as welding, to create more dynamic and versatile pieces. Additionally, Oh Dong-hoon taught himself a 3D modeling program to refine his understanding of form and space in his works. Through these experiences, his understanding of sculpture and the three-dimensional form has been greatly enhanced, allowing him to fully realize his artistic vision.
Oh Dong-hoon is most proud of a sculpture within his "Bubble Man" series, entitled "New Humanity – Don Quixote." The piece features the iconic character of Don Quixote, depicted as mounted on a red horse and wielding a large straw instead of a spear. The work captures the sense of excitement and energy that imbues the character, while also conveying a sense of instability and fragility, as if the figure were made of foam and could float away at any moment. The work was inspired by the motif of a mounted statue from the Silla Dynasty and serves as a commentary on the futility and passion of the human spirit, as represented by the character of Don Quixote. The use of the straw as a medium is particularly interesting as it serves as a metaphor for the fleeting and ephemeral nature of life and the pursuit of unfulfilled hope. The work holds a special meaning to Oh Dong-hoon, as it was created in his hometown of Gyeongju and serves as a representation of the city's eternal dreams.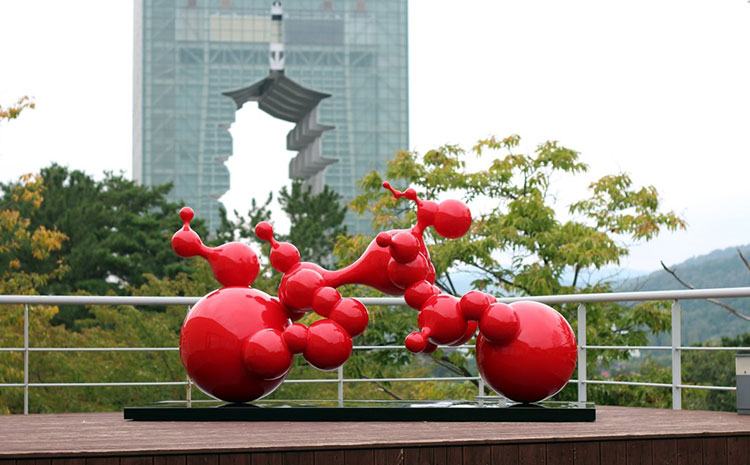 Oh Dong-hoon's Vision for a Sculpture Park
Oh Dong-hoon has long harbored a desire to bring his work to the public in a dynamic and interactive manner. His dream project would be the creation of a sculpture park, wherein children and families would have the opportunity to not only view, but also engage with the sculptures through touch and exploration. The centerpiece of this park would be a tranquil pond, upon which he would install a series of bubble works and fountains, serving as a means of communing with nature and fostering a sense of wonder and playfulness in visitors. Additionally, Oh Dong-hoon would incorporate various interactive elements and immersive experiences throughout the park, to further encourage engagement and connection with the art on display.
Oh Dong-hoon is currently engaged in the act of designing and constructing his current abode. This activity has piqued his interest as he is constantly expanding his skill set and honing his aesthetic while creating it. Additionally, the field of architecture requires a thorough examination and manipulation of space. The constant consideration of how to seamlessly integrate various forms and structures within it brings a profound sense of satisfaction and fulfillment to the creative process for him.