"My goal is to surprise the audience into taking a closer look at the beauty of nature and inspiring wonder."
The Multifaceted Artistry of Melissa Meier
Melissa Meier is a multifaceted artist who excels in the fusion of sculpture, collage, found objects, and photography. She embodies the spirit of a visual poet, articulating moods and narratives through her diverse choice of media. Although sculpture holds a special appeal for her, the ephemeral nature of the organic elements she utilizes has increasingly led to the incorporation of photography into her creative process.
Raised in Brazil to a Swiss father and a Brazilian mother, Meier refined her artistic prowess at the Art Center College of Design in Pasadena, United States. Her career burgeoned in the bustling art scene of New York City, where she crafted three-dimensional mixed media illustrations for esteemed clients like The New York Times, The Washington Post, Fortune Magazine, and networks such as MTV and VH1. In 1997, she pivoted to concentrate on her fine art pursuits full time.
Meier's upbringing in Brazil and her extensive travels have played a monumental role in shaping her art. Immersion in diverse cultures and unwavering parental encouragement have fueled her creativity. From her earliest memories, she was inevitably drawn towards the arts. Her mother cherishes her primitive drawings dating back to her toddler years.
Nature's profound influence on her work is evident, something that has persisted since her childhood. The vibrant spectacle of Brazil's Carnival, coupled with the country's rich natural diversity, deeply inspired her. The intriguing notion of melding these two worlds became a significant focus, leading to the conception of her 'Skins Series.' She began by creating wearable constructions for models from natural elements like leaves, pinecones, feathers, sponges, seashells, sticks, stones, and eggshells, documenting her work through photography.
Meier soon recognized the potential for these photographs to stand as independent works of art, not merely records of her constructions. The recent pandemic further evolved her approach, inspiring her to design these wearable constructions as symbolic protective gear. This period also marked the inclusion of animal subjects in her compositions. Through her work, Meier aims to captivate her audience, inviting them to appreciate the inherent beauty of nature and to inspire wonder.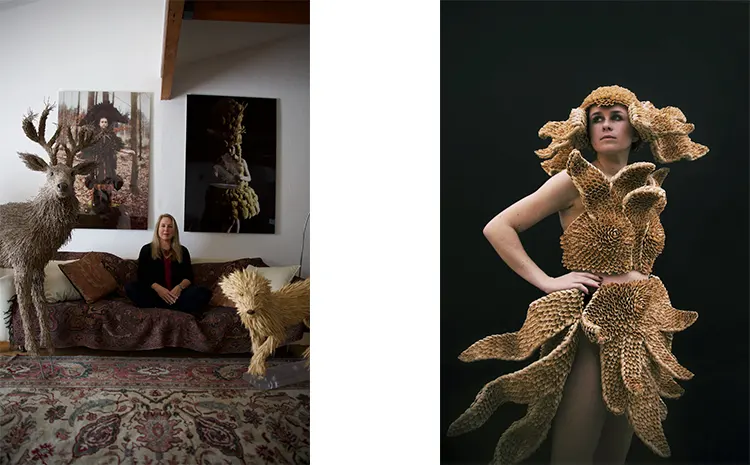 Melissa Meier's Creative Process: Sculpture, Collage, and Photography
Melissa Meier's current artistic practice is a profound exploration of organic materials and photography, primarily in the creation of her notable 'Skins Series.' These wearable constructions are distinctive for their focus on a single material sourced from nature. Engaging with these elements evokes a profound bond with the natural world for Meier, as she envisages the constructions as wearable sculptures, vivified when adorned on the human form. An integral component of her process is photography, utilized to immortalize the work before it succumbs to the inevitability of decomposition.
Meier's studio is a spacious haven, accommodating the large-scale constructions and the myriad elements required in their creation. It burgeons with an eclectic mix of mannequins, dress forms, various types of glue, clay, doll and glass eyes, paper mache, and a diverse array of organic materials she has curated. A disciplined schedule from 10:00 am until 4:30 pm guides her creative process, though she acknowledges the occasional distractions, deftly managing them post-work.
Meier's creative process begins with the selection of an organic material, which then undergoes a meticulous investigation of its historical and symbolic significance across diverse cultures and epochs. Following this, she evaluates the material's durability and longevity, ensuring it aligns with her artistic vision. She accomplishes this through rigorous physical testing to discern attributes such as adhesion and material strength.
Sketching the design is the next stage, followed by the construction of the inner structure. This is crafted to form the silhouette, employing an assortment of recycled objects ranging from wicker baskets to lamp shades and helmets. Subsequently, she initiates the layering of the organic material, with an astute focus on texture and pattern. Meier revels in the unique qualities that each material presents, viewing the construction process as an enlightening journey of discovery. This dynamic and unpredictable process fuels her enthusiasm for her work.
Meier's artistic vision has been profoundly influenced by an array of renowned artists such as Kiki Smith, Louise Bourgeois, Ed and Nancy Kienholz, Joseph Cornell, Dorothea Tanning, Frida Kahlo, Cindy Sherman, and Eva Hesse.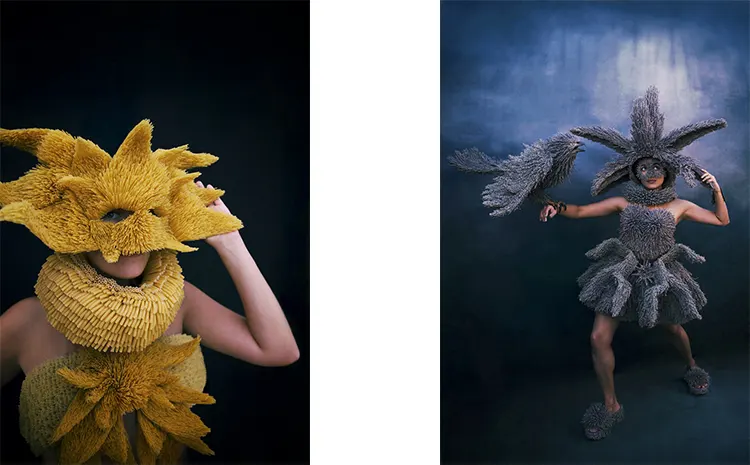 Unveiling Melissa Meier's Wearable Sculptures: The Skins Series
In 2013, amidst the vibrant hues and varied textures of California's landscape, Melissa Meier conceived the Skins Series. Nestled outside her abode was a majestic Magnolia tree, its leaves strewn across the lawn, each exhibiting a unique color and texture that enraptured her. Inspired by this natural artistry, Meier resolved to piece together the leaves, thus crafting her inaugural wearable construction for the Skins Series. Her daughter served as the model, embodying the ephemeral, organic structures that Meier captured in her photographs, acutely aware of the inevitable decay these pieces would undergo over time. Following this initial creation, Meier embarked on constructing other wearable pieces using a medley of materials including pinecones, seashells, moss, lavender, pistachio shells, sticks, stones, wheat, beans, and rice.
Among the array of creations in the Skins Series, the Egg Shells construction demanded the most time and effort, but it also held a particularly special resonance for Meier. To realize this unique piece, she relied on the collaborative spirit of her expatriate community in Switzerland. The construction's fragility and continuous evolution added to its allure. Assembled from hundreds of discarded egg shells and underpinned by a flexible metal substructure, Meier managed to craft a lightweight mesh contour that seamlessly adhered to both the head and the body. Her vision was to evoke a dual-sex appeal — the masculine represented by the phallic helmet and the feminine embodied by the body's curves. She manipulated the material to achieve this compelling effect, evident from both frontal and side perspectives.
However, her conventional patterning process proved challenging when working with egg shells. During adhesion, the shells often fragmented under the pressure of her touch, and the delicate structures continued to shatter during the photographic session with the model. Adapting to these circumstances, Meier embraced the unpredictability of the material, adding new egg shells and pieces between shots. To introduce a variety of scales, she incorporated ostrich and quail eggs into her design, painting them white for consistency. An added layer of depth and unexpected dimension was achieved by exploiting both the concave and convex surfaces of the eggs.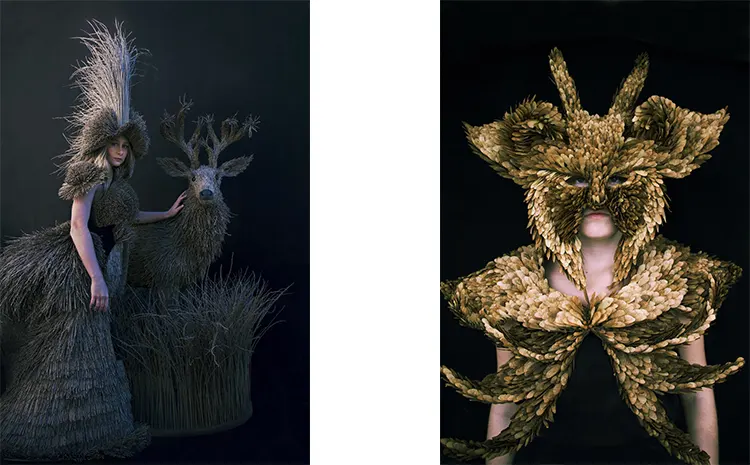 Melissa Meier's Artistic Evolution: From Construction to Immersive Installations
The evolution of Melissa Meier's artistic style has marked a distinctive journey over the years. Initially, she embarked on the Construction Series, an innovative blend of mixed media sculpture and vintage photography, crafting narrative assemblages that resonated with audiences. This was followed by the Laced Series, where she captured striking mugshot-style female portraits in natural light. A unique blend of wood putty and graphite was employed to re-render the photographic surfaces, which were then dramatically transformed through incised lace patterns.
Transitioning from the two-dimensional realm, Meier next ventured into the Masks Series, an exploration of the interplay between clay, photography, and the potent impact of handmade, static masks set against both abstract and everyday backdrops. The Head Series marked a shift in materials, as Meier unveiled a massive 250-pound head, constructed entirely from brown packing paper and clear tape, a testament to her relocation to Switzerland. This monumental piece was subsequently photographed in various Swiss exterior settings, adding a layer of environmental context to the artwork.
Currently, Meier's work is being showcased in a solo exhibition, "Becoming Nature," at the Oceanside Museum of Art in Oceanside, California. This exhibition features her Skins Series, including her compelling animal pieces. Her aspirational vision is to extend this series by creating immersive installations, crafting interactive spaces that invite visitors to become an integral part of the environment she constructs. She acknowledges that such an ambitious project will demand an immense amount of material, space, and most importantly, time.