"I create my characters to mock and torment them, to give them a tragic life. But I do not do that without handing them tools to defend themselves."
Mat Vaassen: The Artist and His Creative Process
Residing and working in Amsterdam, Mat Vaassen is an artist who honed his skills at the art academy in Maastricht and De Ateliers, a renowned post-academic institution. Some influences in his work might have sprung from the time he was a child and an adolescent. For instance his Catholic upbringing that confronted him with the many paintings and sculptures of Jesus suffering and being tortured may have shaped his own portrayal of suffering, turning it into profane suffering when becoming a convinced atheist. While his personal experiences with carnival when he was a bit older might have influenced the crazed behaviour of his characters and their weird outfits, and his sexual ventures would have had an impact on his creative endeavors, allowing him to incorporate nudity and sexual themes into his art.
Mat's works, which he refers to as posters, are digitally painted on his computer or iPad and printed in large sizes during exhibitions. He takes photographs of different backgrounds or sites as a basis for his characters to perform in, drawing and painting everything himself instead of simply painting over the photos. His artistic talent is well-known, and his works have been exhibited in various locations worldwide.
Mat's work can celebrate or curse life with equal passion, and it is very personal. He can be happy personally, but he creates work about extremely unhappy people. The stories he tells have a certain amount of pain, ugliness, destruction, sex, obscenity, violence, frustration, vulnerability, awkwardness, and a sense of humor. In all the works he has made in the past, whether paintings, sculptures, site-specific works, conceptual or photographic works, Mat always felt an urge to make them dirty by digging down into everyday life's obstructions and troubles. The works he has been making for a while now tell stories in which his characters are marked and scarred, and he tells them with mild sarcasm, love for his idiotic characters, a little obscenity and filth, tragedy, and some comedy, striving to make aesthetically and story/image-wise strong work.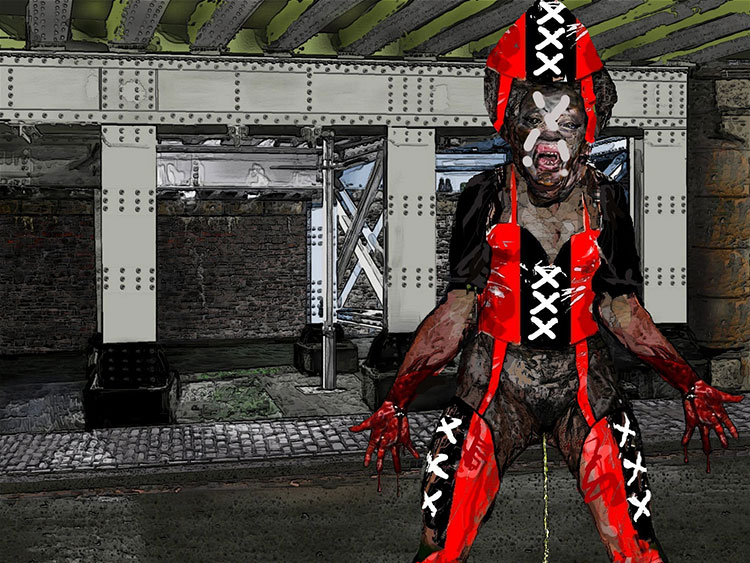 The Themes and Characteristics of Mat Vaassen's Art
Mat's characters are tragic, created to be mocked and tormented, to have a tragic life. However, Mat does not do that without handing them tools to defend themselves. They wear carnivalesque outfits in a normal environment, are given alcohol and food, and are dressed up with strange hats or accessories or tattoos to set themselves apart from everyone else, finding pride and joy in who or what they are. They often show a combination of different gender identities. His actors are often naked, which makes them vulnerable, but they show their obscenity with exhibitionistic pride. They are lonely but sometimes have a (sadly equally lonely) companion. All of them struggle with life, but at the same time, they rebel against their fate. They are ugly, but in an artwork, they are beautiful.
In addition to his visual art, Mat has written seven novels using similar content and sometimes the same stories as shown in his visual works. Unfortunately, it is harder for him to get his novels published than to exhibit his visual works.
Mat Vaassen takes photographs of his surroundings, capturing any sights that he finds captivating and that could serve as inspiration for his artwork. He appreciates the vast array of images available to him in the world, which he can later manipulate and enhance using his computer and iPad. Mat enjoys the flexibility that digital tools offer in creating his art, which he showcases by printing his work in his desired size for exhibitions.
In his art, Mat delves into the complex emotions that come with life, such as joy and pain, success and failure, love and hate, power and powerlessness, and everything in between. He uses his work as a form of self-expression and introspection, often imbued with a touch of self-mockery.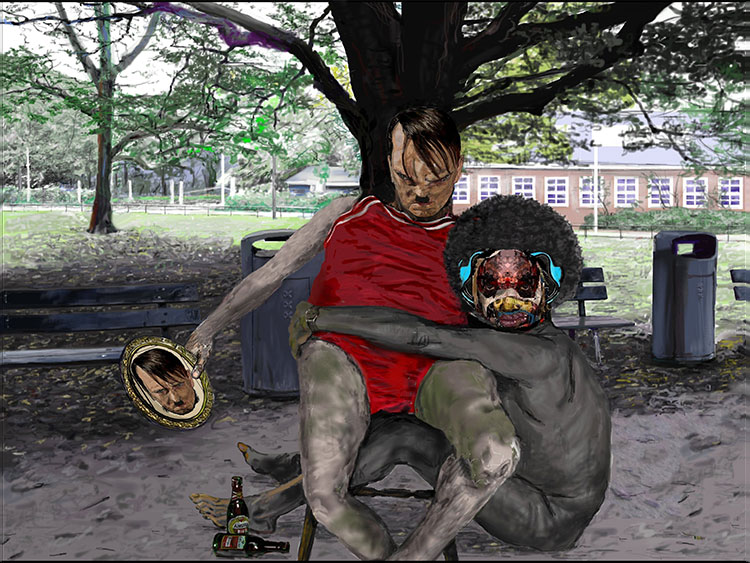 The Sources of Inspiration for Mat Vaassen's Art
Mat draws inspiration from a range of artistic mediums, including films like "Leaving Las Vegas," literature such as "Who's Afraid of Virginia Woolf," music like Bach's "Erbarme Dich," and art such as Nan Goldin's photography. He finds a connection with works that explore the struggles of underdogs, anti-heroes, and the marginalized. Lastly, Mat confesses to having a soft spot for sentimental stories, such as the classic film "It's a Wonderful Life" by Frank Capra. The heartwarming tale of redemption and second chances never fails to move him.
Mat Vaassen, in a past era, found himself in a state of serious unhappiness, a common affliction for many. His artistic endeavors revolved around the indecency of failure and agony. It served as his testimony to his own affliction and a form of protest against the factors responsible for his misery. Although being rooted in aversion, at the same time it strived for power, vitality and some sort of beauty as all art should.
Infused with an unsubtle humor it was a weapon not everybody could appreciate. When displayed in public space in the form of photos and text on a tarpaulin,
complete installations ranging from four to five meters high, he received compliments and angry reactions (even within art venues), with people reporting it to the authorities, and local governments attempting to eradicate or remove it. Despite these challenges, he created what he was compelled to create.
The Evolution of Mat Vaassen's Art
Mat progressed and evolved, and his work transformed along with his life experiences. He traversed various forms of art, including painting, sculpting, site-specific installations, creating installations in people's living spaces, utilizing participants and their lives as content, using people as models for photo works. Some work was hard and sometimes even cruel, other work was extremely positive and idealistic. With the work he makes at present, he has returned to what feels as his core; producing work about life's misfortunes, not necessarily stemming from his own misery.
Mat Vaassen takes great pride in some of his earlier works, which featured participants in highly dramatic situations, evoking intense emotional responses from both the participants themselves and the wider public. He is equally proud of all his creations that captivate and convey the essence of a gripping narrative through a single, succinct image.
Mat aspires to see his literary compositions published, and would find great
pleasure and intellectual stimulation in seeing his works manifest in three dimensions through the innovative technology of 3-D printing, taking the form of intricately crafted sculptures or installations.
For Mat, the creation of art is an integral aspect of his identity, and he cannot imagine life without it. In his words: 'For me to not make art is to be a half dead fly drifting in a puddle of foul water.'