"Art transcends our ordinary lives and reveals what is possible."
The Intricate Symphony of Senses: Unveiling Marta Obojska's Artistic Vision
The origins of Marta Obojska's artistic journey trace back to her earliest years, roughly around the tender age of two or three, etched vividly in a memory of her partaking in a drawing competition. Despite being the youngest participant, she triumphed, heralding the innate creative potential within her. However, Obojska's youthful trajectory veered towards the symphonic allure of music, rather than following the path initially hinted at by her early victory in visual arts.
Indeed, a fascination with music swiftly consumed Obojska during her formative years. Be it toting a violin on her back, or delving into nocturnal piano rehearsals, or lending her voice to a plethora of performances across her home country, music marked a profound influence in her life. However, attempting to pinpoint the genesis of her innate desire to create – whether it be through painting, singing, or playing an instrument – is a challenging endeavour. It could perhaps be ascribed to her innate sense of aesthetic appreciation, her thirst for new experiences, or her deep-seated curiosity.
Obojska's affinity for art persisted unabated, even when her academic pursuits led her towards psychology and a life away from her birthplace of Warsaw, Poland. Now residing in a quaint village within the United Kingdom, her artistic expressions found a new medium in acrylic paints, a choice inspired by a series of Manchester's rainy days.
Van Gogh, the celebrated Post-Impressionist, was her initial painting muse, with his vibrant masterpiece, 'Café Terrace at Night', inspiring her third acrylic painting. His influence is still perceptible in her work, not only in her colour palette but also in her shared passion for Japanese art, an affinity mirrored by Van Gogh himself.
Obojska's artistic journey has afforded her the privilege of visiting galleries in an array of countries, from her native Poland, to France, Italy, Spain, the UK, and Japan. Over time, her artistic approach evolved from emulating masters to trusting in the potency of her own imagination. Her work exhibits influences from a wide range of artists, from nineteenth-century Japanese artist Utagawa Kunisada, the French 'painter of black' Pierre Soulage, Yves Klein, and arguably more Barnet Newman than Mark Rothko, to the stencil pioneer, Blek Le Rat.
As Obojska approaches a decade of working with acrylic paints, she has committed herself more resolutely to her artistic development. This decision, made roughly one and a half years ago, followed a lengthy career in the marketing and advertising industry, spanning sectors from education and sports goods to IT. The artist's penchant for experimentation remains, dabbling in diverse mediums such as pastels, pen and pencil, ink, and playing with contrasting colours, textures, and finishes. Despite these explorations, it is the allure of acrylics that maintains a special hold on Obojska, serving as the primary canvas for her imaginative endeavours.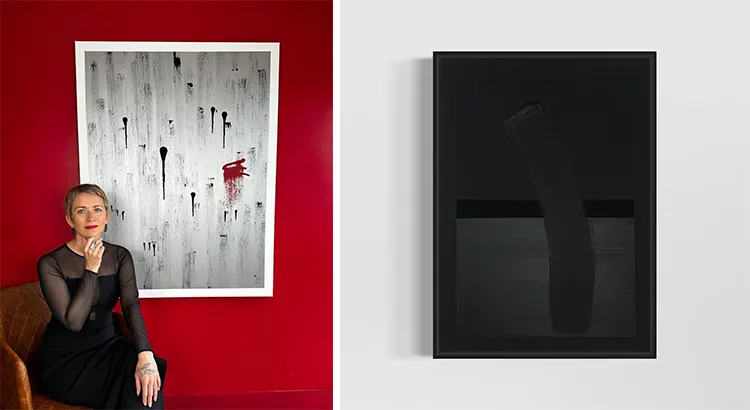 Embracing Minimalism: Exploring Marta Obojska Artistic Process
The artistic journey of Marta Obojska is a complex intertwining of her passions and experiences, meticulously woven into a tapestry of unique expression. Informed by the multifaceted symphony of her senses— the melodies she hears, the vistas she absorbs, the scents she encounters, the literature that engrosses her— Obojska crafts an alluring medley of colours, shapes, and textures. The artist seeks to distill this intricate sensory orchestra into a singular, accessible image.
Obojska's creative process is a harmonious blend of intense focus and intentional distraction. This balance becomes her productive rhythm, oscillating between undivided dedication to a creation and an immersion in external stimuli. It might translate into concurrent execution of several projects or an abrupt pause in the current endeavor to recharge her creative energies through connection with nature, via a bike ride or a hike, for instance.
A profound understanding of the role of the viewer occupies a pivotal place in Obojska's work. Her approach to art is intrinsically linked to the viewer's sensitivity, personal experiences, and imagination. Known as an abstract painter, she is adept at incorporating references from diverse fields such as nature, science, and architecture into her work, giving particular attention to the portrayal of global social issues. Her work mirrors aspects of the natural world and human nature, expertly leaving room for interpretation and ambiguity.
The artist's vision extends an invitation to the viewer to contribute to the completion of her work. This emphasis on audience participation in the creative process is a distinguishing feature of her practice. She beautifully captures the essence of minimalism, an ethos championed by architect and modernist Ludwig Mies Van Der Rohe, who famously stated, "less is more".
Echoing the principles of modern minimalism seen in architecture, Obojska believes that the simplicity and openness of space fosters relaxation and personal reflection. Her preference for simplicity and elegance shines through in her work, most notably in her controlled use of a limited palette, often no more than three colours, and in the 'I' cycle, just two. The compositions she creates feature crisp edges and contrasting colour lines, playing with the interplay between gloss and matte.
Obojska's cycle "The Eye" illustrates her conscientiousness about diversity and inclusion. It's an exploration of myriad eyes, symbolising the diversity that exists within society. Yet, her art, being abstract, avoids literal visualisation of the eye. The painting "The Shield," for instance, serves as a metaphor for the inherent energy and power within us all, its resemblance to a Roman shield a tribute to her innovative approach to abstract representation.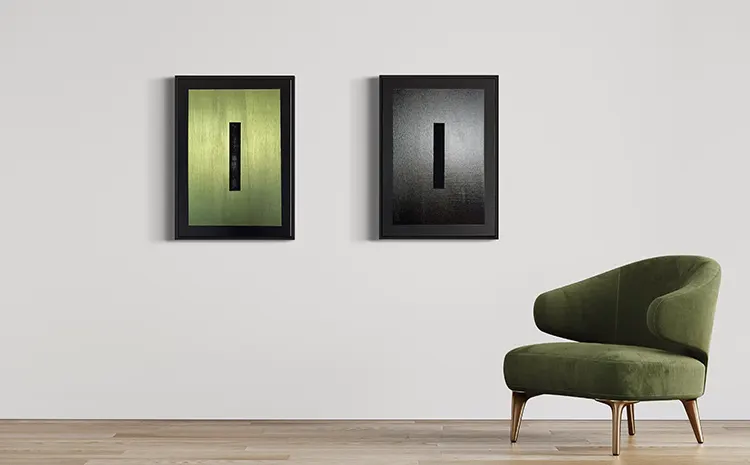 Japanese Inspirations: Marta Obojska's Captivating Artistic Expressions
Marta Obojska's artistic inspiration often spring from seemingly simple sources. For example, the catalyst for her "Japanese Brush" series was nothing more than a novel brush she had acquired. Her captivating blue diptych, "The Summer Tree," draws its inspiration from the Japanese artist Utagawa Kunisada, whose unique approach to painting trees resonated deeply with Obojska. She is far from alone in her enchantment by Japanese trees; Vincent Van Gogh's renowned depiction of an almond tree is rooted in the same fascination.
Psychology is the impetus behind Obojska's evocative "Study of Emotion" series. It is a testament to the complexity and richness of the human emotional landscape, where each person is the protagonist in their narrative, punctuated with heroes, villains, obstacles and triumphs. The American Psychological Association defines emotion as a multifaceted reaction pattern, incorporating experiential, behavioral, and physiological elements. Obojska's work explores these layers, considering how individuals navigate significant situations and experiences, which can range from the mundane to the monumental. It is intriguing to ponder the emotions elicited from viewers when they encounter paintings from this poignant series.
Obojska's works in this series are characterized by a minimalist aesthetic, using only two contrasting hues: the opulence of gold and the profundity of black. The gold appears smooth and lustrous, typically confined to a rectangular space, while the black is powerful and opaque. Obojska employs "Musou Black" paint, known for its ability to absorb an astounding 99.4% of visible light. The interplay between these two colours is dynamic, with each vying for dominance, altering their positions, and finding themselves in diverse scenarios, including moments of equilibrium.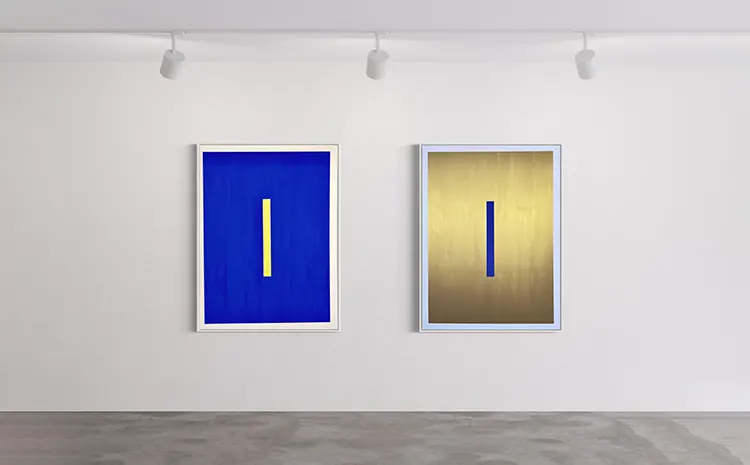 Balancing Harmony: The Transformative Potential of Marta Obojska Art
Internationally recognized social psychologist Fritz Heider elucidated in 1946 that psychological harmony arises from a balance within interpersonal relationships or specific interactions between multiple individuals. An absence of balance typically precipitates feelings of discomfort, which in turn drives individuals to pursue equilibrium. Paul Ekman, a trailblazer in the exploration of emotional nuances, underpinned the significance of emotional understanding in influencing behavior, stating, "Our emotions drive us — excitement, pleasure, even anger. If we didn't have emotions, life would be not only dangerous but also monotonous."
Renowned artist and activist Richard Kamler eloquently expressed, "Art is our one true global language. It speaks to our need to reveal, heal, and transform. It transcends our ordinary lives and lets us imagine what is possible."
Through this lens, the transformative potential of art can be gleaned. Art represents a critical ingredient in the recipe for human survival. It serves as a wellspring of joy, inspiration, and wellness. Marta Obojska aspires to imbue her work with these qualities, hoping it will resonate and provoke such feelings within you.
For art collectors and enthusiasts alike, a variety of Obojska's striking pieces can be located across multiple platforms. Her Instagram account and personal website, https://chatpanthera.uk/, are always open to visitors seeking a visual feast. Selected collections of her work can also be found on 'Marta Obojska | Saatchi Art' and 'Caiger Art Gallery.'
Obojska's artwork is periodically displayed at prestigious venues such as the Windsor Art Fair, Surrey Contemporary Art Fair, and the Affordable Art Fair in Battersea, London. Local galleries and art magazines also frequently feature her work. Currently, Obojska has a solo exhibition at Bryer's East Leake in the UK. Additionally, her work has been selected for an upcoming exhibition at the Tarpey Gallery in Castle Donington, UK, slated for the period between 22nd July and 27th August.