"I have been making art for as long as I can remember… I love the ability to express feelings through paintings and it allows an exploration of different colors and materials which I find very interesting and inspiring."
From Hesse to Johannesburg and Beyond
Manuela Karin Knaut is a 52-year-old artist who resides in Braunschweig, Germany. She has been dedicated to the art world for over three decades, honing her skills as a full-time artist with a focus on large-scale paintings on canvas. Her artistic pursuits extend to other mediums such as photography and installation art, skills she further developed through obtaining a Master's degree in Fine Arts from Wits University in Johannesburg in 2018. Knaut's works can be found in private collections worldwide and are represented in galleries across several cities, including Palma, Los Angeles, London, Paris, Cape Town, Munich, and Berlin.
From a young age, Knaut was drawn to the idea of exploring and escaping her hometown in Hesse. The fascination with foreign cultures and the art world was always present and she approached life in an imaginative and unorthodox manner. To this day, the diverse intercultural exchange within the art community remains a source of fulfillment for her. Her time spent in Johannesburg was crucial in shaping her perspective on life and art, as she lived, worked, and studied, immersing herself in a culture vastly different from her own. The interactions and collaborations she encountered there had a lasting impact on her artistic endeavors and altered her perceptions permanently.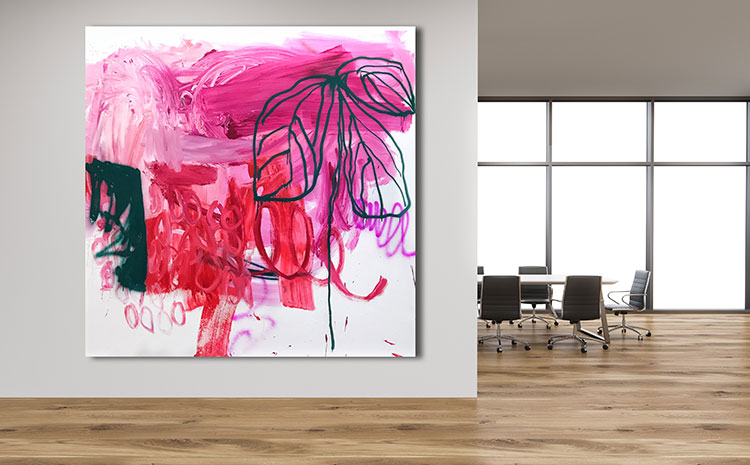 Manuela Knaut: From Sketches to Vibrant Paintings
Manuela Knaut has been engaged in the creation of art for as long as she can recall. It all began with humble sketches and small canvases in her youthful bedroom, but she eventually developed a fascination for larger canvases and paintings. Throughout her artistic journey, she has explored various art forms, such as installation art and photography, but she has always been drawn back to the timeless medium of painting. For her, the ability to express emotions through this form of expression, combined with the exploration of diverse colors and materials, is what makes painting so intriguing and inspiring. Predominantly, she uses acrylics and ink and frequently incorporates silk-screen printing into her works. Her style can be characterized as abstract, energetic, vibrant, and dynamic.
Manuela is often impacted by her surroundings and the environment in which she resides. She had the privilege of living in Johannesburg, South Africa for a brief period, which greatly influenced her perspective on color and expanded her understanding of the use of various color schemes. The city's dynamic palette, consisting of earthy, muted hues and bold, vibrant colors from its street shops, markets, and restaurants, left a lasting impression on her and encouraged her to experiment with more radiant neon shades. Despite her ongoing exploration of new color palettes, she finds herself drawn back to certain hues, such as a luminous neon pink and a rich, dark black.
Manuela Knaut's artistic journey is significantly influenced by the installation art genre and its theoretical foundations. She is enamored by the works of pioneering figures in this field such as Gregor Schneider and Phyllida Barlow. Manuela also has a passion for following university exhibitions, young and emerging artists, art fairs, and biennales, as they provide a wealth of inspiration.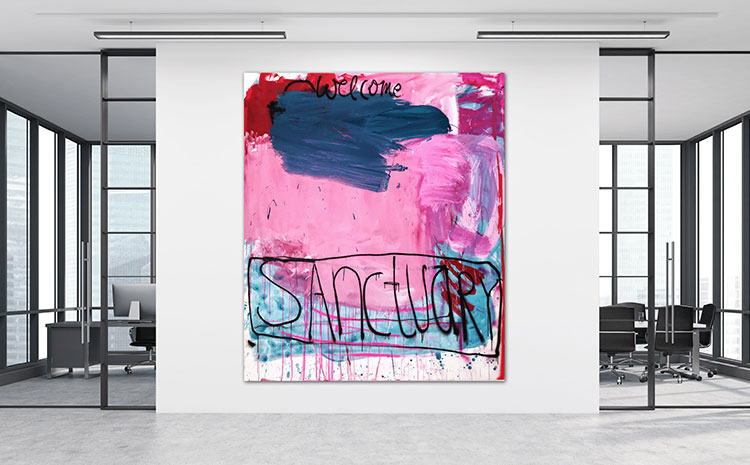 Manuela Knaut: A Journey Through Artistic Inspiration
However, her primary source of inspiration comes from the mundane elements of everyday life. She is stimulated by the diverse experiences encountered in public spaces, whether through her travels to new lands or simply during her daily routines. An old photo album discovered at a flea market, an intriguing quote from a magazine, or even the neon lights of a small local shop can serve as the catalyst for creative inspiration. This is why Manuela has a fondness for traveling and has lived abroad for extended periods, immersing herself in different cultures, languages, and societal norms to drive her artistic passion and push beyond her comfort zone to explore the unfamiliar.
From a young age, art has been an integral aspect of Manuela Knaut's life. As a child, she was always drawn to the creative arts and indulged in various forms of self-expression. From constructing makeshift structures from wood scraps collected from a nearby sawmill to adorning the pavement with vibrant chalk drawings and crafting her initial artworks using mundane materials like glue, felt-tip markers, and crayons, her passion for the arts was evident even at an early age.
As she matured, her art style evolved, and she began selling her works. In high school, she made the transition to acrylics and canvases, materials that she still prefers today. However, it's not just her style that has changed over time. Her outlook and approach to art have also undergone a profound transformation. She is now much more confident and self-assured, with a broad portfolio of exhibitions and galleries representing her.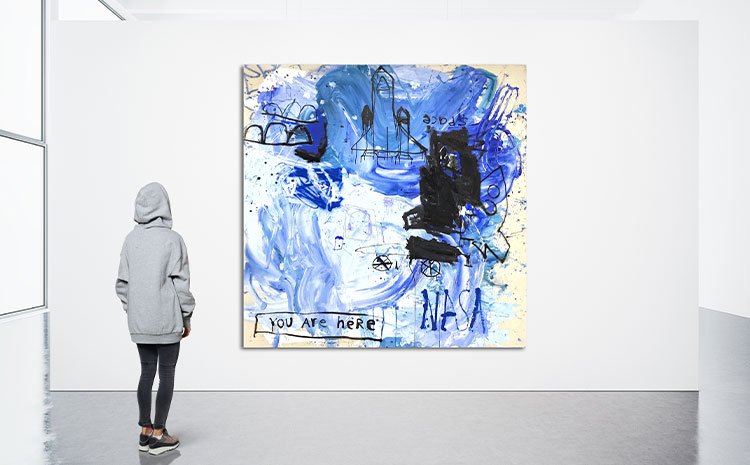 The Artistic World of Manuela Knaut
With two successful degrees in art-related fields, Manuela Knaut is not afraid to venture out of her comfort zone and embrace new projects, constantly seeking to push the boundaries of her creativity.
As a creative person, Manuela finds it difficult to identify a single work or series that holds a higher regard to her than others. She cherishes the versatility and diversity that her artistic process allows, as she is free to experiment with different styles, genres, and mediums. Her passion extends to both the technicalities of creating a large-scale painting and capturing candid moments while traveling abroad. Currently, she is working on an exciting NFT project, which she is eager to share with the world in the near future.
Manuela Knaut has a passion for artistic collaboration. When it comes to the creative process, she values the connections and partnerships that arise. In her perspective, art is a dynamic and ever-evolving field that invites exploration and personal interpretation. Manuela believes that everyone experiences art differently, providing endless opportunities for discovery and growth.
Art has always played a significant role in Manuela's life. She finds it hard to imagine herself without it, as its impact on her daily life and worldview is evident. Even on days when she doesn't actively create art, its influence is still felt deeply. Art is an integral part of Manuela's being and continues to inspire and shape her perception of the world around her.