"I heard the sounds of nature… the sounds of silence… the sounds of the distance… and today they are a magnet for my works."
Foundations in Nature: Almandine's Artistic Genesis
Artist Mally Elbaz Almandine is from Afula and was born into a large Yemenite immigrant family with eight siblings. One of her most poignant early memories is the time she spent with her widowed grandmother. Almandine and her sisters would rotate their stays at the elder's residence, accompanying her on her bi-daily trips to the pastures. Nestled under the expansive eucalyptus trees, these lush, tranquil fields became the perfect canvas for a burgeoning artist's imagination. It was in these moments of quiet reflection that Almandine embarked on her initial artistic pursuits, crafting illustrations on the earth with twigs and her fingertips, her creations set to the harmonious tunes of the environment. These early imprints of nature's silence and vastness continue to deeply resonate within her contemporary pieces.
The legacy of Almandine's father profoundly shaped her artistic sensibilities. Before his passing, he bequeathed to her the age-old craft of embroidery, an art form both he and her grandfather diligently practiced in Yemen. They catered to esteemed clientele; notably, her father once crafted vests from goat and sheep wool specifically for the deputy to the Yemeni king. This ancestral expertise, paired with the radiant memories from her youth and the philosophies she has nurtured over time, now informs her distinctive works. Central to Almandine's creations is the intricate weave of life itself—a confluence of joy and grief, recollections from youth, and personal experiences—all seamlessly represented through her adept use of stones and embroidery.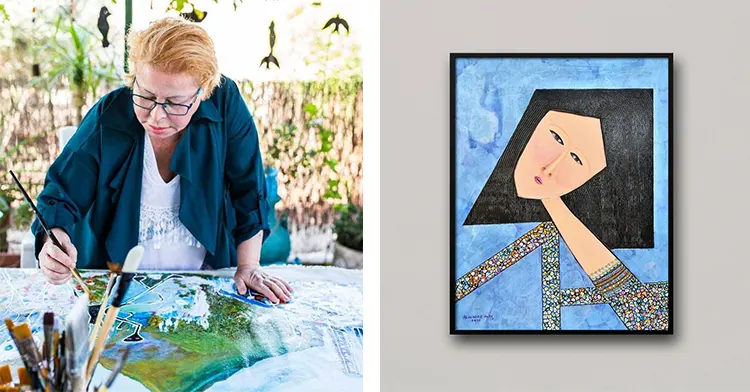 A Lifelong Academic and Artistic Pursuit
Mally Elbaz Almandine commenced her formal education at "Ohalo" College, situated near the picturesque Sea of Galilee, where she pursued training in early childhood education. Her academic odyssey led her through an eclectic mix of artist workshops, notably with luminaries such as Tovia Yoster and Aliza Lahav Shaltiel at the renowned Ein Hod. Additionally, she delved into the study of Poly-aesthetics in art at Oranim – University of Haifa and undertook a series of courses at The Open University. These courses enriched her understanding of aesthetics, philosophy, Renaissance art in Italy, and the intersection of art and technology. Furthermore, Almandine achieved an M.A. in education and art from an esteemed overseas institution.
Professionally, Elbaz Almandine dedicated her skills to early education, serving as a kindergarten teacher in Kfar Hitim and subsequently overseeing kindergartens for the Ministry of Education. Her innovative spirit drove her to establish a distinguished puppet theater, which garnered recognition from "Art for the People." She also spearheaded the artistic enrichment center for the children of Milova. Almandine's artworks, a testament to her profound talent, have adorned a myriad of exhibitions both on home turf and the international stage.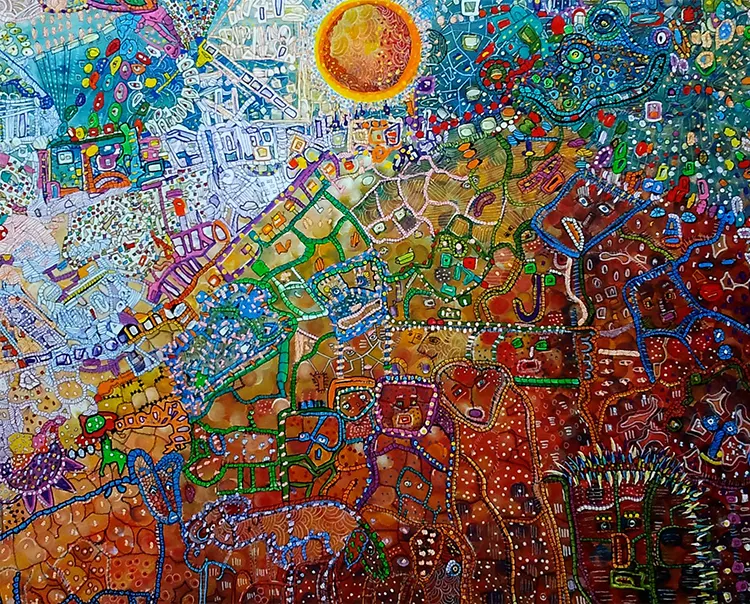 Art as Solace: Intuitive Expressions of Grief and Memory
Mally Elbaz Almandine discovered the therapeutic embrace of art during a particularly vulnerable juncture in her life. The loss of her father catalyzed her journey towards creation as a means of finding solace. Engulfed in grief, Almandine became absorbed in crafting designs reminiscent of the intricate embroideries her father once created. That transformative experience, which occurred 16 years prior, set her on an unwavering path of artistic commitment. Each day presents her with a canvas to express her memories, utilizing distinct patterns of stones punctuated by a central dot – a symbolic representation of cherished childhood moments and her father's enduring influence.
Almandine's artistic approach is intrinsically intuitive. She embarks on her projects without a predetermined roadmap, allowing each stroke and shape to flow organically, mirroring the sentiments of her inner spirit at that moment. The canvases she crafts serve as authentic windows into her lived experiences. Often, she delves into these creative explorations at her kitchen's dining table, where vibrant hues occasionally transcend the canvas's confines. While some might deem her methodology unconventional, it aligns seamlessly with her unique ethos. Over the years, her preference in mediums – ranging from acrylic and oil to ink – has matured. Now, with modern advancements in artistic tools, Almandine seamlessly amalgamates multiple mediums within a singular masterpiece.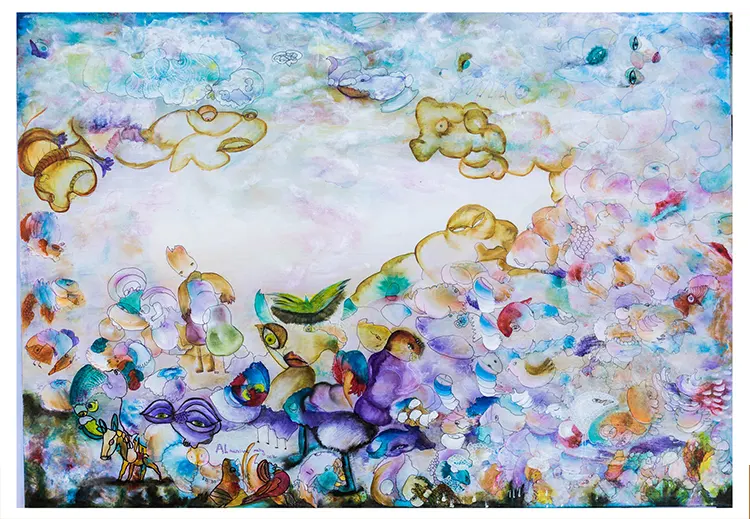 Inspirations and Aspirations: Almandine's Artistic Odyssey
Mally Elbaz Almandine draws significant artistic inspiration from the intricate designs of goldsmith jewelry, Yemenite embroidery, and the masterpieces of the renowned Catalan artist, Antoni Gaudí. One of her most cherished pieces, "Flying from a machine," is emblematic of Almandine's personal journey and essence. This piece stands as a poignant reflection of her resilience and determination, especially in the face of a challenging childhood overshadowed by the abuse from her older brother. At the age of 16, Elbaz Almandine embarked on a journey of self-liberation by joining "Ohalo" College, signifying a pivotal moment in her artistic and personal development.
Elbaz Almandine nurtures a profound aspiration: to curate her solo exhibitions in museums around the globe, aiming to resonate her artwork with souls from diverse corners of the world.