"I do believe that art can be used as a tool for emancipation. I do believe that art frees."
The Creative Roots and Cultural Influences of Lucie Kerouedan
Lucie Kerouedan is a painter based in Brittany, along the picturesque French West Coast. Born in Rennes in 1990, her artistic inclinations became evident in her childhood, as she immersed herself in drawing and storytelling. Her maternal grandfather, Pierre Janvier, was a significant influence in her life. Janvier had been a painter himself before becoming a pupil of Isidore Odorico, a renowned mosaicist of Italian descent. After Odorico's passing, Janvier assumed leadership of the company, eventually abandoning painting altogether. Although Kerouedan was too young to hear her grandfather's regrets firsthand, she believes he spent his life wishing he had continued painting, which explains the fervor with which he encouraged her artistic pursuits.
Kerouedan's heritage includes both the bourgeois lifestyle of her mother's side and the deep-rooted, rural culture of her father's side. Her paternal grandparents, small artisans and peasants, spoke only Breton before attending school, where the use of their native language was prohibited. This ban resulted in Breton falling into disuse within a single generation, leaving its speakers feeling disconnected from a significant part of their cultural identity. Though she was not aware of this emotional burden during her childhood, Kerouedan acknowledges its impact on her personal growth, worldview, and creative expression. The captivating landscapes of Brittany, with its verdant sea, steep cliffs, and inherent melancholy, have left an indelible mark on her work.
As an adult, Kerouedan pursued studies in both applied arts and humanities. Her obsession with understanding the world's inner workings led her to explore ancient philosophy and literature, which illuminated the past and provided her with a sense of relief. This intellectual journey also nourished her art. Becoming a single mother at the age of 23, she juggled various occupations, including sales, home care, childcare, and housekeeping, to make ends meet. These diverse experiences reinforced her commitment to creating art that speaks to social and ecological justice.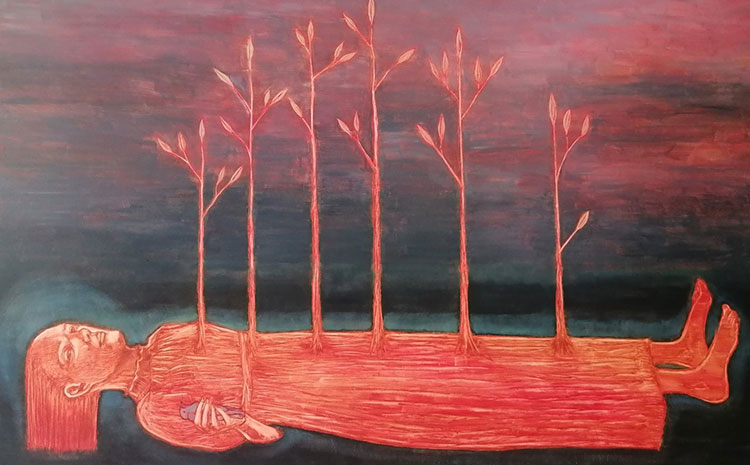 Kerouedan's Ecofeminist Art: Exploring Connections and Addressing Extinction
During her studies, Kerouedan encountered the works of materialistic ecofeminist philosophers and historians such as Carolyn Merchant, Silvia Federici, and Val Plumwood. These transformative perspectives profoundly impacted her, and she now identifies as an ecofeminist artist.
Lucie Kerouedan's artistic oeuvre delves into the intricate connections between humans, animals, and plants, exploring the boundaries of nature and culture, as well as examining relationships among various genders, classes, and species. Her work is centered on the concepts of intersubjectivity and interspecificity, addressing the intimate experiences within the context of the ongoing sixth mass extinction event. Kerouedan's art contemplates the notions of collectivity and individuality in an era marked by burgeoning human population, intensive agriculture, depleted oceans, and hyper-productivity in the realm of manufactured goods. Furthermore, her work strives to express solastalgia.
When reflecting on her personal favorites within her own body of work, Kerouedan highlights "Portrait of a Condemned to Nothing," "Self-portrait in Salome," and her three most recent pieces, "The Beasts," "Galop," and "Breath Transmission." The artist finds encouragement in the fact that her latest creations rank among her preferred works, suggesting an ongoing evolution and maturation of her artistic vision.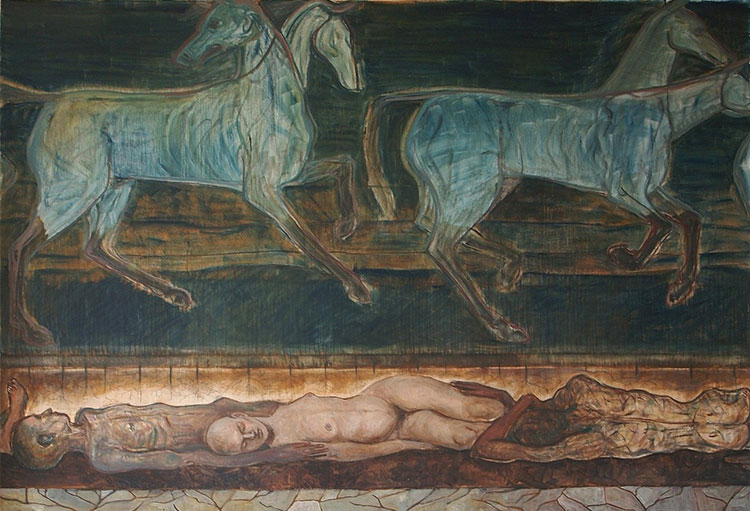 Finding Resilience and Inspiration in Art: Lucie Kerouedan's Journey
Art has proven to be an indispensable force in Lucie Kerouedan's life. Embracing the challenges of maintaining focus on her artistic pursuits, she has learned to distinguish between the essential and the dispensable, while remaining mindful not to compromise her integrity. Kerouedan's resilience has been fortified by her own creative practice as well as the artistic expressions of others.
There have been moments when she struggled to find the motivation to create, feeling overwhelmed or undeserving. During these times, she turned to the works of novelists, poets, directors, musicians, and painters, who provided sustenance and inspiration. These artists have shaped her identity as an individual, an artist, a thinker, a mother, a lover, a friend, and a human being. Kerouedan firmly believes that art has the power to liberate both its creators and those who appreciate its fruits. She sees art as a vehicle for emancipation and a force for freedom.
Kerouedan finds inspiration in a myriad of sources, from the things that touch her emotionally to those that provoke her sense of justice or appreciation for the minutiae of life. Her artistic influences extend beyond painting, encompassing cinema, literature, and poetry. She is particularly drawn to Slavic artists such as Andrei Tarkovsky, Béla Tarr, Fyodor Dostoevsky, and Marina Tsvetaeva, as well as British painters Lucian Freud, Francis Bacon, and Jenny Saville. American sculptors Kiki Smith and Louise Bourgeois have also played a significant role in shaping her artistic vision.
What captivates Kerouedan about these artists is their unyielding commitment to presenting unvarnished truths. They delve into the darkest, most enigmatic, and even shameful aspects of existence without attempting to make them attractive. Real experiences and authentic narratives, conveyed by skilled storytellers, serve as powerful inspirations for her art.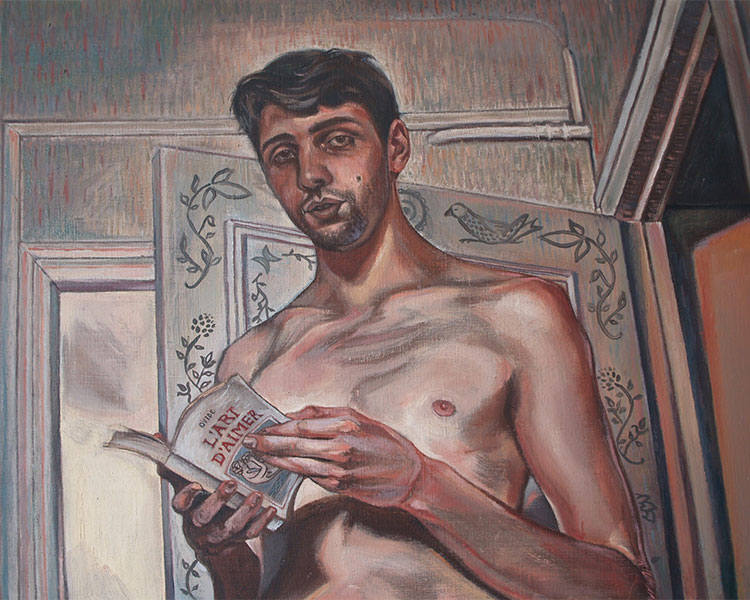 Exploring New Formats and Envisioning the Ideal Creative Environment
The artistic evolution of Lucie Kerouedan has been marked by continual progression and transformation. A pivotal moment in her development occurred at the beginning of the year, when she began to paint on unframed canvases hung directly on the wall. This shift to larger formats allowed Kerouedan greater freedom of movement and, paradoxically, accelerated the pace of her work.
Kerouedan envisions the ideal creative environment as a tranquil space with an abundance of windows and walls, spread across multiple rooms. In her reverie, she imagines an old house with a history, suffused with shifting light, the gentle creak of parquet flooring, the presence of plants, and the distant murmur of willows outside. Accompanying her in this space would be a tawny-eyed cat, dozing peacefully in a corner. The artist also expresses a strong desire for increased space to accommodate larger, more ambitious works.
Kerouedan's admiration for Lucian Freud, her favorite painter and the one she considers the ultimate master, is evident in her aspirations for a studio reminiscent of his. This expanded workspace would not only facilitate larger projects but also provide an opportunity to explore other artistic mediums, such as sculpture, and to create a synergy between her paintings and three-dimensional works.