"I want to reveal the futility of the conceptual habit of distinguishing and demarcating 'this' and 'that'."
Lee Jae-min's Background and Career
Lee Jae-min, born in 1961, has experienced the realities of a divided country and the challenges of democratization as well as the environmental degradation that has come with industrialization. After graduating from the University of Fine Arts in 1985, he fulfilled his mandatory military service in Korea before embarking on a 36-year career as an art teacher at various high schools in Seoul, beginning in 1988. During this time, he continued to create and showcase his art, participating in 12 solo exhibitions and over 100 group exhibitions. Following his retirement, Lee devoted himself entirely to painting and organized 10 art exhibitions to raise awareness about environmental issues. He has a particular fondness for real stones found in Korea's natural environment and employs them in his intricately drawn compositions to create a unique and surreal world.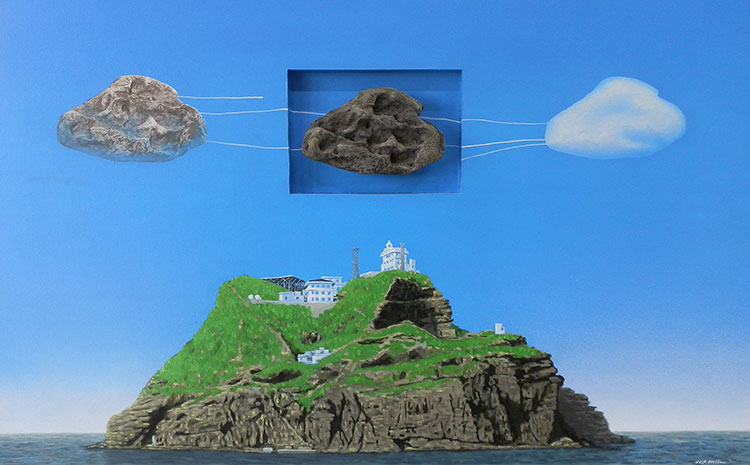 Natural Stones as the Foundation of Lee Jae-min's Art
Lee Jae-min employs genuine stones from the natural landscapes of Korea as the fundamental elements in his artwork. The central theme of his work revolves around the interplay between the physical 'stone' and the visual representation of that same stone. By merging the tangible objects with the screen, which functions as a visual space, Lee Jae-min creates a surrealistic composition that intricately combines the real and the represented. His artwork primarily concerns anti-war movements, nuclear weapon threats, global peace, environmental issues, and the relationship between nature and humanity.
Lee Jae-min's studio, situated in Yangpyeong, South Korea, is in close proximity to Seoul and is a relatively affordable location. The area is renowned for its natural beauty, with clear waters, pollution-free surroundings, and breathtaking mountains. While residing in this area, Lee Jae-min established a small exhibition space called 'House of 'Lee Jae-min Art House', which caters specifically to individuals who have suffered the consequences of disasters and value the importance of nature and hard work.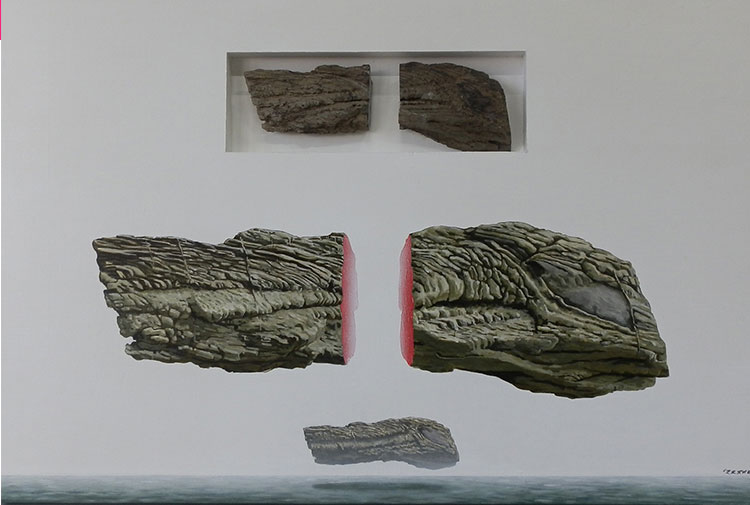 Lee Jae-min's Style and Message in his Artwork
In his artwork, Lee Jae-min employs Korea's natural stones as the platform for his message. The stones that feature in his pieces represent the unadulterated aspects of nature, such as mountains, sky, and humanity in their raw form, serving as a fitting backdrop. By utilizing the most robust and varied forms of natural stones and incorporating tangible stones into his work, he aims to highlight the impracticality of the habitual tendency to differentiate and demarcate between distinct entities.
Lee Jae-min's style of work was slowly perfected over a long period of time. He didn't show much interest in changing his style, and even as time passed, he endeavored to stick to his established methods. As he continued to develop, train himself, and mature, his style gradually changed again, even if he did not intentionally seek to alter it.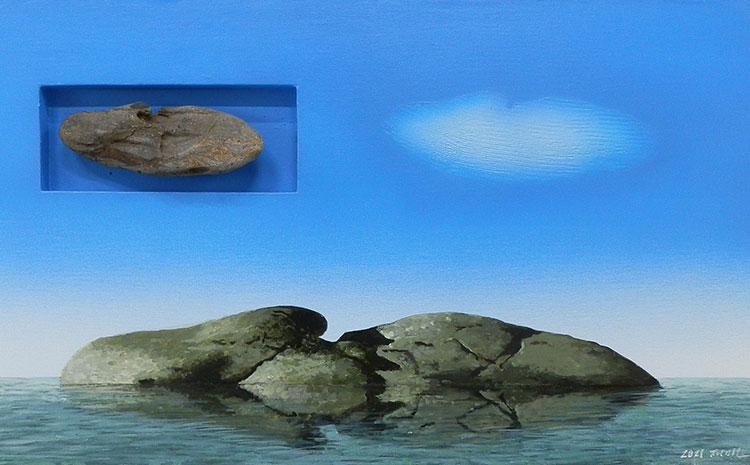 Environmental and Peace Activism
Lee Jae-min, having witnessed the harsh reality of a divided Korea, the tumultuous process of democracy, and the destruction of the capitalist environment, became increasingly interested in Korean and international society. He recognized the crucial significance of environmental preservation, and chose to focus on it as a subject for his work. As he entered his sixth decade of life, he placed an even greater value upon the pursuit of peace, having personally experienced the anguish of a divided nation and the conflict between Russia and Ukraine.
In the last decade, Lee Jae-min has organized a biannual 'Art Exhibition for Ecological Environment', with a total of ten successful events. Should an opportunity present itself in the future, he would be delighted to curate another edition of this exhibition at the 'Lee Jae-min Art House' with esteemed colleagues.
Lee Jae-min, after 36 years of teaching art and retiring with honorary distinction, now concentrates solely on producing his works of art. His dedication to his craft has led him to explore the intricate and diverse world of artistic expression. Lee's identity is now firmly rooted in the life of an artist. Recently, he established a gallery in a peaceful rural village, for those who cherish the value of nature and hard work. The gallery has become a meeting place for approximately ten villagers and a playground for children. Satisfied with his life, Lee now focuses on creating his works in this serene environment, surrounded by clean water sources, beautiful mountains, and friendly locals.