"My Ideal working environment like the utopic studio Le Fresnoy-National Studio of Contemporary Arts in France."
The Artistic Journey and Inspirations of Junkai Chen
Born in 1987 in Shanghai, China, Junkai Chen pursued his education at the Shanghai Institute of Visual Art before advancing his studies at the Villa Arson Fine Arts School and the Conservatory of Nice in France, Le Fresnoy-National Studio of Contemporary Arts. Since 2018, Chen has held the position of course coordinator for the Technoetic Arts Studio at the Shanghai Institute of Visual Art, Creative Direction of rho Studio in Shanghai.
Chen primarily employs audiovisual creations as a medium for his expressive performances. He is consistently seeking innovative musical instruments and visual installations to narrate his stories, skillfully weaving his personal experiences with diverse cultural influences. Presently, Chen resides and works in Lille, France, where he is a student at Le Fresnoy – Studio national des arts contemporains.
When asked about his sources of inspiration, Chen revealed that he often finds motivation in reading about musical instruments, attending exhibitions, and engaging in conversations with his wife. These discussions serve as a vital step before embarking on ambitious projects.
Regarding the evolution of his artistic style, Chen stated that he utilizes installations to explore various narratives, music, and dance possibilities. His style is characterized by a fusion of hybrid media, geometric forms of installation and lighting, and the interactive interplay between sound and visuals. The result is a mesmerizing and intricate tapestry of artistic expression.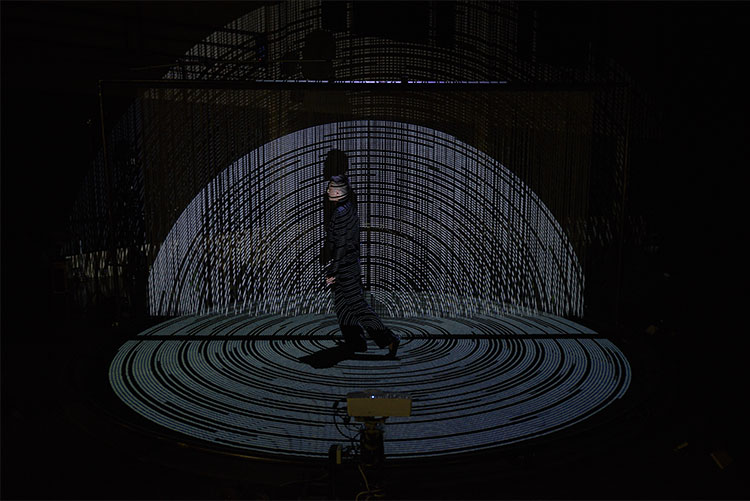 The Ideal Workspace and Creative Process
Junkai Chen envisions an ideal working environment akin to the utopian studio of Le Fresnoy-National Studio of Contemporary Arts in France. Presently, he operates out of the Technoetic Arts Studio at the Shanghai Institute of Visual Arts, enabling him to explore various experimental approaches within diverse workspaces.
Chen's optimal workspace comprises a wood/metal studio for the production of hard materials, a computer visual and sound studio for post-production, and a testing space for rehearsals. Currently, his affiliation with the Shanghai Institute of Visual Arts provides him with resources reminiscent of those he experienced as a student-artist at Le Fresnoy.
In terms of his creative process, Chen emphasizes the importance of testing, interacting with, and rehearsing all aspects of his installations. The performance output is a culmination of these various elements, ultimately generating a magical effect within his installations. Furthermore, Chen occasionally invites spectators to experience the movement and interaction in his installations, fostering a deeper connection between the artwork and the audience.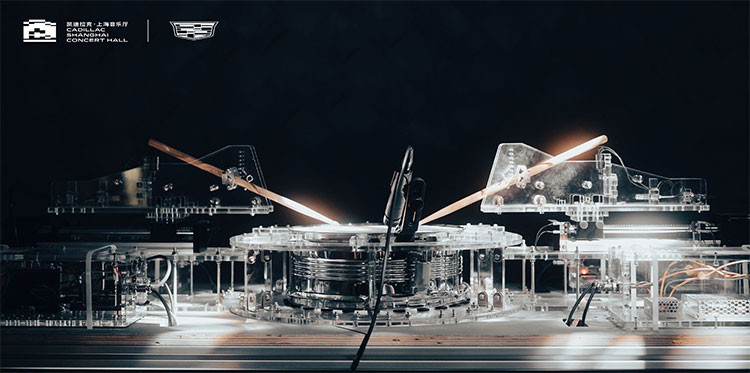 The Synesthetic World of "Correspondance" and The Concept Behind "Bagua"
"Correspondance" is an ongoing interactive work and performance piece (updated from 2015 to the present) in which Junkai Chen draws inspiration from two poems, one of which he is particularly fond of: the French poem "Correspondances" by Charles Baudelaire. This synesthetic experience is brought to life through an innovative interactive performance. Cutting-edge devices are employed to enhance the installation with performative elements, while the utilization of acoustic instruments and digital projection generate a real-time musical symphony. By capturing the performer's movements, Chen's work acquires a choreographic dimension, seamlessly integrating gesture, image, and sound. In this context, the body transforms into an instrument, akin to a painter's brush or a conductor's baton. Through this exploration, Chen delves into his sensory and spiritual experiences, examining the intersection of the two artistic and cultural worlds he inhabits.
The "Bagua" installation finds its origins in the concept of "八卦", the eight trigraphs symbolizing the tangible representations of Yin and Yang. These trigraphs form one of the most ancient layers of the "Yi Jing," a text created more than three millennia ago. Consequently, these eight fundamental forms in nature emerge from the Taiji Yin-Yang's two lines. By permutating these lines and arranging them in sets of three, it is possible to generate eight distinct symbols.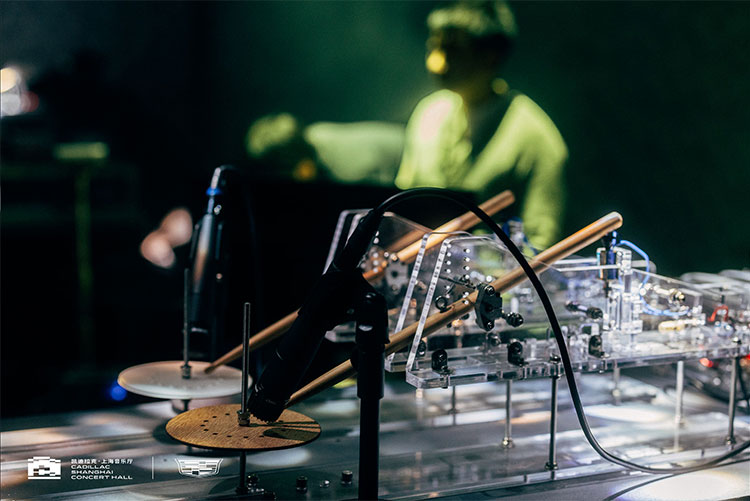 The Dual Dimensions of Art and Ambitious Future Projects
The eight elements in Junkai Chen's artwork symbolize distinct sensations, employing an innovative artistic language that manifests through dual video projections on a movable "screen." Each element is characterized by a unique movement, emphasizing the Bagua's core concept of motion as the essence of its underlying theory. The amalgamation of the imagery and circular "screen" evokes the legendary movements associated with the Bagua, while the installation functions within two distinct temporal dimensions.
In the first dimension, the artist engages with the work through a performance-based approach, utilizing an augmented sword to blend the physical body with audiovisual movements. In the second dimension, the piece transforms into an interactive installation, with its framework persisting and varying. This allows visitors to interact with the artwork and discover their own personal language within it.
Chen envisions an ambitious future project: the creation of a single machine/orchestra comprised of various instruments. His aspiration is to conduct these instruments in a manner reminiscent of sound painting. While he has already realized smaller-scale versions with several instruments, Chen's ultimate goal is to bring this grand orchestral vision to life.