"The best part of art and being an artist is that you always try to approach things with an open mind."
A Diverse Background and the Birth of an Artist
Jochem op ten Noort resides in the bustling city of Amsterdam. He completed his studies at the esteemed Hogeschool voor de Kunsten Utrecht (HKU) in 2002, and has since been immersed in the world of painting for two decades.
For the majority of his life, op ten Noort has called Amsterdam his home, though he spent portions of his upbringing in a quaint village nearby and a small town close to New York City. This exposure to the stark cultural disparities between the two nations has indelibly shaped the artist's worldview.
Navigating the nuances of these disparate environments during his formative years, Jochem was irresistibly drawn to the idea of fashioning his own universe. This led him to explore the realm of drawing at a relatively tender age. The vivid contrasts between the United States' colorful milieu and the Netherlands' austere, orderly society in the 1980s left an indelible imprint on his subsequent artistic endeavors.
Upon obtaining his degree, op ten Noort took up various positions within the art sphere as an art handler, endeavoring to maintain financial stability. Simultaneously, he continued to create art while embarking on numerous journeys to experience diverse cultures. These undertakings have unequivocally shaped and enriched the artist's practice.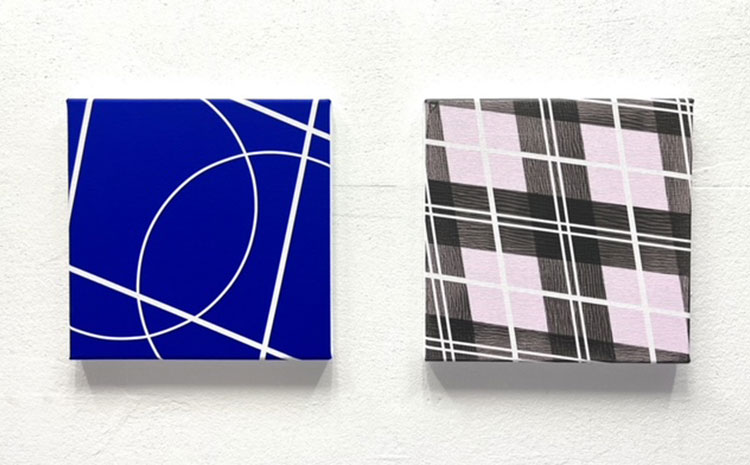 Crafting Geometric Abstraction through Precision and Experimentation
In recent years, Jochem op ten Noort has focused his artistic efforts on creating small to medium-sized geometric abstract pieces. The artist finds patterns particularly captivating due to the sense of regularity, order, and balance they provide. Throughout his work, op ten Noort constantly seeks out new patterns, ranging from intricate to simple, expansive to diminutive, and abstract to naturally occurring, all while maintaining a preference for minimalism.
The meticulous, methodical, and uniform nature of the artist's process is unmistakably evident in his creations. Jochem's paintings are underpinned by precise measurements and calculations. His works generally begin with sketches on paper, adhering to specific boundaries. From there, op ten Noort transitions to canvas, employing various types of tape, acrylics, and paint mediums. By utilizing these instruments, he strives to test the limits of the materials' capabilities, with experimentation and learning through trial and error proving integral to his creative process. Unexpected errors often inspire fresh ideas and potential avenues for exploration.
In his most recent works, Jochem op ten Noort has concentrated on crafting minimalist paintings while experimenting with diverse techniques to establish a distinctive signature style. His principal motivation lies in the pursuit of novel variations within a unifying theme. Occasionally, this leads to the manifestation of patterns featuring intricate structures, while at other times, the outcome is a pattern characterized by a crisp, unambiguous rhythm.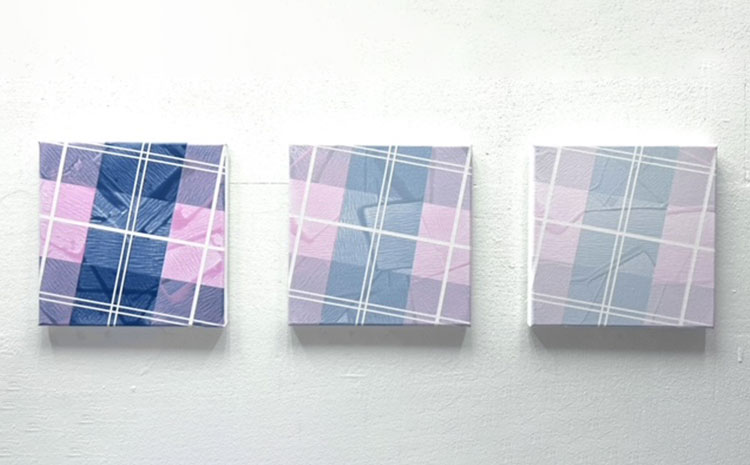 Finding Inspiration in the Everyday and the Extraordinary
Jochem draws inspiration from a wide range of sources. Fascinated by unexpected moments, patterns, and color combinations, he can find creativity in everyday experiences. Op ten Noort is often inspired while cycling, driving, attending films or museums, or even contemplating his work during the night. He believes that the essence of artistic inspiration lies not in where it is found, but in the source of the inspiration itself.
In addition to his personal experiences, Jochem finds motivation in the works of other artists. Their extraordinary creations elicit admiration and disbelief, helping him to define his own artistic path. By examining the work of his contemporaries, op ten Noort gains clarity on the artistic direction to avoid, which assists in refining his unique signature.
For Jochem op ten Noort, the ideal creative environment is his studio. This space fosters an unparalleled focus that he finds invaluable for his work. Having maintained the same workspace for approximately two decades, the artist has never experienced the desire to relocate. Situated a mere twenty minutes from his residence in Amsterdam, op ten Noort's studio is located within an ancient farmhouse, nestled amidst a desolate landscape. It is within this secluded refuge that the artist finds the isolation necessary to fully immerse himself in his creative pursuits.
Jochem op ten Noort has experienced significant transformations in his artistic style over the past several years. Approximately a decade ago, op ten Noort began to create his initial abstract paintings, diverging from his previous focus on large-scale landscape works. During that period, extensive travel allowed the artist to capture photographs of varied landscapes, which served as the primary sources of inspiration for his art.
By reorganizing and restructuring these photographs, Jochem endeavored to breathe new life into them through the utilization of paint and printing techniques. At that time, he already employed an array of patterns to reorder the images, which required considerable effort due to their expansive scale. Gradually, op ten Noort discovered that embracing abstract forms enabled his ideas to manifest more vividly, providing the impetus to produce further work. Consequently, he dedicated himself to the pursuit of minimalistic art.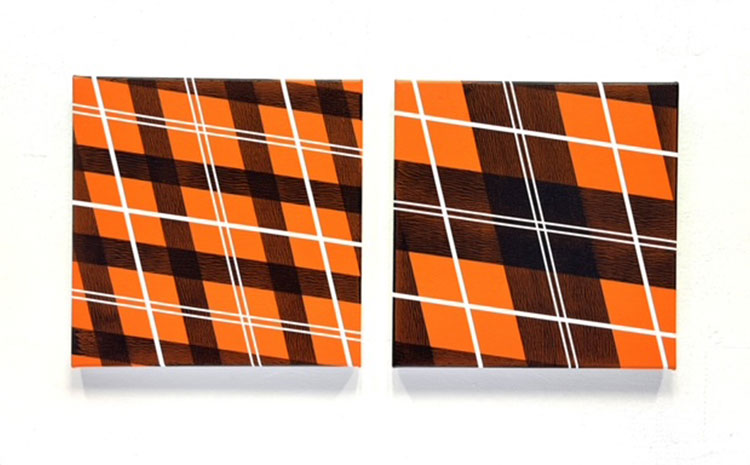 The Future of Jochem op ten Noort: Expanding Boundaries and Collaborations
In the future, Jochem aspires to expand the scale of his work, exploring opportunities to create murals or integrate his art with existing murals. The artist's objective is to develop artwork that interacts with the surrounding environment, thereby establishing a distinctive context. Moreover, op ten Noort is eager to broaden his horizons by collaborating with international project spaces, as he has always appreciated the experimental freedom afforded by the space that exists between galleries and museums.
Op ten Noort's work displays a remarkable mastery of technique and a keen understanding of his chosen medium. Throughout his career, Jochem has demonstrated a commitment to exploring new artistic horizons, which has allowed him to continually evolve as an artist.
The artist's unique approach to his craft often involves juxtaposing older and newer pieces to create a captivating visual dialogue. Op ten Noort skillfully combines small and large canvases, striking a harmonious balance that leaves a lasting impression on viewers. Jochem's ability to construct an engaging context within the exhibition spaces that showcase his work further exemplifies his creative prowess.
Beyond his artistic talent, Jochem op ten Noort is known for his open-mindedness and willingness to venture beyond his comfort zone. His interactions with fellow artists and individuals unfamiliar with the art world provide him with fresh perspectives, contributing to his personal and professional growth. Through his dedication to his craft, op ten Noort has not only made a significant impact on the art world but has also enriched his own life and the lives of those who appreciate his work.