"There can't be art on a dead planet but art is also important in the midst of disasters."
The Importance of Art in Times of Disaster
Jean Pierre Garbisu is a self-taught painter native from the Basque Country who has been interested and involved in artistic creation since his adolescence. Despite having grown up without any exposure to the fine arts in his family environment, he inherited from his father, a craftsman, a love for manual work and materials. In parallel with his scientific studies and later professional life, artistic creation has remained a fundamental aspect of his existence, serving as a counterbalance to the technological environment in which he operates. During his years in Paris, Garbisu had the opportunity to study the works of the great masters, with a particular fondness for 19th and 20th century art. The works of Francis Bacon and Alberto Giacometti left a lasting impression on him, both of whom focused on the human figure in their work, far removed from the fashionable trends of their time.
The present era, which is marked by numerous crises such as global warming, mass extinction of species, war, and pandemics, unfortunately provides a fertile ground for artists to reflect on the meaning of their art. Garbisu believes that art is critical in times of disaster, although there can be no art on a lifeless planet. For him, the act of drawing, painting, sculpting, and other forms of creative expression offer an opportunity to reveal our true humanity in the face of difficult personal or collective experiences. Through their creations, artists can bear witness to the experiences of the times we live in. Garbisu values the authentic testimony of countless creators over their popularity or financial success.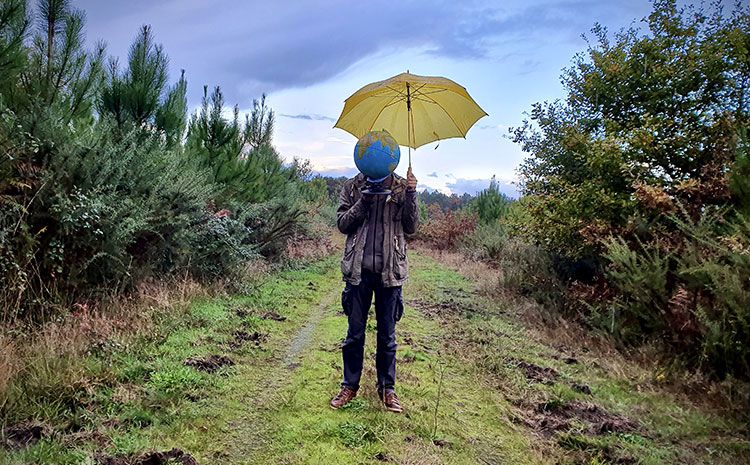 An Analogical Approach to Art: Jean Pierre Garbisu's Technique
Jean Pierre Garbisu began his artistic journey in his youth with photography and went on to explore sculpture, drawing, and painting. Approximately a decade ago, he developed a new technique that combined drawing on large sheets of paper, gluing them onto canvas, and applying delicate layers of oil paint as a finish. Today, this technique remains his primary focus, alongside his continued indulgence in simple paper drawing. Garbisu describes his artistic output as "existentialist scribbling," as he strives to convey deep contemplation through his work.
Over time, Garbisu has adopted a more restrained approach to his craft, relying solely on traditional mediums such as pencil, graphite, oil pastel, and linseed oil. He incorporates principles of minimalism and sustainability into his art, which he sees as a form of "green art." Garbisu also views his analogical approach as a form of resistance against the increasing digitalization of the 21st century. For thousands of years, humans have created art using simple means that gradually became more sophisticated, and Garbisu believes it is crucial to continue creating with hands, hearts, and minds.
Garbisu remains skeptical about the trend of computer-assisted artistic production and the recent integration of artificial intelligence in fine arts and music. Though social media has widened the scope of artistic dissemination, it has also created a culture of immediacy, where creations are quickly skimmed over and "liked" by image-saturated users. He believes it is imperative that artists continue to create with traditional means, even as the possibility of creating art through digital doubles in the Metaverse looms.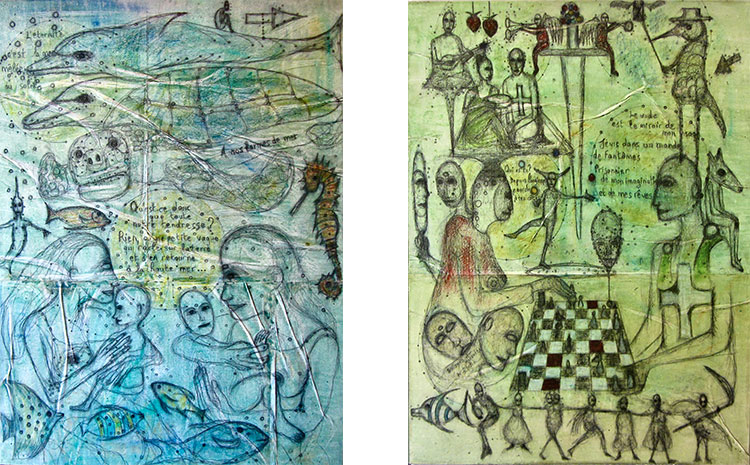 Jean Pierre Garbisu's Inspiration: Art, Music, and Other Forms of Creativity
The artist draws inspiration from both his personal life path and his keen observation of the current state of the world. To him, art serves as a form of resistance to the haste and acceleration of modern times. Being self-taught, he has been able to pursue his artistic career with great freedom, without feeling constrained by the pressure to conform to specific techniques or approaches. In contrast, his peers who have taken art school classes have described the pressure to constantly innovate and create something new. He has never felt the burden of conforming to the teachings of others. Jean Pierre Garbisu is particularly fascinated by "Art brut" for its freedom of creation and deviation from the usual canons. Music is also a great source of inspiration for him, particularly the Anglo-Saxon indie folk genre, with video works of artists like Mark Linkous of Sparklehorse, Indigo Sparke, and Aldous Harding capturing his attention. Some cinematic works, such as those by Andreï Tarkovski, Ingmar Bergman, or Carlos Reygadas, have touched him deeply and influenced his creative vision. Having studied Butoh dance with Japanese and French masters, Jean Pierre Garbisu has been able to absorb the philosophy and power of this art form, which has influenced his graphic research, relationship of the artwork to surface, movement, and time. He has also found inspiration in the work of photojournalists, particularly in their coverage of conflict like in Ukraine today and the extinction of animal species. Over time, he has integrated snippets of poetry or song lyrics into his work, as he believes in the correspondence between different forms of creation. Creating a drawing from nothing, such as by following light reflections on an empty sheet of paper, is also a fascinating realm of creation for him.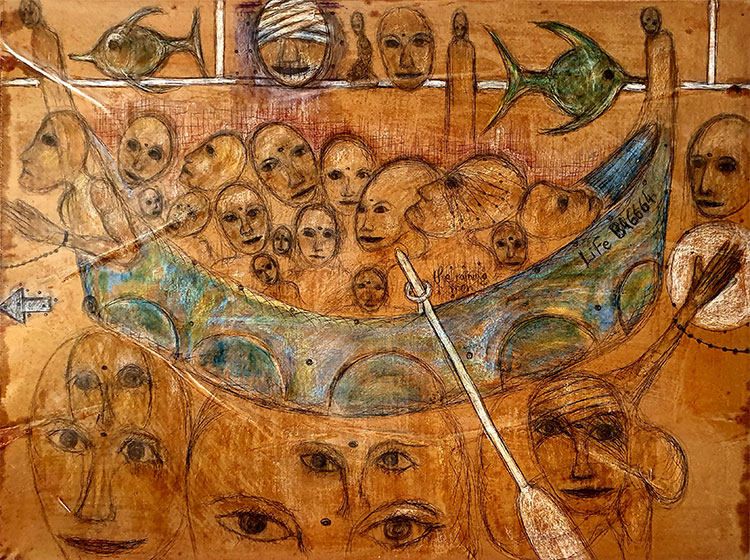 The Evolution of Jean Pierre Garbisu's Artistic Style
Jean Pierre Garbisu has undergone a transformation in his artistic style over time, moving towards a simpler and more assertive approach. He finds that drawing allows him to create precise compositions and textures with ease, compared to the struggles he faced with painting in his earlier years. Despite the challenges he encountered, Jean Pierre Garbisu's dedication to painting has not wavered, and he remains uncertain about whether he will return to this medium in the future. The story of Jean Pierre Garbisu's artistic evolution continues to unfold.
Jean Pierre Garbisu endeavors to approach the various phases of his artistic journey with a sense of indulgence. Even some of his earliest, most unpolished, or imprecise works still hold a modicum of favor in his eyes, either due to their inherent quality or their contribution to the evolution of his practice up to the present day. However, he now possesses a greater comprehension of how these past decades of creative output have enriched and informed his current research endeavors.
Jean Pierre Garbisu finds that engaging in artistic creation demands concentration and a certain detachment from the world. This provides him with a respite and tranquility that enables him to distance himself from the frenetic pace of contemporary life. Analogous to the experience of dreaming, artistic practice also fosters assimilation and contemplation of the ever-present events and sensations that shape our existence – the fleeting sketches on the path of impermanence.
Garbisu believes that each work of art represents a fleeting sketch, and one must know when to humbly conclude it before moving on to the next. This perpetual intermingling of life and art constitutes, even at his humble level, a vital component of his equilibrium. Artistic creation facilitates the unburdening of heavy contemporary mental load, resulting in a gratifying sense of fulfillment.
In his view, the creation of art is a peaceful and productive activity that can serve as a powerful alternative to conflict and war. Thus, Garbisu advocates for the creation of art instead of engaging in destructive conflict. In his words: "Let's make art, not war!"