"Now I am striving for an artistic statement that is ironic in a positive sense and that takes part in society and politics."
The Duality of Culture and Nature in Gertraud Platschek's Sculptural Art
Gertraud Platschek is a German artist whose unique perspective on life and art is shaped by her upbringing in both the bustling metropolis of Munich and the serene environs of the Bavarian Forest. The dynamic cultural and social landscape of the city, as well as the tranquility and isolation of the forest, have both served as powerful sources of inspiration and influence in her work. Her art reflects the multifaceted nature of her cultural heritage and her ability to find beauty and inspiration in a wide range of sources.
Gertraud's primary focus is the creation of sculptural pieces, which often take the form of installations or wearable art. She is known for her ability to find and incorporate found materials, current events, contemporary theatrical productions, interactions with others, and the natural world into her work. Her love for wood, foliage, precipitation in the forms of snow and rain, and collaborating with her peers is clearly reflected in her art.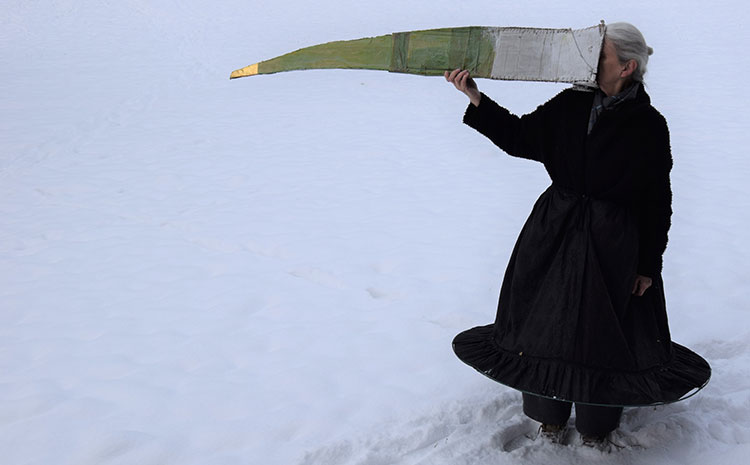 From Painting to Digital Collage and Political Performances
In addition to her sculptural work, Gertraud Platschek also occasionally delves into the realm of digital art, utilizing techniques such as collage to bring her concepts to life. Her ability to blend different mediums and techniques creates a unique and captivating experience for the viewer. Her art is not only beautiful, but also thought-provoking and engaging, inviting the viewer to explore and interpret the meaning behind her creations.
Over the course of her artistic journey, Gertraud Platschek has undergone a gradual evolution in her style. Initially, she was heavily influenced by her master, Hermann Nitsch, and produced large-scale paintings. However, as she progressed and matured as an artist, she began to experiment with utilizing "poor" materials in her work and taking on a more hands-on approach as the creator and bearer of her pieces. Currently, she is actively working towards creating an artistic statement that is imbued with a sense of irony, one that actively engages with the society and politics of the world around us. Recently, she has been focusing on group performances, such as "We are beautiful," in which she incorporates her hats, and "We are lonesome animals," which features her animal masks.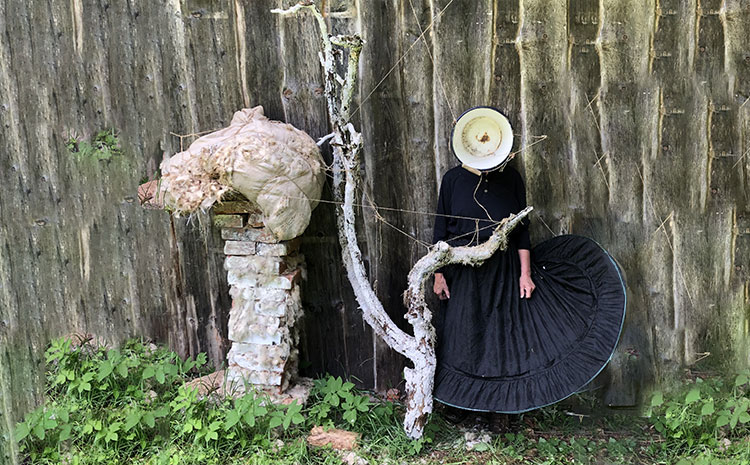 Gertraud Platschek's 'Renaissance Hats': A Technical and Artistic Triumph
The most notable accomplishment of Gertraud Platschek, in her opinion, was the creation of her series entitled 'Renaissance Hats.' This series was not only a technical feat, but a true expression of her artistic vision. Each hat in the series represented a different aspect of the renaissance period, from the opulence of the courts to the artistic revolution of the time. The decision to unveil herself and exhibit her creations was a significant step in her career, and this particular series holds a special place in her heart as it represents a culmination of her artistic vision and technical proficiency.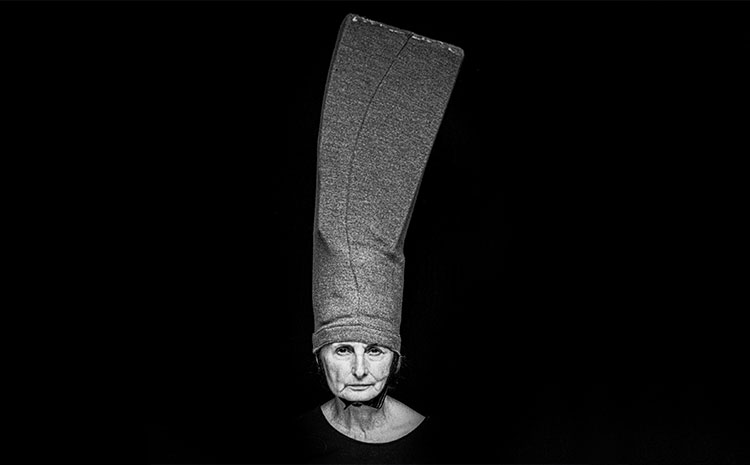 Bringing a Unique and Impactful Performative Opera to Life
Gertraud Platschek believes that the end is not near for her. She has an ambitious project that she has long desired to bring to fruition. The project is a performative opera that seamlessly integrates various elements, such as text, masks, music, and dance, to create a holistic and immersive experience for the audience. The production would blend elements of both seriousness and humor, fully engaging and captivating those in attendance. Gertraud relishes the opportunity to bring this project to life with the collaboration of like-minded individuals who share the same passion for creating something truly unique and impactful.
Art has a profound impact on Gertraud's perspective and approach to life. Through her engagement with various forms of artistic expression, she has developed a heightened sense of observation and curiosity. This has enabled her to perceive and appreciate the world around her in a more nuanced and discerning manner. Gertraud believes that her appreciation for art has undoubtedly had a positive impact on her ability to navigate and succeed in other areas of her existence, as it has taught her to think creatively and to approach problems with a fresh perspective. It has also made her a more empathetic and understanding person. Gertraud believes that the beauty and power of art can change the world, and she strives to be a part of that change.