"I feel greatly fulfilled by working with my hands and expressing myself through the use of clay, a wonderful material."
Enriqueta Cepeda: Crafting Timeless Beauty through Ceramics
Enriqueta Cepeda is a skilled ceramic artist residing and producing her work in Stockholm, where she shares a creative space with fellow ceramic artists in the city center. With a passion for art, color, and form, Enriqueta pursued her academic studies in the arts at the university level, however, as a potter, she honed her craft through self-education, continuous experimentation, and trial-and-error processes. She crafts each of her sculptural vessels and bowls by hand, using traditional handbuilding techniques such as pinch and coil. With roots in Sweden and Colombia through her father, Enriqueta's travels have greatly influenced her work, taking inspiration from ancient ceramics in regions such as the Mediterranean, Greece, and Egypt.
As an artist, I craft sculptural forms of timeless beauty, each imbued with a distinct irregularity. My aesthetic is minimalist and unadorned, as I prefer to work with simple tools and the naked clay. I forgo the use of glaze, instead opting to manipulate the surface to achieve a variety of textures. To further accentuate the unique qualities of the material, I selectively expose the chamotte in the clay and burnish certain areas prior to firing. After firing, I polish the black clay with beeswax to create a smooth and lustrous finish.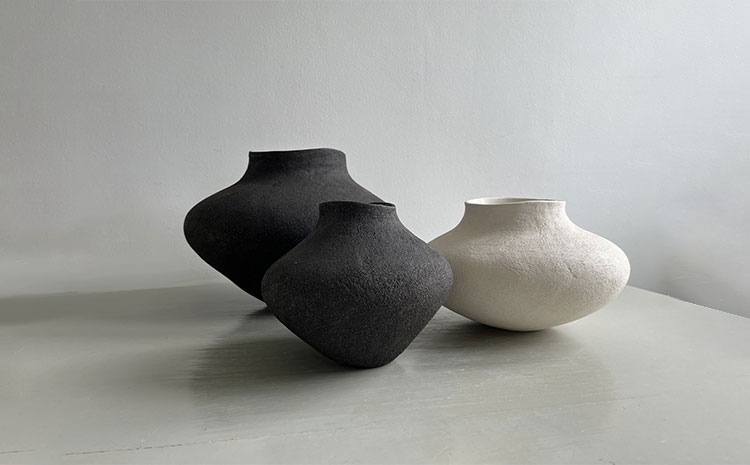 Embracing Imperfection: The Philosophy of Wabi-Sabi
I draw inspiration from the traditional techniques of the Pueblo Indians and embrace the concept of Wabi-Sabi, the celebration of the imperfect. My approach is to allow the clay to guide my hand, seeking to bring out the essence of the material and create a harmonious balance within each piece. It is my goal to create objects that not only look beautiful, but feel good to hold as well.
Enriqueta Cepeda's artistic journey has been a tapestry of techniques, experimentation and evolution. Her unique style is rooted in her early days as a ceramist, where she honed her craft with clay vessels. Using the traditional mila firing technique, Enriqueta transformed mundane pieces into works of art. This grueling process involved a 24-hour vigil, stoking an open fire fueled by horse manure. Yet, she was enamored by the magical transformation of her creations, as the fire created intricate patterns that were one-of-a-kind.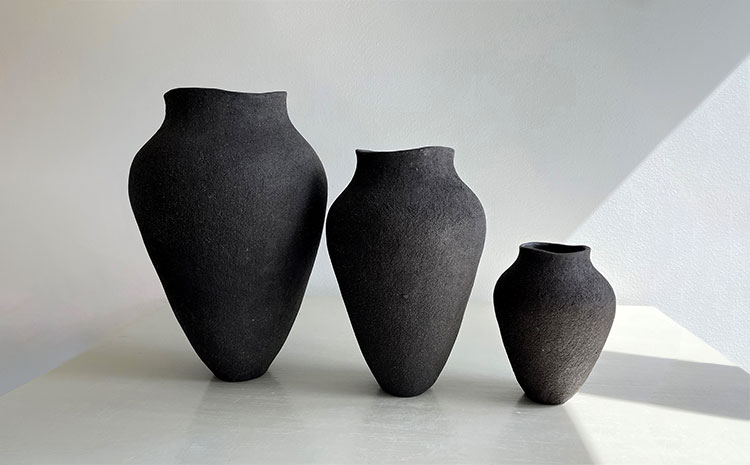 Enriqueta's Evolution in Clay: From Glaze to Primitive Firing to Raw Beauty
In her quest to explore new avenues, Enriqueta dabbled with glaze but found her true calling in primitive firing methods. She was even fortunate enough to discover a location where she could practice smoke firing, a process that enabled her to paint with the flames. Unfortunately, this opportunity is no longer available, but Enriqueta will always hold dear the memories of this transformative experience.
Recently, Enriqueta has come full circle, returning to her roots and the source of her inspiration. She now works with unglazed clay and fires her pieces in an electrical kiln, showcasing the raw beauty of the material. Her art reflects her journey, the beauty born from the struggle, and her unwavering commitment to her craft.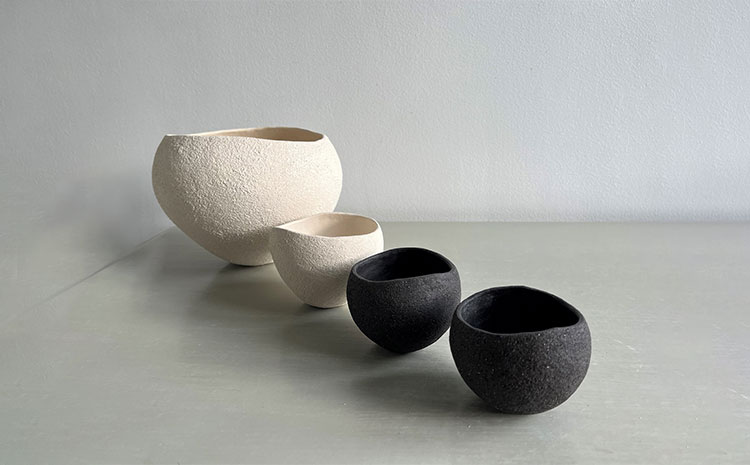 Pushing Boundaries: Enriqueta Cepeda's Artistic Journey in Ceramics
Enriqueta Cepeda is always pushing the boundaries of her craft. With a deep-rooted passion for alternative firing techniques, she has explored everything from smoke firing to pit firing, and each piece holds a special place in her heart. Despite the obstacles she faces in her current location in central Stockholm, she remains undaunted in her pursuit of artistic excellence. Her black clay and smoke fired pieces, in particular, are a testament to her mastery of the medium, their lustrous finishes a result of her unwavering dedication and skill. Yet, Enriqueta is never one to rest on her laurels. She is always experimenting with different textures and firing techniques, seeking new and innovative ways to express her artistic vision. And with her relentless drive and unwavering commitment to her craft, there's no doubt that she will continue to create truly unforgettable works of art for years to come.
It is my conviction that the presence of art, the utilization of color and the arrangement of form play a vital role in enriching our existence. Our immediate surroundings, the objects with which we choose to surround ourselves, have a profound impact on our overall well-being. For Cepeda, the act of working with her hands and utilizing clay as a medium to express herself not only results in a delightful outcome but also serves as a personal source of fulfillment and contentment.